PHS International Wide tweezers with chain - Nipple clamps from PHS International

Product Details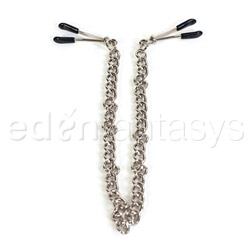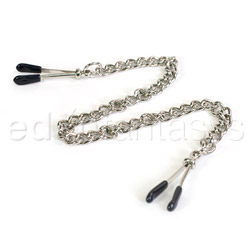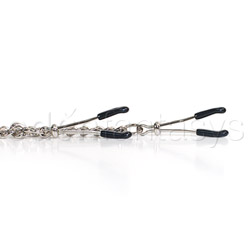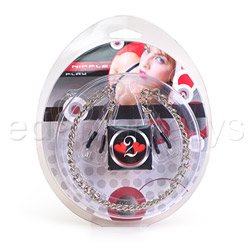 Summary:
These affordable nipple clamps from PHS can provide a lot of pressure and clamping for those who have average or smaller than average nipples. Their simple design makes them easier to use than some other types of designs, and they are made of high-quality materials.
Pros:
Provides a lot of pressure, simple design, price, materials.
Cons:
Only for smaller nipples, not for beginners or those who can't take a lot of nipple pain.
Best use:
This set of nipple clamps is very affordable, lightweight, and easy to use. From PHS International comes a sleek and stylish set of clamps that pretty much any one can use, as long as they like nipple pain. These are not a light clamp. In order to have them stay on, the clamps need to be tightened pretty far. The rubber grippers help to keep the clamps on, but they work best for average size nipples - large ones may not fit. These clamps may be used on other areas of the body, but are designed for the nipples.
Material / Texture:

These clamps are made of high grade and long lasting metal. The metal is silver and fairly lightweight. It doesn't bend under pressure or hard pulling. It's smooth and nicely finished. The ends of the clamps have rubber for easier grip. They are smooth and not sticky. They also don't have a smell.

Material:

Metal

Material safety

Safety features:

Food-grade material / Latex free / Non-porous / Phthalates free

Shape / Design / Size / Fit:

Chain: The chain is 13 1/4" long, not including the end clamps. It's 5/16" thick. It's a normal chain link, and then has another o-ring connecting it to the clamp. The chain is the same size throughout and moves without kinking at all.

Clamps: The clamps are the alligator type, shaped like a V, and clamp like tweezers. They're 1 3/4" long and have a small o-ring that is situated where the V connects. Pushing this up closes the clamps. The rubber ends are 5/8" long. The difference in between the two clamps is only 3/8". This mean that if your nipple is much bigger than that in diameter, it will be hard or impossible to use these, depending on how much larger your nipples are. The average female nipple size is larger than this, so these clamps are best for those with nipples on the smaller side.

Color:

Silver

Length:

19"

Weight:

0.3 lb

Functions / Performance / Controls:

To use these clamps, it helps if you start with clean and dry skin. Get the nipples hard and slide the rubber portion of the clamps over the nipples, with the V flush against the breast, chain hanging down. It helps if you have two sets of hands so that the first clamp doesn't fall off from the weight of the chain before you get the second on.

Get as much nipple as you can in between the black rubber ends; also try to get it as close to the rest of the breast as possible. This will help keep the clamp on. Once situated, as slow as possible, slide the little o-ring up the alligator clamps until the clamp is secure or you've achieved the level of pressure or pain you desire.

Care and Maintenance:

Very little care and cleaning is needed for these clamps. If you are using these in places like the clit, you'll really want to wash the rubber ends since the material is porous, otherwise a simple wipe down or rinse is good. Store them pretty much anywhere.

Packaging:

These clamps come in a plastic clam shell package that is much larger than the product, but it displays the product well. It has little information about the product, but is good for storage. The package is not discreet.

Personal comments:

This is only my third experience with nipples clamps, and my second with alligator clamps. I had a really hard time keeping these on my slightly smaller than average nipples. They are small enough to fit between the clamps, but the amount of pain I had to endure to keep them on was way too much for me. Don't get me wrong, I like them nibbled, bitten, and played with roughly every once in a while, but this type of pain wasn't for me, and neither are these clamps. I prefer the twist to close ones. I can see these working well for someone who likes more pain than I do; there's nothing wrong with their construction if you fit in the clamps.