Zado Y-strap connection - Restraints from Zado

Product Details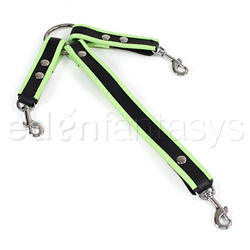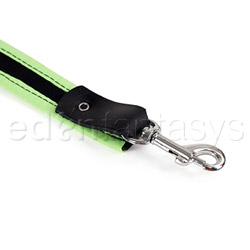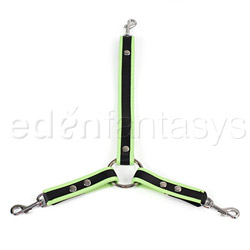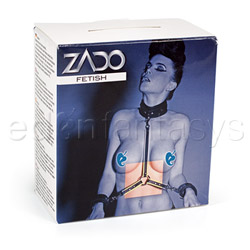 Summary:
This 3 point restraint set is easy to wear, either with hands in front or behind the back. It allows for a pleasing level of restraint, without requiring the wearer to have a contortionist's flexibility. The colour is striking, and those who want something a bit different will appreciate it. However, it's unlikely to match anything you already own, unless you've gone with solid black. It's not sturdy enough to be considered a lifetime purchase, but it's fun, inexpensive, and we like it a lot.
Pros:
Usable by those with restricted mobility, leather base, striking colour - glows under black light.
Cons:
Clips are not high quality, leather not reinforced, colour unlikely to match your collection.
Best use:
The Zado Y-strap restraint accessory is a piece that should be used with a collar and cuffs. It contains three lengths of black leather, that meet in a metal O-ring in the center and have a clip connection at each end. It is designed to attach the longest piece to a collar and the two shorter pieces to the cuffs, in order to provide a moderate level of restraint. The restraint will hold the hands at about hip level, about a foot apart. The restrained person will be able to move their hands closer or lift them higher on the body, as the leather is flexible enough for this. This restraint can be worn behind the back, or in front to provide a variation.

This would probably not be considered "hard core" bondage, as the clips could be reached and undone by the wearer. This makes it suitable for beginners, or those in moderate play who prefer being able to quickly undo restraints, if necessary.
Design / Craftsmanship / Material / Size / Fit:

The nylon trim is an almost fluorescent pale green - so vivid it is actually startling. It is a break from the typical black/red/purple colours often seen on this type of piece, but not everyone is going to like it. The best part about it is that it glows in a black light, which could add a lot of fun to a dungeon play scene.

Surprisingly, the leather has almost no odour. This is a very pleasant change from some of the leather equipment we've reviewed. The clips are a little on the small side, and not as sturdy as I would prefer, but they do the job. The leather is not strengthened where it is cut away for looping over to contain the clips. This is an obvious point of wear, and it is the failure point over time, we suspect.


Material:

Leather

/

Pvc

Material safety

Color:

Black / Yellow

Length:

3 1/2" / 8"

Closure:

Swivel clip

Weight:

1 oz

Performance:

The Zado does exactly what it says on the tin, and it does it well. We've used it several times for some spontaneous light bondage play and enjoyed it. You can get it on and off quickly, and with no fumbling. It is comfortable to wear and doesn't chafe.

We are both disabled, and any restraint system with fiddly catches, or that holds me in an awkward position that would cause me pain of the bad kind, is a no-no. The Zado is not a problem in this area.

Care and Maintenance:

Since this is mostly leather, it should be cleaned with a damp cloth or leather cleaner. Avoid immersing in water. For storage, it can be hung in a closet or placed in a drawer. Make sure that it is stored in a dry location, as leather is vulnerable to mildew.

Packaging:

This comes in a thin cardboard box, with a photo of a topless model wearing the restraints. The cardboard is too flimsy to be useful for storage. Care and storage instructions are included.

Personal comments:

This is a good, inexpensive restraint accessory which gives a striking look. It's disabled friendly, which I appreciate more than I can say. Hog ties and the like are simply not an option for me. If it were available in colour choices, I would have gone for red instead of yellow, but that's a personal preference and does not affect the rating. It's not sturdy enough to be considered a toy for life, but it's inexpensive enough to bring kinky fun while it lasts.

Due to the clips not being as large and sturdy as we would like, and the lack of reinforcement of the leather, we deducted one point to give this toy a four star rating.

Other

Safety features:

Phthalates free