Hardwood dildos Handcrafted wooden dildo #329 - Probe from Hardwood dildos

Product Details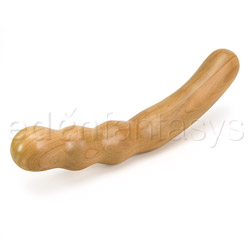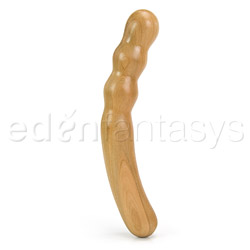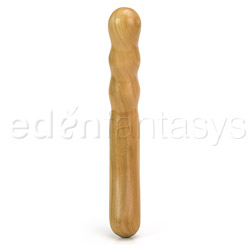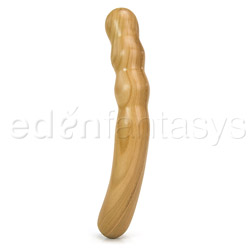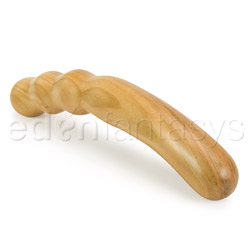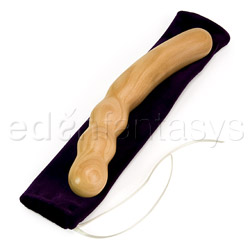 Summary:
The Hardwood #329, with its dual ends and curved shaft, is easy to use and sure to please just about anyone. Its textured end provides a mellow, subtle sensation that shouldn't be too extreme to most users. Its smooth end is exquisitely slick and firm, allowing frictionless thrusting. As a mid-size dildo, it fills you up and stimulates the g-spot, allowing it to be "just right" for nearly all levels of users.
Pros:
Firm, smooth, gorgeous wood, excellent g-spot curve, very light weight.
Cons:
Very light weight, may feel insubstantial to those who like a heavy toy.
Best use:
The Handcrafted Wooden Dildo #329 is a medium sized, firm but lightweight toy ideally used for vaginal penetration. It is not harness compatible (unless you have an adjustable ring for your harness) nor recommended for anal use as it has no flared base. Because it has a ridged end as well as a smooth end it can easily be used by just about anyone, no matter their preference for texture - or lack of it.

Though the toy is double ended and both ends work terrifically as either handle or dildo, it isn't quite long enough for comfortable two person use.

This dildo is curved, making it g-spotting a breeze. It zeroed in on mine immediately upon insertion, no effort required other than to hold on tight to prevent it from spinning to face the wrong direction, even with rapid thrusting.
Material / Texture:

This dildo is absolutely gorgeous; smooth, firm, lightly grained maple with a five layer coating of food grade varnish called Salad Bowl Finish. It's very slick feeling, allowing the hand to glide effortlessly across its surface. Inserted, the wood has no drag and requires very little - if any - lubricant.

The textured end, with it's three bulging, almost ball-like ridges, feels incredible. It's not "too much" texture and yet you can definitely feel it. I would recommend either end for both beginners and more advanced toy users.

Wood is very firm, as you would expect, with absolutely no give or flex so care should be taken with hard thrusting, especially by a partner, to prevent discomfort.

Despite how hard and solid this toy is, it's also amazingly lightweight, weighing in at a mere 2 oz.

Material:

Wood

Material safety

Texture:

Smooth

Safety features:

Food-grade material / Latex free / Phthalates free

Design / Shape / Size:

This amazing dildo is nine inches long - leaving plenty of room to hold onto it during use - and 1.25 inches in diameter. Because it's so firm and un-giving, it does feel a bit thicker to me so those who like smaller toys may want to pass. You're definitely going to feel this one fill you up, though it doesn't feel "too" large by any means.

The curved shape works quite well for hitting the g-spot as well as for aiding in keeping the toy facing the right direction. Because it's on the long side it's also easy to use a short,rocking thrust that allows you to rapidly stroke your g-spot with little effort.

The bulging ridges are subtle once they're inserted. They can definitely be felt and are certainly stimulating but they aren't overly textured or uncomfortable.

Length:

9"

Insertable length:

7 1/2"

Circumference:

4"

Diameter:

1 1/4"

Weight:

0.2 lb

Performance:

The Hardwood #329 excels at g-spot stimulation. It's also quite nice for that full feeling, for something to clench and squeeze during clitoral stimulation.

My only issue with this dildo is its weight. I prefer a heavier, more substantial toy. Even though it's filling and accurate at hitting all the right spots, it feels a bit lackluster to me due to the fact that it's feather light.

This may be a benefit for some as it requires far less effort to thrust than a heavy toy.

Care and Maintenance:

The creator of these hardwood dildos recommends cleaning with a mild soap and water. A ten percent bleach solution could likely be used but they definitely shouldn't be boiled or put in the dishwasher.

Even food grade varnish can be worn down, chipped, gouged or scratched (as anyone who owns salad bowls can attest) and it's always possible for wood to crack or break, so care should be taken both when cleaning (no abrasive soaps or cloths) and when storing (don't go tossing it around, stepping on it, letting it roll around with glass and steel toys or playing the bongos on your desk). The #329 comes with a lovely, deep purple, velvety drawstring pouch to help protect it and I highly suggest using it at all times. Something this gorgeous and wonderful deserves to be treated accordingly.

Any type of lube can be used with this one though oil based may be harder to remove than either silicone or water based.

Condoms are recommended if this toy is being shared.

Care and cleaning:

Bleachable