Spartacus Bad kitty wordband collar - Collar from Spartacus

Bad kitty wordband collar videos
Product Details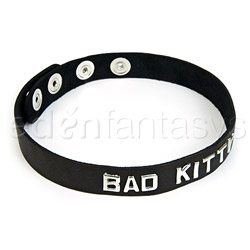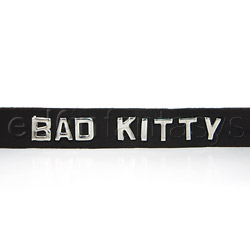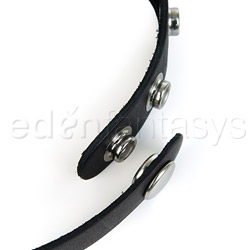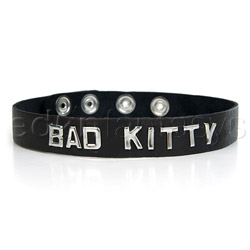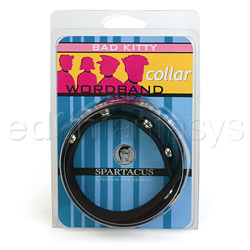 Summary:
The Bad Kitty collar is a simple yet attractive accessory, that is well made and comfortable to wear. It features a single-snap closure, and the sizing is adjustable enough for it to fit a wide variety of people.
Pros:
Real leather, quality design, affordable price.
Cons:
Could have used one size smaller.
Best use:
The Bad Kitty collar by Spartacus Enterprise sports a simple design that would be a great introductory piece for anyone who would like to try wearing a collar, but who doesn't want to spend a lot of cash. The stylish 3/4" wide band is set with nickel-plated steel letters and fits neck sizes from 13" to 16".

Though it lacks any O-ring or D-ring for bondage attachments, it's a sexy bedroom accessory that is sure to set the mood. And if you're bold enough to let the world know just what a "bad kitty" you really are, it's comfortable enough to wear out in public too.
Design / Craftsmanship / Material / Size / Fit:

Spartacus collars are handmade with high-quality materials, and it shows. The Bad Kitty collar is made of black oil tan leather that has a smooth outer surface and a suede-like back, with no rough edges to irritate the skin. It's supple and lightweight, and give the impression that it's something that will last a long time.

Both the snaps and the letters are firmly attached to the leather with not even the slightest bit of "play" in them, so you know they aren't likely to come out, and the backs of the hardware are embedded in the leather to ensure comfort. The letter backs in particular were impressive, because it was obvious that the craftsman had gone to great lengths to make sure that every bit of metal was deep enough in the leather that they wouldn't be felt when worn.

The Bad Kitty collar has one snap "top" on one end, and four snap "bottoms" on the other, which makes it adjustable from 13" to 16", in 1-inch increments. The sizing is accurate, but if you're a petite woman you will likely find the collar to be loose. Additionally, if you wear the collar on the smaller settings there will be quite a bit of "tail" to tuck under, but Spartacus did leave enough space between the snap bottoms that you can trim off the excess if you want to.

Material:

Leather

Material safety

Color:

Black

Length:

18"

Width:

3/4"

Closure:

Snaps

Weight:

0.1 lb

Performance:

The first thing you notice when you handle this collar, is that sexy leather smell... no funny dye odors, no adhesive stench, just good clean leather. That alone adds to the pleasant experience of wearing it.

The snap closure is easy to fasten and stays in place well. It can withstand substantial tugging, though its lack of a ring for any sort of attachments, means partners will have to find another way to control their Bad Kitty in the bedroom.

As can be expected, if you wear the Bad Kitty collar for a long time it can get a bit warm underneath, but the soft backing and flexibility of the leather doesn't allow it to become truly uncomfortable no matter how long you have it on.

Care and Maintenance:

It isn't difficult to care for this collar. It can be wiped with a damp cloth, though excessive rubbing isn't good for it. In the event that you do get something on it that cannot be wiped off so easily, you can get a cleaner that is designed specifically for leather.

You should store the collar somewhere away from direct sunlight, humidity, or high heat in either a flat or loosely rolled position. It's not a good idea to store leather for long periods of time anywhere that doesn't get some air circulation (like in plastic bags).

Packaging:

The collar comes rolled inside a small plastic clam shell package that is easy to open. The cardboard insert is tastefully colored and has an abstract design of collar-clad silhouettes on the front, and lists other collars available with the manufacturer's website on the back.

Experience:

Michele says:
I've only owned one collar before this one, and it was a stiff scratchy uncomfortable thing that wasn't fit for a dog. The Bad Kitty collar is exactly the opposite of that. My skin is fairly sensitive, but this collar never bothered me at all, and didn't leave any rashes or anything. As a matter of fact, I've decided that I could really become a fan of regular collar use, though I'm not sure I'd be willing to advertise "Bad Kitty" to all my neighbors by wearing this one when we go out (lol).
One thing that struck me as odd though is that while "Bad Kitty" seems to be more something that a woman would wear, the sizes seemed more appropriate for a man. I had the collar on its smallest setting, and it was still looser than I would have liked.

Alan says:
I wasn't even aware that we were getting a collar until Michele sauntered into the bedroom wearing it with some slinky black nighty thing. All I can say is it was beyond sexy, and definitely put me in the right mood to try out the new flogger we'd gotten!

Other

Safety features:

Phthalates free