Meow! Kitty, kitty...
The Bad Kitty word collar is a very cute, high quality leather collar. It's comfortable to wear for extended periods of time. If "Bad Kitty" is not your thing, there are tons of other choices for wording. The only thing I didn't like about this was the size. It's almost too big for my neck, and I am a medium built woman. Smaller women may not be able to snap this collar tight enough. Make sure to measure before you order!
Published:
Pros:
cute, soft, quality leather, easy to snap open
Cons:
not for more petite people, no rings for leashes
First off, I'd like to say I absolutely love this collar. It's cute and can be used in a variety of situations: bondage, role play, Halloween, or just part of daily fashion. I personally bought it just to wear occasionally and possibly as part of a Halloween costume. This collar is pretty innocent looking and can pass easily as a choker.

The Bad Kitty collar, by Spartacus, is hand-made out of oil tan leather. Each collar is individually made by craftsmen, which means they are each unique. Some may have small flaws, while others may not. The metal letters on mine are a bit crooked, as are the letters on the collar EdenFantasys has pictured. This doesn't look too bad from afar, though it is pretty obvious if the collar is a few inches away.

The feel of the leather is very nice. It's soft and smooth on the outside, while somewhat textured on the inside. The edges are not rough and do not cut into my skin at all. This is VERY comfortable to wear. It has a very faint leather scent to it, though it doesn't smell bad. I feel the metal snaps and lettering on the collar are pretty nice. The snaps are easy to open and close, whether you are putting the collar on or taking it off. I am able to wear this for quite a while without getting any sweaty bits of leather or anything rubbing on me. I don't really feel warmer under this at all.

The band of the collar is 18 inches long and 3/4 of an inch wide, with metal snap settings for neck widths of 13, 14, 15, and 16 inches. It should be able to fit on a variety of people comfortably. I am smaller necked, with a neck width of about 12 2/3 inches. The tightest metal snap, at 13 inches, fits comfortably, with just a little extra breathing room. I would recommend measuring around your neck before deciding on the size to snap to or whether to even order this.

I do feel like I would prefer to see either two sizes of collars, 13-14 inches and 15-16 inches, because of the amount of left over length after putting this on. I have three extra snaps that loop under the other side of the collar. These tend to droop down, so they are not covered by the rest of the collar. I imagine offering a smaller range of sizes or attaching something to hold the bands together would fix this. Trimming off any excess collar after your snap size may also fix the issue.

This collar also does not include any sort of ring system to allow for it to be attached to a leash. While I actually prefer the lack of rings, someone looking for a collar for bondage or role playing scenarios may want to look at a different collar.

The Bad Kitty collar comes packaged in a plastic clamshell package with a blue paper insert. The insert lists sizing information, Spartacus's web site, www.sparticusleathers.com, and the rest of their line of word band collars: bear, bitch, bottom, butch, daddy, daddys boy (no apostrophe), eat me, fuck me, master, mistress, pig, pussy, queen, sexy, slave, slut, submissive, top, and whore. I'd have to say, bad kitty is probably the mildest collar. Because of that, I don't see people being offended or anything by someone walking around the mall wearing the bad kitty collar or something.

To clean the collar, I would recommend buying a leather cleaning product or just lightly rubbing it with a slightly damp cloth. Too much rubbing may ruin the material, so you'd have to be careful. I would recommend storing this by laying it flat in a dry, cool place. Just throwing it in your underwear or junk drawer may cause it to get kinks or rips. I personally keep mine in its original packaging so it doesn't get scuffed by the other junk in my dresser. It is recommended for leather products to be conditioned every 6-9 months, in order to replenish the tanning oils that have depleted over time. Loss of oils causes the leather to become stiff and cracked. You'd need to follow the instructions on the leather conditioner product in order to properly keep this in good shape. Both cleaning and conditioning will increase the life of the collar, while keeping it soft and comfortable to wear. I am sure that leather cleaning and conditioning products could be found easily online or possibly at a shoe store.
Experience
Overall, I feel the bad kitty collar is worth the price tag. It's soft and comfortable. While it does not include a leash ring, it could make a good introduction to bondage or even just wearing collars. Either way, it does certainly let me know how my cat feels with his little jingly collar on.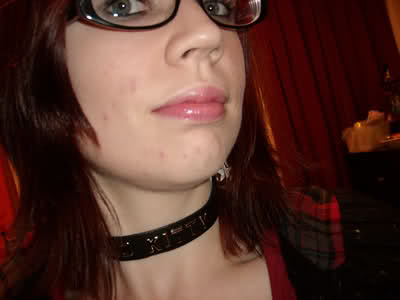 Follow-up commentary
2 months after original review
This collar is still holding up just fine. I haven't actually gotten to wear it out yet, though, like I wanted to. Even though it seems to spend way too much time sitting in a drawer, I definitely don't regret buying it.
This content is the opinion of the submitting contributor and is not endorsed by EdenFantasys.com

Thank you for viewing
Bad kitty wordband collar
– sex toy review page!