Principessa Beauty Amore afterglow salt buff - Scrub from Principessa Beauty

Product Details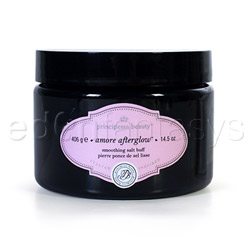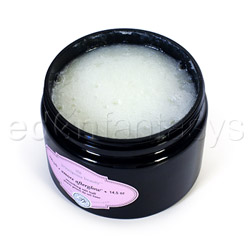 Summary:
Your journey for self gratification starts here. The natural ingredients, salts, and aroma are just what you need to get your sexy back. The healing properties immediately show themselves, leaving your body baby soft while revitalizing your senses. A great addition to late night rendezvous or intimate alone time with yourself. Your body will thank you profusely.
Pros:
Sensuous scent, easily melts away & leaves behind a divine suppleness,14.5oz for many applications.
Cons:
The price may seem high, but you get what you pay for and this gem is worth its weight in gold.
Best use:
Scrubs and buffs are meant to exfoliate your skin. The various ingredient combinations determine just how well they work and what they will leave your body feeling like afterwards. The Principessa Beauty Amore Afterglow combines Shea Butter, Aloe, Salt, and other natural ingredients that leave your skin feeling ultra smooth and luxuriously pampered. It won't take long for the buff to become a part of your everyday routine. The healing properties of salt, mixed with natural ingredients, take your body to a far off place where only a true Goddess roams amongst fragrant flowers.
Texture / Consistency / Thickness / Viscosity:

Most scrubs are best applied with body scrubbers or buffers. The Amore Afterglow Salt Buff is a thick compound that breaks down very easily within your fingertips. When used with a washcloth, buffer, or other scrubbing aids, it tends to disappear into your applicator rather than on your skin. Because of this reason, it is best to slip your fingers into the thickness and gently coat your body.

The afterglow feels soft against the skin. Including the word "buff" in the name is perfect because it gently buffs the skin rather than providing a grainy scrub feeling. Once you began to rinse your flesh, you instantly feel a soft suppleness that tempts you to continually touch yourself, giving in to the softness.

The afterglow truly calls out to all the beauty and sensuality buried deep within. And when you add your partner, the experience makes for an erotic moment that will leave its mark long after you step out of the bath.

The look of the buff reminds one of a thick paste, but feels extremely soft. After you have washed away the afterglow, you will see a light shimmer on your skin. But don't worry. It is nothing like those glitter lotions that leave you looking like a disco queen or one of the vampires from Twilight. The shimmer actually gives your skin a light glow that all will notice.



Ingredients:

Sea Salt, Glycerin, Magnesium Suflate (Epsom Salt, Propanediol, Water, Cetearyl Alcohol, Ceteareth-20, Butyrospermum Parkii (Shea Butter), Aloe Barbadensis Leaf Juice, Helianthus Annuus (Sunflower) Seed Oil, Linum Usitatissimum (Linseed) Seed Extract, Punica Granatum Extract, Olea Eurpaea (Olive) Fruit Extract, Laminaria Digitata Extract, Morinda Citrifolia Extract, Camellia Sinensis Leaf Extract, Hydrastis Canadensis (Golden Seal) Extract, Glycyrrhiza Glabra (Licorice) Root Extract, Althaea Officinalis Root Extract, Verbascum Thapsus Extract, Trifolium Pratense (Clover) FLower Extract, Camellia Oleifera Leaf Extract, Arnica Montana Flower Extract, Lonicera Caprifolium (Honeysuckle) Flower Extract, Lonicera Japonica (Honeysuckle) Flower Extract, Fragrance, Citric Acid.

Taste / Aroma:

The scent is labeled Isolina or "little island". And this is where you are carried off to from the first inhale.

The sweet aroma that emanates from the jar will take your breath away. And when in the shower or a warm bath, you will be elevated to a state of sensual bliss. The mixture of natural ingredients combine to create a soft scent that won't overpower your personal spa time.

The buff is not edible, but by the slim chance that you get some of the residue on your lips or tongue, it will not send you into a spitting frenzy. Instead you will be greeted by a light salty aftertaste.

If you are sensitive to smells, I would still recommend that you try the Principessa Beauty Afterglow Salt Buff. Envision running barefoot on warm sand, with the beams of the sun gently kissing your skin with the sea and fragrant island flowers weaving themselves throughout your senses. The scent will carry you away and your soul will thank you for the journey.

Performance:

The Amore Afterglow works best when you use your fingers rather than a buffer or washcloth, because it seems to absorb in the applicator rather than your skin. The buff exfoliates your skin, leaving behind a smoothness and natural glow to your skin. Although you will find that application works best using your fingers, you will also see that a little goes a long way. Quarter size amounts in various places on your body work perfectly.

If, by chance, you choose to involve your partner in applying, the experience will please both of your senses with the aroma and soft feel.

For those with allergy concerns or sensitive skin, I suggest reading through all of the ingredients. Everyone's skin is different, and what will work for some may not work for all.

Packaging:

The Amore Afterglow comes in a sturdy black plastic jar. The fact it is made in the dark hue helps to prevent the buff from breaking down in the sunlight.

Because you get a large amount, 14.5oz, you will have to separate it into a smaller container for carry-on luggage. However the round jar will fit easily into your checked luggage.

The size of the jar will also fit lovely on the edges of your tub or wide shower caddy.

On the back of the container is a short note from Principessa Beauty along with the ingredients
and on the front you have the trademark pink label.




Volume:

14.5 fl.oz.

Weight:

1 lb

Other

Safety features:

No Phthalates / No Sulfates / No Triclosan / Parabens free