Not Soap Radio Brown sugar lip scrub - Scrub from Not Soap Radio

Product Details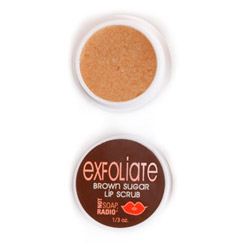 Summary:
If you get dead skin on your lips, this works to scrub it all off. It smells wonderful and has an interesting texture. If you enjoy brown sugar and healthy lips, try this out!
Pros:
Gets off dead skin, smells good.
Best use:
This makes a great exfoliate for your lips. If you get dead skin on your lips, or really chapped lips, then this would be good for you to try. It does contain Glycerin, which is an iffy product for a lot of people.

I like to use it in the mornings and at night. Since it's made from brown sugar, it has that kind of sandy feeling that really scrubs your lips. It's great to really remove that dead skin you may have.

It has a nice brown sugar taste, but I don't suggest eating it or anything, as it's probably unhealthy.
Texture / Consistency / Thickness / Viscosity:

It's like reaching into a bag of brown sugar and rubbing it on your lips. It's pretty thick, so you really have to push down to get some on your fingers.

It's a lot like a little case of lip balm, where you just dip your finger in and rub it on your lips.

Ingredients:

Sucrose, Glycerin, Amygdalus Dulcis (Almond) Oil, Cocos Nucifera (Coconut) Oil, Beeswax, Persea Gratissima (Avacado Oil), Mangifera Indica (Mango) Seed Butter, Theobroma Cacao (Cocoa) Seed Butter, Tocopheryl (Vitamin E), Flavor

Taste / Aroma:

It kind of tastes like brown sugar, but with a really terrible aftertaste. I really don't suggest ingesting this at all. It smells really good though. Like brown sugar or syrup.

Performance:

It works pretty well if you have a problem with dead skin. The sandy texture just kind of scrubs it all right off. It's not really unpleasant or anything. It's a bit awkward feeling though if you're not used to that kind of texture on your lips.

It also doesn't absorb well, so you're stuck with the awkward sandy texture on your lips for a while.

Packaging:

Volume:

0.33 fl oz.

Weight:

0.8 oz

Other

Safety features:

No Phthalates / No Sulfates / No Triclosan / Parabens free

Special Features: