System JO Dona sensual chromotherapy bath treatment - Bath oil from System JO

Dona sensual chromotherapy bath treatment videos
Product Details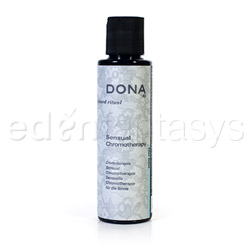 Summary:
This wonderful little potion will turn your bath a glorious shade of blue and put a sweetly exotic scent in the air. Glorious.
Pros:
Smells good, makes your bath a nice shade of blue, doesn't stain.
Cons:
Good effects highly subjective.
Best use:
This is a nicely scented liquid that dyes your bath blue without staining you or your tub. Other than that, it seems to have some light moisturizing properties and it smells really nice. It's a sensory pleasure: it works well for those who like to create an atmosphere in the bath - a little of this and you'll feel like you're in Hawaii or somewhere else with one of those brilliantly blue seas.
Texture / Consistency / Thickness / Viscosity:

It feels similar to food coloring; it's easy to pour and feels a tiny bit oily when applied directly to skin. Of course, it's not intended to be applied directly to the skin - this is intended to be poured into your bath as it runs. It doesn't change the texture, viscosity, etc. of the bathwater noticeably at all, but does make it smell faintly floral in a very pleasant way.

Ingredients:

Purified Water (Aqua), Fragance, PPG-25 Buteth-26, Hydrogenated Castor Oil, Phenoxyethanol, Ethylhexlglycerin, May Contain: FD&C Red #40, FD&C Green #4, FD&C Yellow #5, FD&C Yellow #6, FD#C Blue #1.

Taste / Aroma:

It has a sweet, delicately floral scent, somewhat exotic. It's reminiscent of jasmine or neroli oil, sweet but not excessively so with floral notes, fresh and perfect and rather gender neutral. It's a very pleasant scent, not at all cloying or chemical. It's also fairly light, not a scent that will assault your nostrils.

Performance:

This product is very good at its intended purpose: it smells nice and it makes the bath a lovely color without staining you or the tub. It also seems to leave the skin very, very lightly moisturized (not at at all heavy or greasy, very light: if your skin is dry, you will almost certainly need an additional moisturizer).

Its ingredients, except for the fragrance, are those with low irritancy potential, which is nice for those with sensitive skin.

Packaging:

It comes in a small bottle, with a label that indicates that this is a small company (in other words the graphic design isn't slick), but it serves its purpose and does what it's intended to do.

Volume:

4.25 fl.oz.

Weight:

0.4 lb

Other

Safety features:

No Phthalates / No Sulfates / No Triclosan / Parabens free