Cake Beauty Plane friendly travel kit - Bath and shower gel from Cake Beauty

Plane friendly travel kit videos
Product Details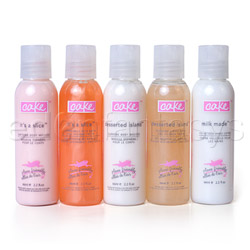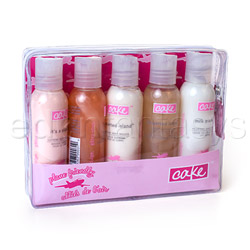 Summary:
This 5 piece kit comes with a variety of smells to help you relax during those long trips. Soak in a hot bath full of bubbles or rub some lotion on to smell like whipped vanilla frosting. Either way, this will leave your nose happy and your bag dry (no leaking).
Pros:
Variety, travel friendly, good scents.
Cons:
Shower/bath froth could be a little bit frothier.
Best use:
The Plane Friendly Travel Kit by Cake is a nifty little sampler pack that can be taken anywhere, anytime. This 5 piece kit comes with bath and shower "froth" and lotion in two different scents: Desserted Island and It's a Slice; and a velveteen hand creme entitled Milk Made.

The kit is intended for bath and body use - from bubble baths and hot showers to freshening up with a dab of lotion. The shower/bath "froth" works great for bubble baths or hot shower suds, whichever strikes your fancy. The lotions rub on smooth and leave you smelling fresh and lightly scented.
Texture / Consistency / Thickness / Viscosity:

** Shower/Bath Froth **
Desserted Island / It's a Slice
These aren't the greatest shower gels in the world. They don't really lather up well, and they won't leave you smelling good for long like most gels will. They are OK as bubble bath gels, but the bubbles won't last that long either.

They will do for traveling, however, and would make a nice freshen-upper that will fit in your purse.

** Lotion/Hand Creme **
All of these are velvety smooth and spread onto the skin evenly. Their textures are like that of a normal lotion, but they leave the skin feeling so much silkier and fresher than a normal lotion would.

Ingredients:

Velveteen hand creme: Water (Aqua), Glycerin, Cetyl alcohol, Glyceryl stearate, Cetearyl Alcohol, Ceteareth-20, Dimethicone, Stearic acid, Althaea officinallis (Marshmallow) extract, Milk Lipid, Mangifera indica (Mango) seed butter, Butyrospermum parkii (Shea Butter), Phenoxyethanol, Caprylyl Glycol, Sorbic Acid, Parfum (Fragrance), Carbomer, Sodium Hydroxide, Tetrasodium EDTA Desserted island mousse: Aqua/Eau, Glycerin, Caprylic/Capric Triglyceride, Cetyl alcohol, Stearic acid, Sunflower (Helianthus annuss) seed oil, Cocos nucifera (coconut oil), Macadamia integrifolia seed oil, Mangifera indica (Mango) seed butter, PEG-100 stearate, Glyceryl stearate, Ceteareth-20, Cetearyl alcohol, Isopropyl palmiate, Dimethicone, Vitamin E (tocopheryl acetate), Aloe barbadensis leaf juice, Parfum (Fragrance), Phenoxyethanol (and) Caprylyl Glycol (and) Sorbic acid, carbomer, triethanolamine, bezophenone-3, Tetrasodium EDTA, DMDM Hydantoin, CI 15985 (Yellow6), CI 16035 (Red 40) Desserted island sho

Taste / Aroma:

At first, all 3 of these have a strong smell to them, but once absorbed into your skin they will lighten up and smell good (as in not too overpowering).

Desserted Island
This smells wonderful! It is a mixture of vanilla and coconut. There is also a hint of mango and macadamia nut, all accurately described on the bottle.

It's a Slice
If you have ever had an Orange Dream Bar or an orange and vanilla ice cream bar/shake, you know exactly what It's a Slice smells like. This lotion comes equipped with macadamia nut and aloe vera as well, which add to the wonderful smell.

Milk Made
The Milk Made hand creme reminds me of frosting on a cake. It smells really sweet and strong at first, but it lightens up throughout the day and leaves a nice scent on the skin. If I had to pick a specific smell, I would say it smells like mango and marshmallows, which both happen to be ingredients, although the bottle says that it smells like a whipped vanilla shake. That might sound gross but it actually isn't bad.

Fragrance:

Desserted island / It's a slice / Milk made

Performance:

** Shower/Bath Froth **
As mentioned above, the shower and bath froth aren't the greatest shower gel/bubble bath gel I have had, but I have had much worse. They work great for traveling and although the bubbles don't last a long time, they still give you a nice relaxing aroma and feel while they are there. The shower gel doesn't seem too potent as it doesn't lather up well and leaves me feeling like I need more.

** Lotion/Hand Creme **
These are all really great and they are the perfect size to fit in a purse or small bag. The tops stay on tight and can easily be opened by the flip of a finger (they are push tops for lack of a better term--- they don't flip open but they don't screw off either, I hope that makes sense...).

Simply rub a small amount into your skin and go! It doesn't take more than a minute to apply and stays smelling good for a while.

The set includes:

2.2 fl. oz bottles of: (1) Desserted island body mousse
(1) Desserted island bath and shower froth
(1) It's a slice bath and shower froth
(1) It's a slice body mousse
(1) Milk made velveteen hand creme

Packaging:

This little 5 piece kit comes in a handy dandy storage bag that can be reused for makeup, accessories or anything else you can fit into it. It looks to be about 5"x7" so it is a good size, but its rectangular shape makes it easy to fit in your purse or bag (we all know that there are about 100 things in any given bag and we need as much room as we can get!).

The packaging is discreet, as is the lotion, and can be left anywhere you choose. There are no sexual innuendos or pictures anywhere.

Since it is all plastic, the whole kit can be recycled as well! Added bonus for the green folks out there.

Volume:

2.2 fl.oz.

Weight:

1 lb

Other

Safety features:

No Triclosan / Parabens free