Best use:
Simply sensual hair care trio has three products to treat you hair with. This luxury trio is for all types of hair, even hair which is color treated. The ingredients are specially formulated to cleanse, restore moisture, and provide protective shine. These are even infused with pheromones.
Included in the trio are one 8 oz bottle of shampoo, one 8 oz bottle of conditioner, and one 2 oz bottle of shine serum. All of which are created to do their job well.
The shampoo is designed to cleanse your hair. The conditioner is design to hydrate your hair. And the shine serum is designed to add a shining coat to your hair.
There is a complete list of ingredients in the personal comments section, but there are some allergy causing ingredients in all three items.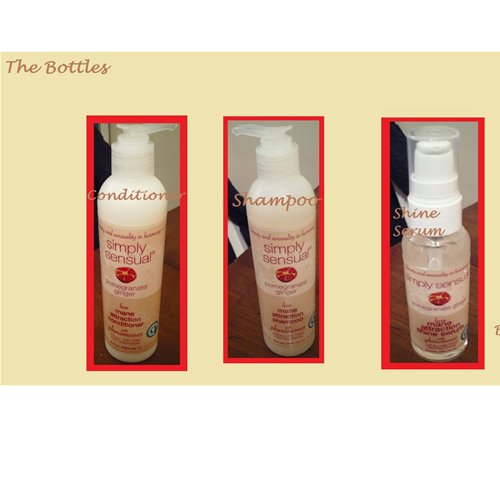 Texture / Consistency / Thickness / Viscosity:

Shampoo
The shampoo is fairly runny, but it lathers well: once it is lathered into your hair it stays in place until you rinse. If you just have the shampoo on your skin, it doesn't get sticky like some do. The pump bottle could be better. It tends to stick, not allowing many pumps in a row nor allowing a desirable amount for those with more hair.

Conditioner
The hair conditioner is thick, creamy, and velvety soft. This is just like your basic conditioner. It easily rinses out of your hair with water alone. The bottle is a push pump, but this pump is cheap. It tends to stick and not allow for much to come out at one time. So, for those with longer hair, many pumps might be required.

Shine Serum
The shine serum comes in a better bottle. The pump stops from over pumping and is easy to use, but if not stored upright it will leak. It is designed similar to antibacterial foaming hand sanitizer. The feel of the shine serum is similar to furniture polish. It has an oily texture and is extremely runny. It is greasy and hard to wash off the skin without soap.


Ingredients:

Shine serum: Cyclomethicone, Dimethiconol, Cyclopentasiloxane, Cyclohenexasiloxine, Cetyl Dimethicone, Tocopehryl Acetate (Vitamin E), Fragrance (Parfum), Reconstituted Andronone, Copulandrone, Copuline-alike Shampoo: Water (Eau), Ammonlum Lauryl Sulfate, Sodium Laureth Sulfate, Cocamidopropyl Betaine, Lauramide DEA, Hydrolyzed Soy Protein, Dyrolzed Wheat Protein, Panthenol (Vitamin B5), Polyquatemium-10, Hydroxypropyl, Methylcellulose, Glycol Stearate, Sodium Chloride, Citric Acid, Sorbic Acid, Disodium EDTA, Reconstituted Andronone, Copulandrone, Copuline-alike, Methylisothiazollnone, Fragrance (Parfum) Conditioner: Water (Eau), Cetyl Alcohol, Stearyl Alcohol, Cetrimonium Bromide, Panthenol (Vitamin B5), Hydrolyzed Soy Protein, Hydrolyzed Wheat Protein, Ginkgo Biloba Leaf Extract, Camellia Oleifera (Green Tea) Leaf Extract, Cetearyl Alcohol, Ceteareth-20, Glycerin, Dimethicone, Cyclomethicone, Dimethiconol, PEG-2M, Lecithin, Sorbic Acid, Disodium EDTA, Sodium Chloride, Reconstitute

Taste / Aroma:

These products are not meant for tasting and should not be ingested.

These are labeled as pomegranate ginger. The bottle calls this smell alluring because it is meant to please the senses and make you simply sensual. The smell is like citrus and spice fresh out of the bottle, but after you completely rinse your hair and it is dried, that is not the smell left behind. The left behind smell just smells citrus clean; however, the shine serum does have the citrus and spice smell. Fresh out of the bottle the smell is overwhelming, but once the product is used the smell dissipates.

Fragrance:

Ginger / Pomegranate

Performance:

Shampoo
Depending on your hair length you should apply an adequate amount, then thoroughly scrub it into your scalp and hair. You will notice how well the shampoo lathers and coats the entire mane. There are no issues with the shampoo not rinsing out thoroughly. Once the shampoo is rinsed out, it leaves behind coarse hair, but the conditioner is there to save the day. There is a nice clean feeling to the scalp from using the shampoo.

Conditioner
The conditioner is used to add moisture back into your hair, so for those who prefer to have dry hair, you will want to skip conditioner. You will want to apply more conditioner than shampoo because the conditioner doesn't lather as easily. You need to coat your entire mane. Once the conditioner is added you can tell right away that the moisture has returned to your hair.

Shine Serum
The shine serum is meant to be added to damp or dry hair prior to styling. The shine serum adds a healthy, oily shine to your hair. Once it is applied it leaves behind the appearance like you ran a hair straightener through your hair, but it leaves a greasy residue behind. If you are not happy with the shine serum you will need to shower again to remove it.

The set includes:

8 fl.oz mane attraction shampoo
8 fl.oz mane attraction conditioner
and 2 fl.oz mane attraction shine serum

Packaging:

The hair care trio comes in a clear plastic pouch that has a draw string top. Nicely placed inside are one 8 oz bottle of shampoo, one 8 oz bottle of conditioner, and one 2 oz bottle of shine serum.

Volume:

2 fl.oz. / 8 fl.oz.

Weight:

1.5 lb

Special Features:

All three products have the same three pheromones in the ingredients, but there was no pheromone reaction from either sex. This was tested on both male and females with no pheromone attraction.

Personal comments:

Breakdown

Shampoo
*Water(Eau)- a colorless, tasteless, and odorless compound that is very universal. Some are known to have allergies, but that is rare.
*Ammonlum Lauryl Sulfate- added to many cleaners as a base. Known to cause irritation to eyes and skin.
*Sodium Laureth Sulfate-is a detergent added to shampoos, soaps, and toothpaste. Can cause skin and eye irritation.
*Cocamidopropyl Betaine-a synthetic surfactant that is derived from coconut oil and dimethylaminopropylamine, which is used in many shampoos, soaps, and cosmetics. There are some allergy concerns with this ingredient.
*Lauramide DEA- potentially contained with harmful impurities, however used in most shampoos, body washes, hair coloring, hair gels, mousse, spray, and more, but used under the purpose of a nitrosating agent.
*Hydrolyzed Soy Protein- Should be avoided by those who are sensitive to MSG. It is produced from soy.
*Hydrolyzed Wheat Protein- Provides animo acids to your hair, but derived from wheat.
*Panthenol- is the alcohol analog of vitamin B5, which makes it a provitamin B5, it is the moisturizer in most personal care items and widely used.
*Polyquatemium-10- a white granulated power that has characteristics of anime odor and used in many cosmetics as a thickener and conditioner.
*Hydroxypropyl- used as a protectant, lubricant, and thicker.
*Methylcellulose- used as thickener and emulsifier in various foods and cosmetics, derived from the chemical pound of cellulose.
*Glycol Stearate- made up of ester of stearic acid and ethylene glycol, which is used in many cosmetics and personal care products.
*Sodium Chloride- aka salt.
*Citric Acid- used to add acidity to a product, but is a weak organic acid. It is a great chelating agent.
*Sorbic Acid- used as a food preservative that is a natural organic compound.
*Disodium EDTA- used in many personal care products and food as a preservative. This ingredient is regulated by the FDA, because certain levels have been found to be harmful to mammals.
*Reconstituted Andronone- A human pheromone used in many beauty products.
*Copulandrone- Pheromone.
*Copuline-alike- Pheromone.
*Methylisothiazolinone- Preservative, which studies have shown health concerns about.
*Fragrance (Parfum)- the scent or perfume of the product. Can cause allergies to those with sensitive skin.

Conditioner
*Water(Eau)- a colorless, tasteless, and odorless compound that is very universal. Some are known to have allergies, but that is rare.
*Cetyl Alcohol- is a fatty alcohol. It takes the appearance of a white waxy solid or white flakes, which depends on the temperature. This ingredient is commonly used in shampoos, lotions, and creams. History fact: Cetyl Alcohol was originally from sperm whale oil, but now produced from vegetable oil, coconut oil, or palm oil.
*Stearyl Alcohol- is a fatty alcohol that is commonly used in personal care products. The main reasoning behind using this ingredient is as a thickening agent.
*Cetrimonium Bromide-is one of the components of the topical antiseptic cetrimide, which is meant to protect against bacteria and fungi and it is commonly used in many beauty products.
*Panthenol (Vitamin B5)- is the alcohol analog of vitamin B5, which makes it a provitamin B5. The purpose is as moisturizer in most personal care products and widely used.
*Hydrolyzed Soy Protein- Produced from soy and should be avoided by those sensitive to MSG.
*Hydrolyzed Wheat Protein- derived from wheat to apply amino acids to your hair.
*Ginkgo Biloba Leaf Extract- derived from the seeds off a female Maidenhair Tree. The purpose is as a skin conditioner.
*Camellia Oleifera (Green Tea) Leaf Extract- extracted from the leaves off a Camellia Oleifera, but used as a skin conditioner.
*Cetearyl Alcohol- a mixture of cetyl and stearyl alcohols that are derived from vegetables, but other sources too. The purpose is fro viscosity control.
*Ceteareth-20- is the polyethylene glycol ether from cetearyl alcohol, it can contain toxic impurities. It is used as a cleansing agent.
*Glycerin- a viscosity decreasing agent that also conditions; know to cause allergies for some. Comes from the natural alcohols of vegetables or animals.
*Dimethicone- (polymethylsiloxane) a silicon based polymer used to condition or lubricate.
* Cyclomethicone - is a silicon based cyclic compound that could be associated with environmental toxins. It has the purpose of viscosity control.
*Dimethiconol- a silicon based polymer that is used to create moisture.
*PEG-2M- polymer of ethylene oxide that is used to increase viscosity.
*Lecithin- a natural lipid that is derived from plants and animals, but with the purpose of skin conditioning.
*Sorbic Acid- is used as a preservative, but is a natural or synthetic compound.
*Disodium EDTA- used to decrease the levels of metal ions; is a chelating agent.
*Sodium Chloride- table salt that is used to increase viscosity.
*Reconstitute Andronone- is a pheromone.
*Copulandrone- is a pheromone.
*Copluine-alike- is a pheromone.
*Methylisthiazolinone- is a preservative that has studies showing health concerns.
*Fragrance (Parfum)- the scent or perfume of the product. Known to cause skin allergies to those with sensitive skin.

Shine Serum
*Cyclomethicone- a silicon based cyclic compound that maybe associated with environmental toxins. It is used to control viscosity.
*Dimethiconol- a silicon based polymer used to condition or lubricate.
*Cyclopentasiloxane- a silicon based cyclic compound that maybe associated with environmental toxins. It is used as a skin conditioner.
*Cyclohenexasiloxane- a silicon based compound, but no other information was found.
*Cetyl Dimethicone- a synthetic silicon based polymer that is used to condition the skin.
*Tocopheryl Acetate (Vitamin E)- chemical compound of acetic acid and tocopherol (vitamin E). It is used as a conditioner.
*Fragrance (Parfum)- the perfume or scent added to the product, which can cause skin allergies to those with sensitive skin.
*Reconstituted Andronone- pheromone.
*Copulandrone- pheromone.
*Copuline-alike-pheromone.

Experience:

I usually use Herbal Essences body envy which is a volumizing shampoo. My hair is fairly long, since it goes down to the middle of my back. My hair is thick and coarse like horse hair, so conditioner is a must for my hair to even brush it. My usual brand comes in a 12 oz bottle which lasts about 2.5 weeks of silver dollar sized amounts. The Simply Sensual only requires quarter size amount for shampoo, but the conditioner requires about strawberry sized amounts. Therefore the week that I have been using it has left the shampoo at more than half of the bottle, but the conditioner is just about gone with enough for two or three more washings. For me the conditioner never lasts as long as the shampoo, but this is more than usual. I am pleased with how well it works for my hair. It works just as good as my Herbal Essences, but doesn't leave my hair with a strong scent, which I would prefer. I am able to brush my hair and style it as normal. It didn't make my hair frizzy or too dry, like some do.

The shine serum is not my cup of tea. It might work well in others' hair, but for me it made my hair have an unclean and oily appearance. I know it doesn't do that to all types of hair, so it just didn't agree with my hair type or my tastes.

All around this trio is awesome. I am very pleased that I had the chance to review it. I think this would be a lovely idea for a travel hair care set or a great gift to someone.

Other

Safety features:

No Phthalates / No Triclosan / Parabens free