Cake Beauty Sweet scape desserted island duo - Bath and shower gel from Cake Beauty

Sweet scape desserted island duo videos
Product Details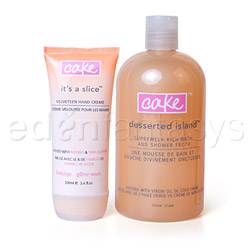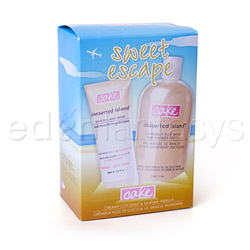 Summary:
Sweet scape desserted island duo will make you look forward to your daily bathing ritual with its seductively delicious vanilla cake smell and amazingly luxurious soapy lather.
Pros:
Smells amazing, soap is really lathery, lotion is very nice.
Cons:
Bottle should be pump top.
Best use:
This set of body products is for dirty boys and girls who wish to clean up while indulging in a decadent, sensual experience that leaves them smelling like a delicious sweet cupcake treat. The liquid soap is gentle, thickly lathering, and moisturizing, making it ideal even for the most sensitive of skins. The body lotion is not too thick and greasy yet does a lovely job spreading and making skin feel soft. The scent of both products is delicious - like the tastiest vanilla cupcake you could possibly imagine.
Texture / Consistency / Thickness / Viscosity:

The soap is not really unusual in consistency - not particularly thick nor particularly thin, but it squeezes out of the bottle with ease and does not pour everywhere by mistake when loading up your shower puff. What's amazing about it, however, is the fact that it lathers so intensely. If a drugstore liquid body soap requires squeezing out a quarter sized dollop of soap for a full body scrub down, then then this stuff requires an amount that could be described as a dime size - and you could probably get away with less! It's amazing.

The moisturizer is thinner for a lotion, about on par with a standard 'body' moisturizer (lubriderm or something like that) but not at all greasy. It absorbs fast, leaving soft skin and a delicious scent in its wake.

Ingredients:

Hand creme: Water/Eau, Glycerin, Cetyl Alcohol, Glyceryl Stearate, Cetearyl Alcohol, CetearetWater/Eau, Glycerin, Cetyl Alcohol, Glyceryl Stearate, Cetearyl Alcohol, Ceteareth-20, Dimethicone, Stearic Acid, Althaea Officinalis (Marshmallow) Extract, Milk Lipid, Mangifera Indica (Mango) Seed Butter, Butyrospermum Parkii (Shea Butter) Phenoxyethanol, Caprylyl Glycol, Sorbic Acid, Parfum (Fragrance), Carbomer, Sodium Hydroxide, Tetrasodium EDTA Shower froth: Water (Aqua), Sodium laureth sulfate, Cocamidopropyl betaine, Glycerin, PEG-7 glyceryl cocoate, Laureth-7, Cocamide MEA, Glycol distearate, Parfum (Fragrance), Vitamin E (Tocopheryl acetate), Cocos nucifera (Coconut Oil), Phenoxyethanol (and) Caprylyl Glycol (and) Sorbic Acid, Tetrasodium EDTA, Benzophenone-4, Citric Acid

Taste / Aroma:

The smell of this product could be described as being simply delicious. The scent is listed as sugar and Tahitian vanilla, and honestly, that's exactly what it is. Sweet, delicious vanilla delight. I can't say enough about how wonderful this scent is - every shower taken with this soap feels like an indulgence and overcomes my cravings for cupcakes and vanilla cream. Using this soap is like hanging out in a bakery right when the cakes have finished cooking, and frankly - I'm addicted. The lotion is as delicious, but something about the warm atmosphere in the shower makes the soap's sweet vanilla more potent.

Fragrance:

Desserted island

Performance:

The soap works wonderfully - as mentioned, it lathers much more intensely than regular soap, and of course washes dirt, sweat, and the remains of the day clean away. It does not leave behind any residue, but does leave my skin feeling soft and well cared for. And then there's the smell...heaven in a bottle.

The lotion is similarly wonderful: nut notes distinctly stand out beyond its wonderful smell. The lotion spreads well and adsorbs quickly - not too slick but also very un-slick. This is not a lotion to use for massage, but it is a lotion to use for softening tired skin and leaving a wonderful smell in its wake.

The set includes:

3.4 fl.oz velveteen hand creme and 17.4 fl.oz bath and shower froth

Packaging:

My only issue with this product is the fact that the soap does not have a pump top. This bottle is quite big - much broader than the grip of a single hand - and yet it needs to be picked up and squeezed lightly in order to get soap dispensed. The packaging is otherwise fine, and the packaging of the lotion is great - easily opened and dispensed with one hand.

Volume:

17.4 fl.oz. / 3.4 fl.oz.

Weight:

1.5 lb

Other

Safety features:

No Triclosan / Parabens free