Principessa Beauty Terme tresses conditioner - Hair conditioner from Principessa Beauty

Product Details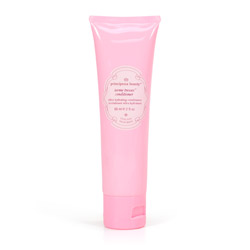 Summary:
This is a luxury item to say the least! It works just as it claims it will on the label, but it can be out of the budget of some households. It takes a small amount to work properly. Though I wouldn't use this as an everyday conditioner, it is great as a refreshing conditioner when my regular conditioner has begun to weigh down my hair a bit too much.
Pros:
Light, rinses cleanly away, smells great, leaves hair manageable.
Cons:
Super expensive, not cost effective.
Best use:
Rich, creamy and very hydrating, Terme Tresses Conditioner is worth every penny of its incredibly high price. When used in conjunction with the Terme Tresses Shampoo it will wrap each strand of your hair in silk, soy, wheat and oat proteins and then in lovely light but deeply penetrating moisture. It really produced an amazing result in my coarse, dry and easily damaged hair.

The combination of shampoo and conditioner removes all traces of second hand smoke and could be a great benefit for those who work in food service as well. It will get your hair really clean and smelling fresh.
Texture / Consistency / Thickness / Viscosity:

Creamy and pearl white, this is a thick conditioning formula but it goes on light and seems to almost be soaked into the hair. It doesn't pour easily from the bottle and I have actually creased the bottle from squeezing to get the conditioner to come out! I expected it to go on like a handful of lard but the conditioner seemed to melt onto my scalp and hair in a lovely, luxurious manner. I was able to run my fingers easily through my hair and the knots melted away.

Some conditioners feel oily, greasy or just slick, but this one felt light. I had to resist the temptation to add more because I am used to needing heavier conditioners, but after leaving it on for the full 5 minutes I rinsed it clean away and my hair felt silky and soft. The conditioner stayed in place without running into my eyes or down the back of my neck, meaning the conditioning went to my scalp and hair where it was supposed to be.

When I rinsed my hair it rinsed away quicker and easier than other conditioners I normally use. My hair felt clean but silky, not like it hadn't been conditioned at all.

Ingredients:

Aqua, Behentrimonium Chloride, Cetyl Alcohol, Cetyl Esters, Polyquaternium-55 Streayl Alcohol, Glycerin, Cyclomethicone, parfum, Sunflower (Helianthus Annuss) Oil, Shea Butter (Butyrospermum Parkii), Coconut (Cocos Nucifera) Oil, Polyquaternium-70, Dipropylene glycol, Amodimethicone, Trideceth-10 Cetrimonium Chloride, Gydrolyzed Oat Protein, Pomegranate (Punica Granatum) Extract, Grape (Vitis Vinifera) Seed Extract, White Pine Bark (Pinus Strobus) Extract, Green Tea (Camellia Sinensis) Leaf Extract, Ginseng (Panax Ginseng) Extract, Camomilla Recutita (Matricaria) Flower Extract, Algae Extract, Bearberry (Arctostaphylos Uva Ursi) Extract, Coneflower (Echinacea Angustifolia) Extract, Licorice (Glycyrrhiza Glabra) Root Extract, Phenoxyethanol Methylchlroisothiazolinone, Methylisothiazolinone, Citric Acid.

Taste / Aroma:

Given that this is conditioner the taste is chemical heavy and rather unpleasant. Not a product you'll want to chug! The taste doesn't linger in the mouth but I did find that to totally remove it I had to rinse out my mouth.

The scent, on the other hand, is one that I have found very pleasant. It is woodsy and spicy and very unisex despite the pink bottle it arrives in. It lingers on the hair even through styling but it is a light and fresh scent that you have to lean in to smell. When you do it is clean and very nice. We have found that this shampoo/conditioner set will remove all traces of second hand smoke which, for us, is a major plus as we are non-smokers.

The scent reminds me of visiting the salon without the harsher chemical smell.

Performance:

I have used about twice the amount of conditioner as shampoo over the few weeks I have used the product. This is about normal for me but what has really impressed me is the small amount that actually adds up to! Now, I don't wash my hair every day, and to be totally honest I find the clarifying properties of the shampoo to be a bit too stripping for everyday use, but my hair is very damaged due to a metabolic problem. For Sigel is worked great, though our stylist does recommend using a different brand of shampoo a few times a Month just to clear away any residue that might be left behind.

I have used approximately 1/3 of the bottle of conditioner and my hair looks amazing. Before styling it is shiny, has great bounce, and is knot free. After I use my flat iron my hair is sleek, even more shiny, and has life to it. It doesn't just hang there looking flat and one dimensional.

The one major drawback is the hefty price tag. It is well over twice as expensive as my normal Bio-Infusion Professional shampoo and conditioner and works about the same. The addition of silk, soy, wheat and oat protein elevates the Terme Tresses up just a touch but still it is a hefty price tag for a 12 oz. bottle. My 32 oz. bottle of Bio-Infusion is the same price so I am torn. This really is an amazing product and when used with my normal products makes my hair look simply amazing. I will continue to use them both but I probably wouldn't use this product as my only hair care product.

Packaging:

The Terme Tresses Conditioner arrives in a bright pink plastic bottle with white and pink label. It has a white flip top plastic screw on cap and it is totally recyclable.

The flip top can be opened with wet, slick hands but the conditioner can be a touch difficult to dispense.

It is a bit large for traveling in your overnight bag on an airplane but it won't leak if it lies on its side. I would recommend placing it in a plastic Ziploc bag just to be totally safe.

This is a travel safe product as it's simply shampoo and conditioner.

Personal comments:

I really, really like this product. It is light, nicely scented and washes away cleanly. My styling products are washed away completely, leaving my hair shiny and full of life. After having such terrible times with my hair it's nice to find a product that does what it claims it will. I know the price is steep but for me it's worth the price.

Other

Safety features:

No Phthalates / No Sulfates / No Triclosan / Parabens free