Super perfumey
I'm very careful about buying scented products online, since I am very sensitive to scents and perfumes and wasn't certain what this product would smell like. Given the price and uncertainty about the scent, I took a real leap when I ordered this conditioner. The scent of this ruins the product for me, I would hate to smell like this conditioner all day after using it - even if it were faintly!
Published:
Pros:
Paraben-free, sulfate-free, cute bottle, perfect for travel
Cons:
Expensive, small tube, perfumey scent bothers me completely
I was hesitant to order this, since it is pretty expensive, at $9.99 for just 2 oz. of conditioner. The
accompanying shampoo
is also available on EF for the same price, $9.99 for a 2 oz. bottle.
The 2 oz. size is perfect for travel. It could be brought along in any suitcase, purse, or travel bag; you could probably even fit this in a large coat pocket. When I ordered this, I expected the bottle to be much smaller than it is, at 2.oz. The bottle is just a little bit shorter than the length of my hand, it's about 5 inches tall.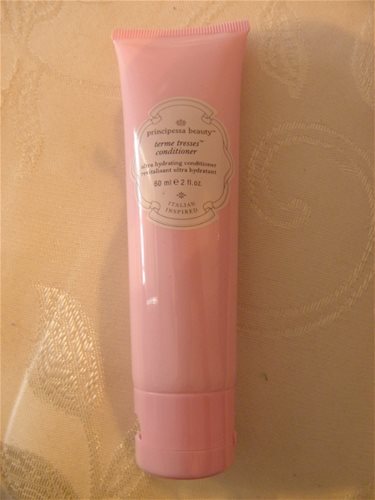 The ingredients, as listed on the product page, are as follows (and I've linked safety info for each ingredient): Aqua,
Behentrimonium Chloride
,
Cetyl Alcohol
,
Cetyl Esters
,
Polyquaternium-55
,
Streayl Alcohol
,
Glycerin
,
Cyclomethicone
, parfum,
Sunflower (Helianthus Annuss) Oil
,
Shea Butter (Butyrospermum Parkii)
,
Coconut (Cocos Nucifera) Oil
, Polyquaternium-70,
Dipropylene glycol
,
Amodimethicone
,
Trideceth-10
,
Cetrimonium Chloride
,
Hydrolyzed Oat Protein
,
Pomegranate (Punica Granatum) Extract
,
Grape (Vitis Vinifera) Seed Extract
,
White Pine Bark (Pinus Strobus) Extract
,
Green Tea (Camellia Sinensis) Leaf Extract
,
Ginseng (Panax Ginseng) Extract
,
Camomilla Recutita (Matricaria) Flower Extract
,
Algae Extract
,
Bearberry (Arctostaphylos Uva Ursi) Extract
,
Coneflower (Echinacea Angustifolia) Extract
,
Licorice (Glycyrrhiza Glabra) Root Extract
,
Phenoxyethanol
,
Methylchlroisothiazolinone
,
Methylisothiazolinone
, Citric Acid.
There seems to be a fairly low risk of allergic reaction to these ingredients, for the most part. Cetrimonium Chloride, Methylchloroisothiazolinone, Methylisothiazolinone, and Phenoxyethanol seem to be some of the greater concerns. Also, the ingredients list on the back of the bottle seems to be far more extensive than the ingredients list on the Eden page - so there are more than listed above (as seen in the photo).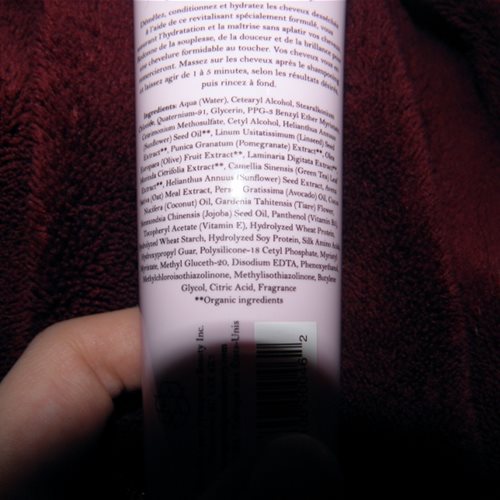 According to the back of the bottle, this is made to detangle, moisturize, and condition, without weighing hair down. It says, for directions: "Massage onto hair after shampooing and leave on 1-5 minutes depending on desired results and rinse thoroughly." It is paraben and sulfate-free, which is nice.
Experience
The scent of this conditioner is a floral, totally perfumey scent. Personally, I can't get past the smell. I really hate the smell of this, and I'm often irritated by floral/perfume scents, they make me sneeze and really irritate all of my allergies. So, once I smelled this, I knew I couldn't put it on my head. When I first opened it I thought, "This is not something I could tolerate smelling throughout my bathroom after a shower, or on my head all day afterward." I have a feeling this scent would linger on the hair, and it would likely linger in the bathroom for a short while after use in a steamy shower. This product is one for those who like scented products like this, or would want perfumed hair. There's no doubt it is a 'feminine' scent, but I find it to be very grandma-ish. I think the pink tube and the label on the front of the bottle sort of reflects the scent. Floral scents and perfumes are not something that I ever use, so this is totally out of the realm of anything scented that I would ever buy. If I smelled this in a store before buying it, I wouldn't have been interested in getting it - due to the scent, and then considering the price. Due to my allergies, scents tend to bother me, and florals and perfume smells are especially troublesome. I read in one review that this is a tropical/coconut scented product - those are scents I actually sometimes like, coconut in particular, and I do not smell it in this conditioner at all. All I get is a perfume scent, artificial, with very apparent floral notes.

Since I tried to take this in the shower with me, but just could not risk using it and being allergic to the smell all day, I ended up giving this to a friend. Hopefully, they will appreciate this product, and they can tell me if it worked out for their hair - I just couldn't bare to be covered in a scent like this. Also, when I gave it to them, they weren't sure what the bottle even said, as they commented that the print was far too small for them to read. Now that I know that this product has a scent that I can't handle, I'm going to be avoiding the rest of this brand of products.
This content is the opinion of the submitting contributor and is not endorsed by EdenFantasys.com

Thank you for viewing
Terme tresses conditioner
– hair conditioner review page!