Cake Beauty Hi light luminous body lotion - Shimmer from Cake Beauty

Hi light luminous body lotion videos
Product Details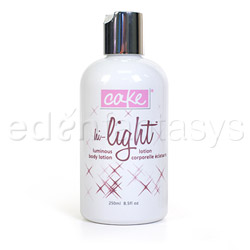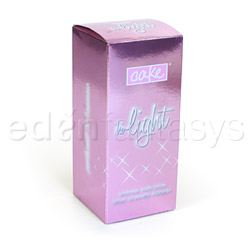 Summary:
Hi Light Luminous Body Lotion is a lemony cake delight. It makes your skin soft and shimmery while also making you smell like a delicious dessert. This is a fun lotion that can be worn every day or for special occasions.
Pros:
Smells great, shimmers, feels nice.
Cons:
Makes some crave sweets.
Best use:
This fragrant lotion has a sparkly element that makes this a great lotion for smoothing on for going out, special occasions, or just everyday use. Hi Light Luminous body lotion also smells amazingly sweet and tempting. It can be applied to any external part of the body as often as desired. There are no product interactions to be concerned about.
Texture / Consistency / Thickness / Viscosity:

The consistency of this lotion is pretty normal. It squeezes out of the bottle easily but is not runny. The lotion absorbs quickly and completely into the skin leaving a nice smooth and velvety feel to the skin. There is a shimmer that is mixed into the lotion that spreads evenly and subtly over the skin where applied and does not rub off clothing or anything else you touch.

Ingredients:

Water (Aqua), Caprylic/Capric Tryglycerides, Glycerin, Cetearlalcohol, Stearic Acid, Aroma, Dimethicone, Simmondsia Chinensis (Jojoba) Seed Oil, Glyceryl Stearate, PEG 100 Stearate, Triethanolamine, Mangifera Indidca (Mango) Seed Oil, Polyquaternium 7, Polysorbate 60, Carbomer, Phenoxyethanol, Caprylyl Glycol, Carthamus Tinctoris (Safflower) Seed Oil, PEG-150 Stearate, Steareth 20, Benzophenone 3, Tetrasodium EDTA, Aloe Barbadensis Leaf Extract, Sorbic Acid

Taste / Aroma:

The scent of this lotion is amazing! It smells like lemony cake with sweet frosting. It makes me want to lick my hands and has been known to cause sweets cravings in some of my friends who tried it out. The smell is definitely noticeable but isn't overpowering. It can be sniffed easily when the applied skin is brought to your face. This isn't meant to be a flavored lotion, but for a thorough review I tasted a tiny bit. It tastes a bit sour like a lemon and a little sweet but isn't something I'll be looking to lick away.

Fragrance:

Citrus / Hazelnut

Performance:

This lotion has about the same staying power as most commercial lotions, which for me means I'm looking to reapply in a couple hours. The smell is a nice burst of sweet happiness each time it is applied and the shimmer is subtle enough that reapplication doesn't make you look like a disco ball. If you wash your hands after application, the lotion can still be smelled at a more subtle volume and the shimmer is decreased. Over time, it seems like the shimmer lessens on its own, though mostly I've used this for my hands and that could be due to hand washing.

My two favorite things about this lotion are the shimmer and the scent. I love feeling a little bit more dressed up and sexy with an elegant shimmer on my legs for going out or even on my chest and arms. The scent is just wonderful. It reminds me of my grandma's lemon cake recipe which is one of my favorite cakes ever. I took this to work and passed it around to get other opinions and of the 3 other ladies I had try it, all 3 loved it. Each had the same scent experience of 'lemon cake' when applied and thought the shimmer was quite pretty. One had to have dessert after applying (though I think she really just needed an excuse). The best part, though, is that it does soften hands and make them feel nice.

Packaging:

The lotion comes in a silvery pink box with info about the lotion on the back. The bottle of lotion itself is white with pink and purple sparkle stars and a silver lid. The top of the lid is a press button that pops open to pour out the lotion.

Volume:

8.5 fl.oz.

Weight:

0.6 lb

Other

Safety features:

No Triclosan / Parabens free