Oooh, shimmery!
Want to add a little life to dull, dry skin? Cake Beauty's Hi-Light body lotion gives your a soft iridescent glow and a bit of glittery shimmer while nourishing your skin and adding a soft whiff of sweet scent. This isn't a lotion I use every day, but I have been enjoying it now and then.
Published:
Pros:
Scent isn't too strong, good for highlighting skin.
Cons:
Too glittery/shimmery for all over, everyday use.
Hey everyone, want to watch someone that's totally sick try to pretend not to be while yammering on incoherently for 10 minutes? Click play above! (and wow, I thought my last video screenshot was a winner, but this one is SPECTACULAR!)
Hi-light luminous body lotion is made in Canada by Cake Beauty, using a unique formula that combines ingredients such as unicorns, rainbows, fairy tales and the good dreams of bunnies. Okay, maybe not, but that's kind of what it looks and smells like.
Basically, this is a sweet-scented lotion with glittery pink mica mixed in to give it lots of shimmer and a hint of color. While putting this lotion on won't instantly transform you into a poorly-written vampire, it definitely does work as a highlighter, adding some sparkle and glow to dull skin.
I have to admit that I went back and forth between the product pages for this and Cake's "Glow-rious" lotion, trying to figure out what on earth the difference was. They have different scents (Glow-rious is a tropical, pina colada type scent to Hi-Light's sugary sweet aroma), but when I gave up and asked Cake about it, they told me that the mica in Glow-rious is gold instead of pink. Ohhh. Gotcha.
Cake calls this a "skin perfecting" lotion, and while it does contain ingredients like shea butter and aloe vera to moisturize and condition your skin, I didn't actually find it to be any more nourishing or moisturizing than the average lotion. It does definitely help dry skin, but the results aren't spectacular. This is definitely a lotion that you buy for the sparkle factor, not the skin nourishment. It's not greasy, it's easy to spread across your skin, and leaves you nice and smooth after.
Straight out of the bottle, the lotion is a very cool-toned dusty pink, almost crossing the border into a pale purple, but not quite. Once you rub it into your skin, the pinkness disappears and you're left with just a hint of an iridescent shimmer and some very finely milled glitter. I found that if I just applied this like a normal lotion, there was enough that someone would probably notice it on my skin if I was talking to them for a few minutes, but it wasn't so obvious that people you just pass by will do a double take and wonder if a unicorn threw up on you. Adding a second coat of lotion definitely upped the iridescence factor. Not the best look if you work in a professional environment, but fun for going out at night or a very casual environment. A third application gave my skin an obvious unearthly palor. Not really suitable for everyday purposes, but perfect if you're dressing up as a fairy, alien, vampire, insert vague paranormal creature of your choice here for Halloween or a convention or even bedroom role-play. This is a safe, easy way to give your skin that "not quite human" look. Since this is a highlighting lotion, it would be great to use in tiny amounts to draw attention to certain parts of your body, like your collar bone or shoulders. If you're wanting to showcase your legs, I'd probably go for the Glow-rious lotion instead, since it would add a little bit of golden glow. The iridescent pink will make pale skin look even more pale, so keep that in mind.
This was super hard to photograph due to the iridescent quality, but here's my attempt!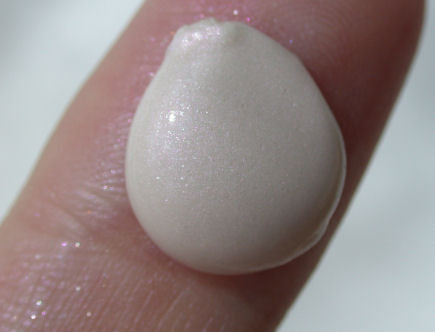 I found that if I spread this on normally, I couldn't get the camera to pick it up, so here it is applied SUPER thick for photographic purposes: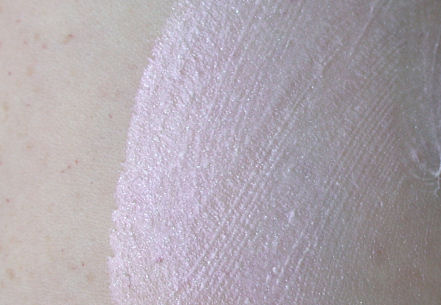 I've smelled this dozens of times, trying to pinpoint what the scent is, but it's really just a vaguely sugary sweet smell. It's kind of like if you walked into a pastry shop that sold all things sugary, and got a big collective whiff of everything they had mixed together. I sometimes pick up a slightly musty scent mixed in, but nothing too bad. This isn't my favorite scent from Cake Beauty (It's A Slice wins top awards in my book, followed by Vanilla Snow Woman), but I don't dislike it, either. What I do like is that it is not an overpowering scent, and unlike many, many scented products, it doesn't make me sneeze. I like how it smells on my skin better than in the bottle, but scents work with our individual body chemistries, so exactly how it ends up smelling will varry a little bit from person to person.
Experience
Ingredients: (No unicorns were harmed in the making of this lotion)
Water, caprylic capric triglycerides, glycerin, cetearyl alcohol, stearic acid, aroma, dimethicone, simmondsia chinensis (jojoba) seed oil, glycerine stearate, peg 100 stearate, triethanolamine,
mangifera indica (mango) seed oil, polyquaternium 7, polysorbate 60, carbomer, phenoxythanol, capyryl glycol, carthamus tinctoris (safflower) seed oil, peg 150 stearate, steareth 20, benzophenone 3, tetrasodium edta, aloe barbadensis leaf extract, sorbic acid.

May Contain (UGH, I hate products that have a "may contain" list. Know what is and isn't in your products, manufacturers!) Mica (Um, just a hint- there is mica in this. It says so all over the package.
Why is this on the MAY contain list?) Titanium Dioxide, Iron Oxides, D&C Red #6,7 and 27 lake, FD&C blue #1 lake, fd&C yellow #5 & 6 lake, bismuth oxychloride, chromium oxide green, chromium hydroxide green,
ferric ferrocyanide, maganese violet, ultramarines, tin oxide.

I looked up all of the ingredients to check for allergy warnings or other health concerns, and everything checked out as generally safe, but it is noted that stearic acid, triethanolamine and glycerine stearate may cause irritation in some people. As always, you should avoid this lotion if you are allergic to any of the ingredients listed, and never apply it to broken or irritated skin. If you are prone to skin allergies or just sensitive skin, testing this on a small patch of skin would be a good idea before jumping in and applying it in any large quantity. If skin irritation or rashes occur, discontinue use and get checked by a doctor. Possibly avoid telling friends that you were injured by a sparkly pink lotion, and make up a cover story about saving orphans instead.

I like this lotion, and I have actually been using it, but I don't think I like it enough to buy another when I eventually run out. I will probably pick up the Glow-rious lotion, too, though.
This product was provided free of charge to the reviewer. This review is in compliance with the FTC guidelines.

Thank you for viewing
Hi light luminous body lotion
– shimmer review page!