Bella Il Fiore Shimmer powder puff - Shimmer from Bella Il Fiore

Product Details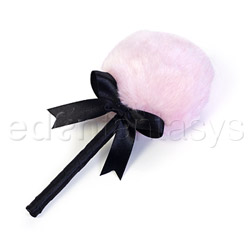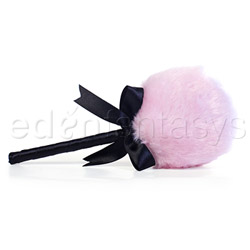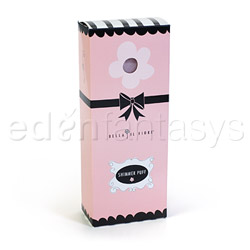 Summary:
I really like this shimmer puff. It isn't fully sex- or intimate- related. You can wear it to go out to dinner or to a party. The smell is soft and doesn't irritate your nose. It washes off easily. People who enjoy a lot of powder may need to re-apply it, but if you want something light then you won't have to. It's perfect to get for yourself, your sister, or your best friend. The soft, fluffy puff gives it a luxurious feeling. It also looks beautiful when sitting on your dresser.
Pros:
Light smell, soft, easy to wash off, pretty, perfect for a gift, light glitter.
Cons:
Puff is non-refillable.
Best use:
When I was sent this, I wasn't sure what it even was. When I got it home, I still didn't know what it was. After reading the box, I learned that it was a body shimmer. But the body shimmer is already inside of the puff. This is good, because it keeps the mess down. Using a powder with puff can sometimes cause a big mess: you end up with powder on your shirt, pants, feet, everywhere! With it inside of the puff already, you don't have to worry about that mess. This is perfect as a bridal gift, for foreplay, or as a mood enhancer. You can only use this in dry areas, such as your bedroom or bathroom.
Texture / Consistency / Thickness / Viscosity:

The texture of the power-puff itself is smooth, because of the feathered texture. The powder that is inside of the powder-puff is smooth and almost silky feeling. It gives your skin this added extra smoothness. The powder did take a minute for me to figure out how to get it out. I thought all you had to do was rub it against your skin and the powder would show up on your arms, but nope: you have to take the puff and hit it against your skin a couple of times. Once you see it on your skin, you can start rubbing it onto your skin. It does stay in place and doesn't get all over the place, which is good. I personally hate having the powder end up all over my clothing and whatever else I'm around.

It doesn't leave your skin feeling greasy or sticky. Like I stated before, it leaves your skin feeling really smooth. It doesn't leave your skin feeling thickly coated. You don't have to worry about grabbing a dry cloth and wiping off any extra powder. The powder is not very thick. If you happen to want a thick layer, then your will have to reapply. The puff also adds a little sparkle to your skin. It isn't stripper glitter shiny, but it allows a little light to bounce off your skin. It's a nice added feature.


Ingredients:

Mica, Titanium Dioxide, Magnesium Silicate, Iron Oxides

Taste / Aroma:

The scent of the Shimmer powder puff is VERY soft. It's perfect for people who have sensitive noses, or for people who just don't like strong smells. The shimmer puff has a light rose smell, but it isn't like a grandma smell. When you put the powder on you actually don't smell it at all. You smell it once your press your nose against your skin. When your partner is kissing your skin they will smell it and you won't. I didn't try to taste it because the shimmer powder puff isn't edible.

Performance:

The powder actually lasted a pretty long time. I put some on before leaving the house on our way to dinner. It survived the outside wind and rubbing up against clothing, people, or whatever else. Once we got home and did what we do best, I still had some of the powder on me. I didn't notice it getting on the bed or my clothing. When it came to washing it off, it mostly came off when I stepped into the shower before using any soap. It's rather easy to remove. You don't have to worry about rubbing yourself raw to get the powder off of you. That is what I love about this product. It didn't take much to clean it off. I've had powder products where I had to use soap and water to get it off. You don't need to get into the shower - you can take a wet cloth and wipe it off.

The powder puff has very few ingredients: Mica, Titanium Dioxide, Magnesium Silicate, Iron Oxides. Most aren't allergic to the times listed, but to be safe you should do a spot test. Apply it to a small amount of skin and wait to see if you have any reaction. If you don't then it's safe to apply to wherever you like.


Packaging:

The shimmer powder puff comes in a cute pink, black, and white box. The box is mostly pink with black edges. The box has somewhat of a French feel to it: there is a flower on the front of the box with a little opening. You can't really see the puff, but it's a cute little window. Once you open the box, the shimmer puff is inside of a plastic bag. This is so the powder doesn't get all over the place. The box is reusable: you can use the box for storage if you like. The shimmer puff is perfect for gift giving - you can give it to just about anyone. It is perfect for traveling. You don't have to do much work when taking it out of the house; you can keep it inside of the plastic bag, or a zip lock baggie, and place it into your bag. I only recommend using a bag just to make sure the powder doesn't get into other items in your bag. The box doesn't have much information, but once you find out what it is, it's pretty self-explanatory.


Personal comments:

The powder shimmer puff is paraben and Phathalate free. This is good because parabens are preservatives put into cosmetics to keep bacteria away, and some studies have shown a correlation between breast cancer and parabens. Women who have been diagnosed with breast cancer are typically urged by their doctors to stay away from paraben-laden products. With this being paraben free, anyone can use it. It doesn't matter if you have health problems or not. Phathalate free is good if you have allergies or sensitive skin; also look for fragrance-free. With this type of product, it will be free of the man-made particles that help the fragrance to last longer but have been shown to be an immune system toxin.

If you have sensitive skin this body shimmer is perfect for you to use. You don't have to worry about it irritating your skin. I'd still recommend doing a spot test just to be on the safe side.

Experience:

There is not much I don't like about this shimmer puff. I love the size: it's perfect and small. I love the idea of it, and that it allows you to apply powder without getting it all over the place. It has a wonderful light smell, and it gives your skin a little shine. The ONLY thing I don't like about this is that you can't reuse it: once the powder is gone, that's it. You will have to order another one. I wish that you could refill it and keep using it, but you can't. That would be the one thing I would change about it. My boyfriend didn't mind it, he really didn't notice it until he was on my skin. He enjoyed the smell of it because he doesn't like strong smelling items.

Other

Safety features:

No Phthalates / No Sulfates / No Triclosan / Parabens free