System JO Dona body mist lotion - Body moisturizer from System JO

Product Details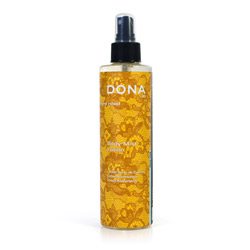 Summary:
The Dona body Mist Lotion is one of the best spray lotions that I have ever tried over the years. It is light and fresh smelling and holds on the skin just like a good body spray. It also works wonderfully as a body lotion.
Pros:
Smells wonderful, absorbs into skin well
Cons:
Nothing that I have noticed.
Best use:
Dona Body Mist Lotion is kind of a mix of perfume and a body lotion. All that you have to do with it is spray it onto the skin and rub it in like you would any other lotion. It works for all over the body. It's made out of purified water, caprylic capric glycerides, polyglycerol-6 dioleate, glyceryl caprylate caprate, propanediol, saccharide isomerate, passion fruit (passiflora edulis) seed oil, rice bran (oriza sativa) oil, açaí (euterpe oleracea) pulp oil, babassu (orbignya oleifera) seed oil, phenoxyethanol, ethylhexylglycerin, garcinia mangostana (mangosteen) fruit, and fragrance.

There are supposed to be pheromones in it too.
Texture / Consistency / Thickness / Viscosity:

The texture is very light on the skin. It sprays out light like any body fragrance does. It absorbs into the skin very fast. It holds on the skin very well.

Ingredients:

Purified Water, Caprylic Capric Glycerides, Polyglycerol-6 Dioleate, Glyceryl Caprylate Caprate, Propanediol, Saccharide Isomerate, Passion Fruit (Passiflora Edulis) Seed Oil, Rice Bran (Oriza Sativa) Oil, Açaí (Euterpe Oleracea) pulp Oil, Babassu (Orbignya Oleifera) Seed Oil, Phenoxyethanol, Ethylhexylglycerin, Garcinia Mangostana (Mangosteen) Fruit, Fragrance

Taste / Aroma:

Dona Body Mist Lotion comes in mangosteen, goji berry, camu camu, and pomegranate. I got the mangosteen one.

When I first put it on my body, it had a slight floral scent to it. After a few minutes it started to really smell like mangos. It held on the skin for hours too.

Performance:

The scent held on the skin for hours and hours. It kept my skin very moisturized until I started to really sweat or I took a shower. So it lasts for a very long time.

This has to be one of the best spray body lotions that I have ever tried.

Packaging:

Volume:

9 fl.oz.

Weight:

1 lb

Other

Safety features:

No Petrochemicals / No Phthalates / No Sulfates / No Triclosan / Parabens free