Not Soap Radio Moisturizing body souffle - Body moisturizer from Not Soap Radio

Moisturizing body souffle videos
Product Details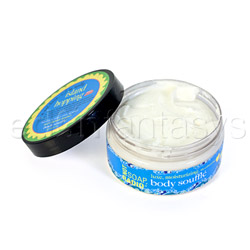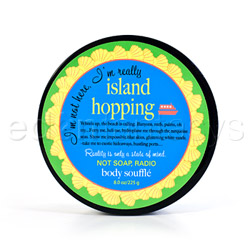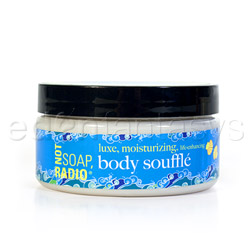 Summary:
This moisturizing body souffle from Not Soap Radio is designed to breathe life into tired, dry skin.
"Coconut, lemongrass, verbena, musk, and the tiniest bit of vanilla" are listed as keynotes, but all I smell is lemon and nothing else. You should invest in the entire line if this scent combination interests you, as it alters the scent of other products.
Pros:
Long lasting scent, soothing formula and consistency.
Cons:
Artificially scented.
Best use:
Body butter, body souffle, body mousse...is there really a difference? The short answer is yes, there is. Body butter has a higher concentration of oils that are typically best for people with severely cracked, dry skin or that are prone to having ashy skin. Souffle and mousse formulas are rich and thick, but have less oils for skin types that are only in need of moderate moisture.
Texture / Consistency / Thickness / Viscosity:

This product is a souffle. This essentially means the product has the appearance and texture of a heavy whipped cream. A product of this type is perfect for those who are looking for a good dose of moisture for their skin after a bath, shower or water sports (no, not that water sport).

The lotion does not run or drip when scooped out of the jar and is very easy to apply to specific areas. A little bit goes a very, very long way. A dime-sized scoop is all I needed to moisturize my feet. A quarter-sized dollop took care of one leg from hip to ankle with a little left over to start on the other leg.

Ingredients:

Water, Butyrospermum Parkii (Shea Butter) Fruit, Helianthus Annus (Sunflower) Seed Oil, Glycerin, Glyceryl Stearate, PEG 100 Stearate, Cetearyl Alcohol, Cyclomethicone, Theobroma Cacao (Cocoa) Seed Buttter, Fragrance, Phenoxyethanol, Caprylyl Glycol, Copernica Cerifera (Carnauba) Wax, Xanthum Gum Powder

Color:

White

Taste / Aroma:

Ah, the scent. Lemons. This is quite possibly one of the hardest scents to describe because it isn't fresh and fruity like a freshly sliced lemon, but more like a spray of lemon Pledge when you weren't expecting it. It's not so much of a chemical smell as it is an artificial scent. There's a very faint hint of coconut in there, but it does not remind me of sitting on the beach with my toes in the sand and an umbrella drink in my hand.

However, if you like things that are lemon-scented, then this is definitely a good choice for you. The scent lasts for a very long time. I was able to apply this directly after a shower and could still smell it eighteen hours later. It adheres to clothing and can alter how other perfumed products smell on the skin, so make sure your perfumes, body washes and shampoo products are similarly scented.

Performance:

I applied this directly after a shower as the instructions indicate. I removed most of the water from my skin and applied while I was still a little damp (which is recommended) and found that it was easy to apply, easy to rub in and I didn't feel greasy or slimy after the fact. I was able to put on my clothing within ten minutes after the initial application and when I showered the next day, I could feel the water from the shower pull the lotion that my body didn't absorb to the surface and it made shaving my legs even easier that morning.

I have extremely sensitive skin and I was happy to find that I did not have a bad reaction with this product at all, no red bumps or itching or anything like that.

This is really a great moisturizer. It leaves my skin feeling very similar to the way it does after using a Bath and Body Works lotion. I always describe it as a soft powder-like finish on the skin and that's exactly what this product produces! My skin looked refreshed and felt soft and smooth to the touch.

Packaging:

This souffle is packaged in an 8 oz (225 g) plastic jar. The top of the jar reads:

I'm not here, I'm really island hopping
Wheels up, the beach is calling. Banyons, reeds, palms, oh my...Ferry me, heli me, hydroplane me through the turquoise seas. Show me impossible blue skies, glistening white sands take me to exotic hideaways, bustling ports...


The ingredients are:

Water, Butyrospermum Parkii (Shea Butter) Fruit, Helianthus Annus (Sunflower) Seed Oil, Glycerin, Glyceryl Stearate, PEG 100 Stearate, Cetearyl Alcohol, Cyclomethicone, Theobroma Cacao (Cocoa) Seed Buttter, Fragrance, Phenoxyethanol, Caprylyl Glycol, Copernica Cerifera (Carnauba) Wax, Xanthum Gum Powder

Volume:

8 fl.oz.

Weight:

0.6 lb

Other

Safety features:

No Phthalates / No Sulfates / No Triclosan / Parabens free

Special Features: