Best use:
Classic Erotica brings us Simply Sensual Luxe Rejuvenating Body Oil. This spray on body oil is full of vitamins and natural oils to help dry skin feel more soft and less alligator like. It comes in an 8 fluid ounce (236ml) plastic bottle that is rather plain. This bottle can happily live on your counter without worrying that someone may know you bought it from your favorite online sex shop.
After getting out of the bath or shower, simply spray on and rub in for long lasting moisturizing properties that also happen to smell really good. You can also pour a small amount into your tub water for a lovely oil bath.
Although this is mainly a moisturizing oil it could be used as a massage oil but you may have to reapply often because it does absorb rather quickly.
The ingredients as listed on the bottle are: Glycerin Soja (Soybean) Oil, C11-13 Isoparaffin, Fragrance (Parfum), Aleuites Moluccana (Kukui Nut) Seed Oil, Camella Oleifera (Green Tea) Leaf Extract, Cannabis Sativa (Hemp) Seed Oil, Carthamus Tinctorius (Safflower) Seed Oil, Copulandrone, Couline-alike, Ethylhexlglyverin, Helianthus Annuss (Sunflower) Seed Oil, Lecithin, Macadamia Ternifolia Seed oil, PEG-4 Dilaurate, Prunus Amygdalus Dulcis (Sweet Almond) Oil, Reconstituted Andronone, Retinyl Palmitate (Vitamin A), Tetrahexyldecyl Ascorbate (Vitamin C), Tocopheryl Acetate (Vitamin E), Zea Mays (Corn) Oil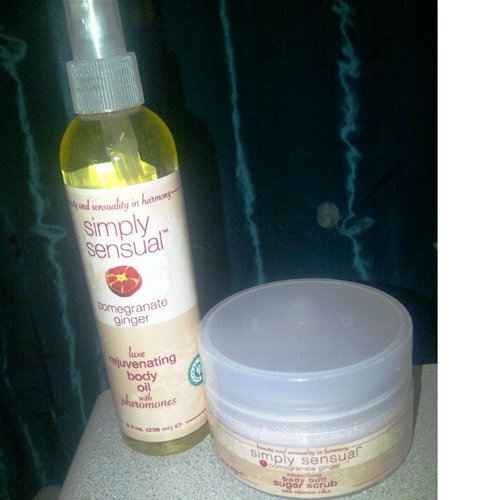 Texture / Consistency / Thickness / Viscosity:

This oil has the same consistency as vegetable oil but it has a pump spray top for easy dispensing. A little does go a long way and just a few quick pumps is all you need. Of course, being that it is oil it can drip if you spray a bit too much, but if you are quick with the rubbing you will be fine and it won't get too far.

Ingredients:

Glycerin Soja (Soybean) Oil, C11-13 Isoparaffin, Fragrance (Parfum), Aleuites Moluccana (Kukui Nut) Seed Oil, Camella Oleifera (Green Tea) Leaf Extract, Cannabis Sativa (Hemp) Seed Oil, Carthamus Tinctorius (Safflower) Seed Oil, Copulandrone, Couline-alike, Ethylhexlglyverin, Helianthus Annuss (Sunflower) Seed Oil, Lecithin, Macadamia Ternifolia Seed oil, PEG-4 Dilaurate, Prunus Amygdalus Dulcis (Sweet Almond) Oil, Reconstituted Andronone, Retinyl Palmitate (Vitamin A), Tetrahexyldecyl Ascorbate (Vitamin C), Tocopheryl Acetate (Vitamin E), Zea Mays (Corn) Oil

Taste / Aroma:

The smell is pomegranate ginger. The ginger undertones add the slightest spice to the delicious pomegranate fragrance. The smell is strong when first sprayed but lightens up within just a few minutes of smoothing it on. Once it lightens, you have to be rather close to it to smell it but not nose right to the skin. The fragrance lasts quite a while: I can still smell it hours after applying. Luckily it is not a smell that is annoying or headache inducing. It is fresh and light.

I don't care to taste this one. I am sure you understand.

Fragrance:

Ginger / Pomegranate

Performance:

Amazingly, this oil sprays on smooth and absorbs really well. It does not leave the skin greasy or oily at all. In fact, I have hand lotions that leave my skin more oily feeling than this stuff does. Spraying a small amount onto the skin after you get out of the bath or shower is just enough to last the whole day. It will absorb in no time at all and will leave skin smooth and moisturized until the day is over.

Because it absorbs so quickly into the skin, that means it is not absorbing into clothing or bed linens.

Although it does say that this product is infused with pheromones, I cannot say that I have found this product to make me more sexually desirable to anyone. What I can say is that people have complimented how lovely I smell.

Packaging:

Volume:

8 fl.oz.

Weight:

0.75 lb

Experience:

I now have 2 products from this Simply Sensual line and they are both amazing. I highly recommend them both and I am eager to try the rest of the line.

Other

Safety features:

No Phthalates / No Sulfates / No Triclosan / Parabens free