Cake Beauty Velveteen hand creme - Hand cream from Cake Beauty

Velveteen hand creme videos
Product Details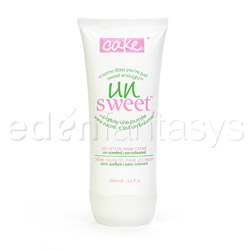 Summary:
Your hands will love being pampered with this sweet treat, just don't let them feed it to your face! Cake's luxury hand cream is packed with rich nutrients and a sweet smelling aroma to leave the hands feeling soft and comforted. The price may seem high, but a little bit of this will go a long way.
Pros:
Lightweight, absorbs quickly, not greasy.
Cons:
Expensive, lightweight, fragrance.
Best use:
Nourish moisture-thirsty, parched, dry hands, elbows and other rough patches with
Cake's Milk Made Velveteen Hand Creme
. It also makes a great addition to a gift basket. Use frequently for maximum results or, for a more intense therapy session, put on a pair of moisture-retaining therapy gloves immediately after applying the product. For external use only. Do not use on the face.
Texture / Consistency / Thickness / Viscosity:

This milky white, lightweight but rich hand creme isn't runny or too thick either. Initially, it feels a bit greasy until it's fully absorbed in to the hands, at which point it leaves them feeling velvety soft, not slippery. Only a small pea sized amount is normally needed to moisturize both hands. It does leave a slight sheen on the hands until washed off.

Cake Beauty prides itself on using 90-95% high quality, natural ingredients in all of its products. This creme is free of parabens and contains nourishing mango and shea butters, in addition to marshmallow plant extract, which has medicinal properties, anti-oxidants to combat aging, and it can also help to lighten the skin.

Ingredients:

Water/Eau (Aqua), Glycerin, Cetyl alcohol, Glyceryl stearate, Cetearyl alcohol, Ceteareth-20, Dimethicone, Stearic acid, Althaea officinalis (marchmallow) extract, Milk Lipid, Mangifera indica (Mango) seed butter, Phenoxyethanol, Caprylyl glycol, Sorbic acid, Carbomer, Sodium hydroxide, Tetrasodium EDTA

Taste / Aroma:

A hint of raspberry and vanilla sweeten this hand creme, but don't make the aroma so overpowering that it's irritating to the wearer, unless an aversion to scented products is an issue. It's subtle but noticeable and is sure to please anyone who enjoys bakery scents. An unscented version is available directly from the manufacturer's website.

Performance:

This creme performed well, without leaving the hands too slippery; however, it was necessary to re-apply after hand washing. For those who are looking for heavy duty moisturization, this may not be enough, but it does make a good everyday choice and the quality is better than the inexpensive drug-store brands.

Packaging:

The product is packaged in a flip-top, 3.4 fl. oz. tube that is convenient for travel and can stand-alone on a flat surface. Just a slight squeeze will dispense the product, without too much coming out, so long as it's not squeezed too hard. When you are close to empty, it can be cut open to get out the last drop.

Volume:

3.4 fl.oz.

Weight:

0.1 lb

Personal comments:

I wasn't quite sure I'd like this hand creme; I've tried so many that I know exactly what I'm looking for. At first I wasn't able to pinpoint the scent (I tried to guess it myself without looking online), but now that I know what it is, the scent is obvious. I generally prefer unscented hand creams that are super rich, but I've only found one that performs up to my standards (true blue spa from Bath & Body Works); however, the price of the that is comparable to this one, so I won't find myself refusing a tube of this if someone gives me one. Honestly, it's worth buying a good hand cream if you ask me, and Cake's Milk Made is pretty darn good!

Other

Safety features:

No Phthalates / No Sulfates / No Triclosan / Parabens free