Kama Sutra Body souffle - Edible body butter from Kama Sutra

Product Details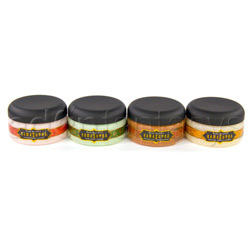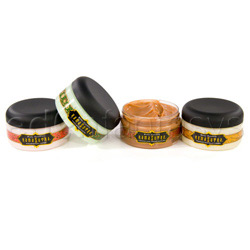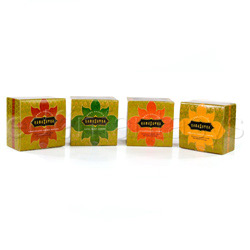 Summary:
Is this product worth it? I'd say yes because it's an amazing little body cream and it smells good. I give it 4 out of 5 stars because I didn't really like the way it tasted. I do love the way it makes my skin feel though! Kama Sutra's Body Souffle makes my skin feel velvety and moisturized!
Pros:
Thick, Creamy, Melts into your skin, Smells/Feels like strawberry yogurt!
Cons:
I didn't like the taste.
Best use:
Kama Sutra's Body Souffle is an edible cream that can be used as a personal moisturizer or as a massage lotion. This stuff is fantastic! Not only can your lover give you a massage with it, but your partner can lick and kiss you because the cream is edible! This product would be great for couples who want to spend some intimate time together.

This product works great even if you're just buying it for yourself. It's an amazing moisturizer that leaves your skin feeling so incredibly soft. I personally use it on my hands, arms, legs, and chest. It melts into your skin without leaving any sticky residue at all. It makes your skin feel silky soft and leaves a faint sweet smelling scent.

I also love that the tub the souffle comes in looks really pretty and artistic. It looks great sitting on my bed side table! I really enjoy this product and I hope to order again in the future. I got strawberry this time, and next time I think I'll try mint.
Texture / Consistency / Thickness / Viscosity:

The texture of the body souffle is so nice! It's thick and creamy. It's so thick that if you turn the tub upside down the souffle won't drip out. It feels soft and silky when you rub the cream into your skin. You can rub it in quite quickly because it melts into your skin like a dream. It both looks and smells like strawberry yogurt, so if that is something that appeals to you then you might want to try this. It absolutely does not feel sticky, greasy, or watery at all. It feels amazing in all the ways you'd want a moisturizer to be.

Base:

Water

Ingredients:

Water, Ethylhexyl Palmitate, Cetyl Alcohol, Glyceryl Stearate, Caprylic/Capric Triglyceride, Glycerin, Dimethicone, Cetearyl Alcohol, Flavor, Polyacrylamide, C13/14 Isoparrafin, Laureth/7, PEG/100 Stearate, Carbomer, Sodium Saccharin, Sodium Hydroxide, Potassium Sorbate, Tetrasodium EDTA, Phenoxyethanol, Yellow 5 (CI 19140), Yellow 6 (CI 15985)

Taste / Aroma:

I chose strawberry! This is the first Kama Sutra Body Souffle I've ever tried. The actual cream is a very light pink and reminds me of strawberry yogurt. It also looks and feels like yogurt. It smells nice and it's not overpowering. It's a very light and sweet scent that I think most everyone will like. When I first tried the souffle I rubbed it into my hands. It made my hands so soft and smelled really yummy. I licked the back of my hand to taste it, and honestly it's so faint I can hardly taste it. So I tasted a bit out of the tub. It definitely feels like a moisturizing cream in your mouth, which isn't that great, but it does have a very light sweet taste. It also made my lips feel a little numb. Even though it smells and looks like yogurt it was not tangy or sour at all. It was more lotion/chalky weird tasting. I wouldn't recommend just eating this stuff! Rubbing it in and then licking is preferred. It's a slight sweet taste but I'm not wild about it. I'd much rather just keep it to myself as a moisturizer.

Performance:

The souffle dries to a soft and silky finish. It doesn't feel greasy or sticky when it dries. When I put it on myself the softness lasted for hours afterward. I didn't have to wash it off because it completely melts into your skin. But if you do want to wash it off it cleans up very easily with soap and water. There's enough product in the tub to last a long time depending on how you're using it. If you're putting it all over your body on a daily basis obviously it will run out faster. There's a lot of product in the tub and there's enough for several applications. The things I liked the best about the Kama Sutra Body Souffle is the rich and creamy texture, the sweet scent, and the way it makes my skin feel so soft! The thing I didn't like about it was the taste. I think the strawberry flavor could have been more tangy.

I'm assuming that because mine smelled like yogurt the other flavors do as well. Next time I'm going to try mint! I would definitely order this again.

Packaging:

My entire order was shipped in a plain cardboard box, and the Body Souffle did not come in any kind of package. It's a clear plastic tub with a black plastic lid. It has a pretty Kama Sutra sticker label on it. The tub didn't come in a box or a plastic bag or anything at all. It didn't leak, and the lid was on tight so there were no problems with that, thank goodness! I'd prefer that they at least put this in a bag in case of some sort of accident. The packaging is discreet and looks pretty. It's perfect for display in your bedroom without being too obvious. I personally wouldn't travel with this product, but if I did I would put it in a plastic bag when packing.

Volume:

7.5 fl.oz.

Weight:

7.5 oz

Special Features:

When the cream was on my lips it had a little bit of a numbing sensation.

I'd also like to add that the sticker on the bottom of the tub says, "Dermatologist tested, hypoallergenic, Use externally!" Contains glycerin.

Personal comments:

I really like all Kama Sutra products! I think their products are high quality and they always makes me feel like I'm getting spoiled. This body souffle is my own personal luxury item. I would order it again!

Other

Special Features:

Edible
Hypoallergenic
Moisturizer