Not Soap Radio Face palette at the spa - Eye shadow from Not Soap Radio

Product Details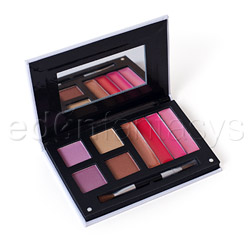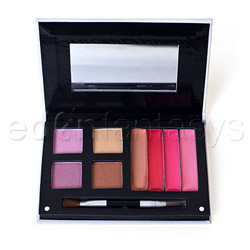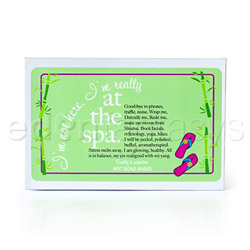 Summary:
If you are looking for some warm to neutral toned eyeshadows to carry around wherever you go, then the spa palette might be for you. It comes with four shades of shadow, four shades of gloss and a shadow/gloss applicator. Although it doesn't contain all the colors you might need to complete the look you may want to achieve, it is compact enough to carry around for any touch ups you might have to do during the day.
Pros:
Cute, compact, great colors, gloss included.
Cons:
Missing highlighter color, shadow applicator not really suited for a well controlled application.
Texture / Consistency / Thickness / Viscosity:

Eye shadow: The four colors are quite subtle but very pigmented. The four eye shadows are all shimmery shadows. There is a golden yellow, a medium brown, a soft pink and a sort of vintage pink. All four colors can be worn together or if you wish you could wear only the gold or the light pink, be creative!

The shadows are actually pretty pigmented, you don't need a lot on your brush in order for the color to show on your lid/crease. The shadows apply fairly well, without much fall out on the cheek, which is always good. The colors go on smooth and blend very well.

Lip gloss: Glosses are usually glossy, and these are pretty much in that category, sticky goopy gloss. The gloss is very smooth, not grainy or greasy feeling. If you have tried on very shiny glosses then you can get an idea of the texture these glosses are like. Each color applies the same and has the same texture.

Lip gloss is sort of sticky, if you don't like it when your hair gets caught on your lips' freshly applied gloss then these might not appeal to you.



Ingredients:

Eyeshadow: Talc, Mica, Magnesium Stearate, Caprylic/Capric Triglyceride Kaolin, Ethylhexyl Palmitate, Phenoxyethanol, MethylparabenA, Ethylparaben, Butylparaben, Propylparaben, Isobutylparaben. May Contain: Black Iron Oxides (CI 77499), Yellow Iron Oxides (CI 77492), Red Iron Oxides (CI 77491), Manganese Violet (CI 77742), Ultramarine (CI 77007), Mica & Iron Oxide (CI 77019, 77491), Mica & Titanium Dioxide (CI 77019, 77891) Lipgloss: Polybutene, Caprylic/Capric Triglyceride, Ethylhexyl Palmitate, Beeswax (Cera Alba), Ceresin Wax, Microcrystalline Wax (Cera Microcristallina), Silica, Phenoxyethanol, MethylparabenA, Theylparaben, Butylparaben, Propylparaben, Isobutylparaben, Ascorbyl Palmitate. May Contain: Titanium Dioxide (CI 77891), Black Iron Oxides (CI 77499), Yellow Iron Oxides (CI 77492), Red Iron Oxides (CI 77491), Yellow 5 Al Lake (CI 19140:1), Red 7 Ca Lake (CI 15850:1), Blue 1 Al Lake (CI 42090:2), Mica & Titanium Dioxide (CI 77019, 77891), Iron Oxide (CI 77861)

Color:

Multi-color

Taste / Aroma:

The eye shadows smell like eye shadows usually do, they are not perfumed but they have an eyeshadow smell.

The glosses don't have any fruity scents like some glosses on the market may have and neither do they have a fruity taste. They do not taste like much of anything. They do not leave an aftertaste in the mouth either.

Performance:

Eyeshadow: The colors are actually pretty versatile. The medium brown is a great crease color and the pinks are pretty decent in terms of their shade. They are not very pale or too dark, just perfect. The golden yellow appears more yellow than golden in use. It is very beautiful on its own or with the brown in the crease but it doesn't work very well as a highlighter below the brow.

Using all four colors together is pretty simple if you are used to applying multiple colors. The colors match up together very well but a light champagne or off white color would have been a nice addition to really complete the palette. It is not a "complete" palette, it is a palette with nice colors that fit well together but you might have to rely on other colors you have to complete a look.

The eye shadows can last a long time as long as you prime your lids first!

Lip gloss: The colors are absolutely divine. The golden one really is amazing, it makes lips look tanned and golden. The lips become very nice and shimmery. The red goes on sheer as it is a gloss but a bit of the red comes through. It would make a great gloss on a gorgeous red lipstick to make lips seem plumper, but it is also very nice on its own. The medium pink is very barbie-esque and the color barely shows when it is applied on its own. The lightest pink shade has a bit of shimmer and it is more apparent on the lips compared to the medium pink gloss. It is a very nice, almost peachy pink.

You can make your lips extremely glossy by putting a thick layer of gloss on, however, the gloss can be applied very subtly to provide just a hint of color and shine to the lips. It is easy to apply and it can be worn however you wish to wear it, extra glossy or subtle and sweet.

The set includes:

4 eyeshadow
4 lip glosses
1 applicator brush

Packaging:

The palette is just the most adorable little palette ever. The palette itself is roughly 2 1/2 inches by 4 inches. It is quite thin, about the size of a cell phone (very relative I know).

The shadows and gloss are packaged in a cardboard palette covered by a nicely designed, glossy finished paper. The palette is said to be one providing colors that make it look as though you just came out of the spa. There is a short statement on the palette about relaxation related to spa treatment.

The back of the palette has the ingredients for the shadows and the gloss.

The palette is kept shut by two very small magnets on opposite corners of the palette.

Included in the palette is a tiny little brush to apply the shadow with a gloss applicator on the other end, two in one basically.

Personal comments:

Here is a swatch of the colors



Experience:

I think this palette is so cute and versatile, it can easily be packed in a purse or even a pocket for touch ups if needed during your day or evening. However, it lacks a highlighter color, which would really make it complete. I tried applying the golden yellow color as a highlighter below my brow and it looked hideous, but I had to test it.

Overall the colors are nice, they would probably fit many skin tones. If your skin tone color is very pale, I might stick with the gold and brown, but otherwise I think its all good.

The glosses are great. I applied too much the first time as I was testing out their sheerness, but honestly they are much nicer when applied moderately. If I wanted to go for a super glossy look I could achieve this, but for every day make up subtle is better.

I do not use professional make up like MAC, I wear drugstore make up, and I also order BH cosmetics stuff from online. I love doing my make up and being creative with colors. I am an artist at heart and doing my make up in the morning is like meditation - it soothes me. I found this palette easy to work with and I will definitely continue using it. I am in love with the golden yellow shadow and the golden gloss, but not wearing both at the same time....too much gold looks weird.

I think most people will enjoy this palette but if you are looking for a complete eyeshadow palette I recommend going with the 'shadow only' palettes also offered here on EdenFantasys.

Other

Safety features:

No Sulfates / No Triclosan

Width:

4"