Bella Il Fiore Pretty and perfect face palette - Eye shadow from Bella Il Fiore

Product Details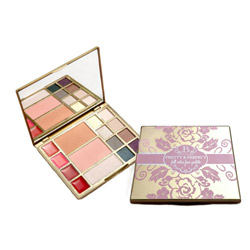 Summary:
If you're looking for a face palette that has a great contrast in colors, this is a wonderful option. The make-up feels natural and light, and stays in place well. This compact palette makes traveling a breeze, since the bulky make-up bag can stay at home! The biggest downfall is that no brushes are included, but that can be easily overlooked thanks to all this palette does include.
Pros:
Color selection, wears comfortably, travel friendly, makes a great gift.
Cons:
Doesn't include brushes, might be too shimmery for some.
Best use:
Bella IL Fiore's Pretty & Perfect full color face palette is a great addition to your make up bag, and helps you to truly make your best features shine!

Contained within this palette is almost everything you need to pull off a professional look during the day and a more casual look for when evening comes. With four lip gloss colors, eight eye shadow options, two different shades of blush, and one highlighting cream, there's truly a little something for everyone's taste and every skin tone.

The coloring of this palette is acceptable enough for daily wear, but can easily be used when attending more formal functions. It doesn't matter if you're a business women or are heading out for a night on the town, this palette is sure to enhance the features that matter most; your beautiful eyes and smile!

Because all of this is included in one convenient case, it's prefect to travel with. You don't need to find a mirror to see if you need a touch up, since there's a mirror conveniently located inside. Not only that, but the bulky make-up bag can be left behind since this elegant case houses just about everything you need.

While no obvious allergy concerns stand out, be sure to check the ingredients lists to be sure you won't have an adverse reaction.
Texture / Consistency / Thickness / Viscosity:

Lip Gloss:
The lip gloss comes in four colors; Kiss Me, Rosie, Belize, and Je T'aime. The first three are pink shades, and Je T'aime is red. The gloss has a nice creamy feel to it when it's on your finger, and it's easily applied to your lips. Once applied, the gloss gives your lips a lovely shine and hint of color. It doesn't feel heavy, but is very smooth and light. The gloss doesn't last as long as the rest of the make-up in this kit; reapplying at least every hour is probably necessary.

Blush:
The blush included comes in two different shades; Tropique and Baby Doll. Tropique has more of a tan-pink color to it, whereas Baby Doll is a softer pink color; very similar to how flushed cheeks naturally look. The blush is best applied with a make-up brush (which isn't included) and feels so light it's easy to forget that it's even on. Unless it's an extremely hot day or your activity level is quite high, you should only have to reapply once in the afternoon to freshen up.

Eyeshadow:
The eyeshadow comes in eight different colors; Sunshine, Bisque, Gunmetal, Noir Liner, Pretty Pink, Buff, Espresso, and Deep Plum. All the colors other than Buff have a large amount of shimmer and shine to them; Buff is the only matte color. These are best applied with a small make-up brush (not included) and can easily be blended together, either with a brush or your fingertips. The eyeshadow wears comfortably and lasts a long time before needing to be touched up. It feels a little thicker than some other brands, but doesn't feel heavy on your eyelids.

Shimmer:
The shimmer is called Luna Glow and is a very soft, light pink color. The texture is very creamy, even more than the lip gloss. It does feel the heaviest out of the make-up included when in use, but it's not uncomfortable to wear. It highlights well, giving your face a soft glow, and stays in place for a long time. You may feel the need to touch up halfway though your day, but more than a touch-up shouldn't be required.



Ingredients:

Lipgloss: Mica, Mineral oil/Paraffinum Liquidum, Caprylic/Capric Triglyceride, Helianthus Annuus Seed Oil, Octyl Palmitate, Euphorbia Cerifera Wax/Candelilla Cera, Hydrogenated Microcrystaline Wax, Isporopyl Isostearate, Ceresin, Beeswax/Cera Alba, Disostearyl Malate, Aloe Barbadensis Leaf Extract, Tocopheryl Acetate, Phenoxyethanol, Fragrance/Parfum. Cream Shimmer: Helianthus Annuus Seed Oil, Octyl Palmitate, Euphorbia Cerifera Wax/Candelilla Cera, Hydrogenated Microcrystalline Wax, Isopropyl Isostearate, Ceresin, Beeswax/Cer Alba, Diisostearyl Malate, Aloe Barbadensis Leaf Extract, Tocopheryl Acetate, Phenoxyethanol, Fragrance/Perfum. Eye Shadow: Talc, Mica, Octyl Palmitate, Paraffinum Liquidum, Magnesium Stearate, Dimethicone, Isopropyl Isostearate, Butyl Stearate, Polybutene, Cyclomethicone, Phenoxyethanol, Tocopheryl Acetate. Cheek: Talc, Mica, Octyl Palmitate, Paraffinum Liquidum, Magnesium Stearate, Dimethicane, Isopropyl Isostearate, Butyl Stearate, Polybutene, Cyclomethicone,

Taste / Aroma:

The compact as a whole has a very light scent to it. It smells like most compacts that you would purchase at your local department or drug store. It's not enough that it transfers onto your skin when in use, but when putting your nose close to the compact, it does have a light scent to it.

The lip gloss has no taste to it, no matter if you lick your lips or your lover pulls you in for a passionate kiss.

Performance:

The make-up from this Pretty & Perfect face palette stays in place when you want it to, and easily washes off with warm water and a washcloth, or a mild make-up remover.

During the day, you might find the need to reapply once or twice, but that depends on your skin type, temperature, and activity level. The only thing that will need more applications than that is the lip gloss, which is understandable.

The make-up feels light and natural, and is very comfortable to wear throughout the day. No matter your reason for wanting to look your best, this make-up gets the job done!

Packaging:

This compact almost-all-in-one palette arrives in an elegant cardboard box that's fitted to the make-up case. The background color is a soft, light pink and the front shows an elegant design with a shiny bronze floral pattern and the company name proudly displayed in the center. On the back of the box is a full list of ingredients, their website, and a little information about what it contains.


The compact inside has the same elegant look as the box it arrives in, only the colors are opposite; bronze in the background and pink in the floral design. The palette is 4 3/4" wide, 4" tall, and 1/2" thick; making it easy to tuck away in your purse for daily use on the go or in your toiletry bag if traveling.

The case is made from a thick plastic that has fifteen separate areas inside that keep all your different colors from mixing together. On the bottom of the case, the names for each of the colors are displayed in a way that makes it very clear to read and understand.

There's nothing sexual or inappropriate about this case. Its simple elegance makes it not only a great gift, but a great way to treat yourself!

Other

Safety features:

Gluten free / No Phthalates / No Sulfates / No Triclosan / Parabens free