Not Soap Radio Minty breath freshening lip balm - Lip balm from Not Soap Radio

Product Details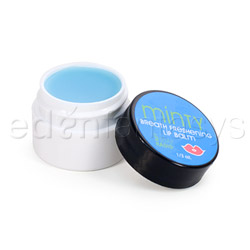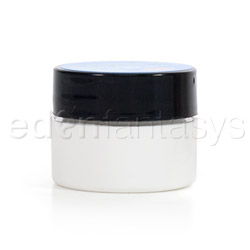 Summary:
This lip balm may seem like your run of the mill lip balm, but it's much better. It's moisturizing without being greasy while managing to be light and smooth as butter. Its light minty smell is refreshing, but not overpowering at all. While it does not actually freshen breath, it sure does leave your lips refreshed!
Pros:
Smooth, light, moisturizing, long lasting, light minty smell.
Cons:
Doesn't actually freshen breath,unsanitary/inconvenient container.
Best use:
The Minty Breath Freshening Lip Balm is a luxuriously smooth lip balm with a hint of mint. The term breath freshening lip balm is a bit of a misnomer. The lip balm will not actually freshen your breath because you are applying it externally. It merely gives off a minty scent that may give the illusion of freshness. Regardless, this is still a great product.

What makes it different from your run of the mill pharmacy lip balm? According to the ingredients and packaging, not much. But once you open it up and use it you really see the difference. It goes on smooth is very light and not at all greasy. It is very long lasting and actually moisturizes when it fades rather than drying out the lips. There is no color when the balm is applied, making it perfect for both males and females. The mint refreshes without being overwhelming.

The ingredients listed are Petrolatum, Cottonseed Oil, Flavoring. The specific flavors are not listed, but I assume that mint (in some way shape or form) is one of them. However, because the specific flavors aren't listed, those who are usually sensitive should be cautious.
Texture / Consistency / Thickness / Viscosity:

First, I feel that I should mention that the lip balm I received was not pink inside, it was blue.



Aside from that, the picture is quite accurate. The lip balm is shiny and smooth in the container as well as on the lips. It's as smooth as butter! It's lovely and light. Unlike many drug store lip balms, this one very light. It's soft and smooth and buttery, but it is not heavy and greasy at all. There is no waxy feeling at all--it feels smooth and natural. It's also very long lasting!

When it dries, there is no greasy residue at all. It leaves skin feeling smooth and moisturized. There aren't any pesky flakes!

Ingredients:

Petrolatum, Cottonseed Oil, Flavoring.

Taste / Aroma:

As advertised, there is a distinct minty smell. It's not strong and doesn't overpower at all. It's just the right amount for a little pick me up. The scent is stronger when it is first applied, but it does fade.

There really is no taste to this one.It tastes slightly sweet, but not very.

Performance:

I simply loved this lip balm because of how well it moisturized my lips. It moisturizes when it's on and it leaves the lips smooth and supple when it dries. It lasts for over an hour. I can't say exactly how long, because it usually lasts so long that I lose track! It stays on longer than my cheap pharmacy bought lip balms and definitely leaves my lips much more moisturized.

There is a little shine, but no shimmer which makes it appropriate for all to use. It's also great to wear under or over lip stick to 'seal' the lipstick or for extra moisture.

While it does nothing to freshen breath, it does quite well as a lip balm. It's perfect to use in the winter when the heat turns on and skin starts drying up!

Packaging:

The lip balm container is the best. It's quite typical of lip balms, but is not great for convenient use. It's a twist cap with a round tub. There's no real way to apply the lip balm without having to use your hands (or a brush/cotton swab). It's small enough to carry in your pocket, but it is not great to have to stick your finger in the tub to scoop some of the lip balm. It's not very sanitary.

However,this sort of packaging is very common for lip balms and is nothing out of the ordinary. For those who don't mind having to use your fingers, this would be a great lip balm to travel with. It's small and it stays securely closed.

Volume:

0.33 fl oz.

Weight:

0.8 oz

Personal comments:

When I first saw the ingredients I could not believe that it would work so well. The only listed ingredients ones that are found in pretty much all lip balms. I was not very excited for this product...until I tried it out. It went on so smoothly, stayed so well, and was so moisturizing that I couldn't not fall in love with it. The packaging is a pain, but if my hands are clean or if I have a cotton swab, this is my go to lip balm!!! No more Blistex for me!

Other

Safety features:

No Phthalates / No Sulfates / No Triclosan / Parabens free