Bella Il Fiore Peppermint lip treatment - Moisturizer from Bella Il Fiore

Peppermint lip treatment videos
Product Details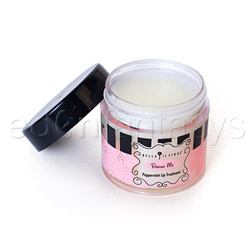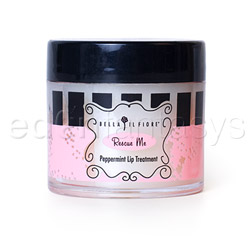 Summary:
The Peppermint Lip Balm is a great product with all natural ingredients, and will leave the skin soft and moisturized, even though you may have to remove the excess after a while. It has a soft scent of peppermint similar to that of a candy cane and also comes with a fun tingly sensation. Be creative and try it in other areas.
Pros:
Natural ingredients, pleasant smell, moisturizes well and feels light.
Cons:
Cold and tingly sensation felt even more around the lips.
Best use:
The Peppermint Lip Treatment is exactly that, a balm that slightly smells like peppermint, and that will leave a nice tingling and refreshing sensation. I have to admit that the scent first made me think of a candy cane.

It moisturizes the skin and you will feel an instant relief if you have dry lips or if you tend to bite your lips - I do. This balm feels light on the lips, and works just as well as any other, except that it has the advantage of having all natural ingredients.

If you want to play around, apply it on your lips before kissing your lover or before giving more intimate kisses, and some interesting reaction should occur. Try not to apply too much though or the cold sensation will not be fun.

You could also rub the balm in the skin of some key areas of your body if you want to smell like a delicious candy cane from up close and personal, especially with Christmas time coming and all those fun Holiday costumes... Get my meaning? I know it's technically a lip treatment, but you can pretty much use it as you like, as long as it's external.
Texture / Consistency / Thickness / Viscosity:

At the beginning, my first impression was that the balm was really thick, as I actually needed some pressure to break the smooth surface of the balm with my finger tip. By touching the surface of the balm, some of it will melt and stay on your finger, which will give you a small amount for application.

However, I later realized that the balm wasn't homogenous and there are area where the beeswax is thicker, like the top. Once you break the firmer surface, you find a balm that has the normal consistency of a lip balm, where tapping slightly on the surface will leave spikes. I personally decided to blend the balm with a chopstick, but I do not think I could ever get rid of all the smaller firmer pieces. It's not something that I really mind, and could just be a consequence of having natural ingredients.

You do not have to mix the balm like I did to have excellent results, as I didn't see much of a difference in how it felt on the lips before the mixing experiment. All I wanted to say is that you should just be aware that it won't be as firm after a while.

The balm feels... more greasy than oily, similar to butter/margarine when it is spread on the skin. At least, that's the closest thing I could compare it to when I touched my lips with my eyes closed.

Ingredients:

Carthamus, (Safflower) Seed Oil, Cocos Nucifera (Coconut) Oil, Beeswax, Theobroma Cacao (Cocoa) Seed Butter, Butyrospermum Parkii (Shea) Butter, Mentha Piperita (Peppermint) Oil, Simmondsia Chinenses (Jojoba) Seed Oil, Tocopheryl Acetate (Vitamin E)

Color:

Clear

Taste / Aroma:

As mentioned before, it smells like peppermint, but it's a smell so easily associated with candy cane that you'll think "candy" before the other. The scent isn't particularly strong and I cannot really smell it unless I have just applied some more. I have to smell the pot from an inch in order to smell the peppermint.

The lip treatment does not seem to have a taste, which may keep you from licking it off your lips over and over again. Actually, when you move your tongue over your lips, you can barely feel that you have a balm on. The only reminder that you have lip balm is the sensation of freshness you'll get more than feeling the balm on your lips.

Flavor:

Mint

Fragrance:

Peppermint

Performance:

The product lasts for a long time, and you might eventually decide to wipe it off your lips after a while, as it leaves a tingling and fresh sensation on your skin. So if you have lips in dire need of moisturizing and care, you might welcome the relief it will bring. It never feels sticky, dry off or seem to be easily absorbed into the skin, but that also provides a good protection for your lips. After wiping it off, it leaves the lips really soft and the dry skin feels more flexible.

The only thing you have to watch out for is not applying too much or some will be in contact with the skin around your lips, and somehow the tingling sensation is more pronounced in that area. This will also give you the impression that you might look all shiny around the lips - even if you don't, - and even after wiping off the excess, so it's not the most pleasant feeling to keep for a long period of time.

If you use it elsewhere on your body, you can still feel a little bit of the peppermint freshness, but it's faint and leaves a sweet smell that is not overpowering. Remember that nipples have sensitive skin, and you will feel the peppermint chill and a little bit of tingles, just enough to be perceived as such. Also, I'd also like to mention that I love how soft my nipples become after applying the tiniest bit of balm to them, and it could easily become my favorite use.

Packaging:

The Peppermint Lip Treatment does not come in any package but the pot it comes in, but I didn't expect any. The pot lists all the ingredients and that's all I cared about.

Volume:

1 fl.oz.

Weight:

0.8 oz

Other

Safety features:

No GMOs / No Petrochemicals / No Phthalates / No Sulfates / No Synthetic Dyes / No Synthetic Fragrances / No Triclosan / Parabens free

Special features:

All natural
For sensitive skin
Organic ingredients

Special Features: