Best use:
From Principessa Beauty product comes this clean burning, great smelling, 100% soy candle. It can be used in the bedroom, at the dinner table, or anywhere you want a fragrant candle for your visual and olfactory pleasure. This candle burns clean with no nasty soot and will last a good long time. Pictured below, as it is burning, shows about two hours of burn time.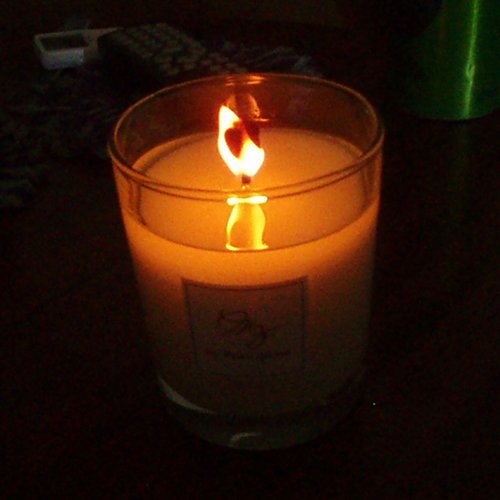 As you can see, the melted wax only is about a quarter of an inch deep.
This candle could also be used for massage, as it burns at a low temperature but I found that it is not the best for that. It takes quite a bit of the melted wax to make it suitable for a good, lasting massage. It does, however, leave our skin soft and silky feeling. While some guys may not care for the smell on their bodies, my wife loves the Citrus, Jasmine, Mandarin and Neroli fragrance.
Texture / Consistency / Thickness / Viscosity:

The melted wax, when applied to the body, has a nice, smooth feel and leaves the skin silky smooth. Since the soy wax burns at a low temperature, it can be applied directly to the body area of choice. Although, the jar is not the best for pouring; a spout of some kind would certainly help here. I found it better to pour into my hand and then apply to the body, mostly because it can run all over the body, and some may be lost to the bed or other surfaces. Since wax, even soy wax, can be hard to get off fabric or carpet, I recommend something under the body for easy clean up should some spill.

Ingredients:

Soy wax, parfum

Taste / Aroma:

The aroma is very nice while not being overly strong. We were pleasantly surprised that the smell carried throughout the house and lasted long after the candle was extinguished.

The smell is hard to pinpoint, since there are four different fragrances added, but it is definitely a flowery aroma, much like you might find in a flower shop. Since this could be used for massage I tasted it for science; it pretty much tastes like it smells, kind of like a perfume a partner may use. I don't think I will do that again.

Fragrance:

Citrus / Jasmine / Mandarin / Neroli

Performance:

The candle has been used for about five hours since we received it, this over the course of a week or so. The wax has dropped about 1/4 of an inch from the beginning level. I would say this candle will last for quite some time, unless you use it for massage, of course.

The wife likes the feel of the wax on her skin, and comments that it seems to help moisturize her skin too; plus, she enjoys the aroma that stays for the whole day. It does leave the skin slightly oily, but she does not mind that at all.

If used for a massage and you feel the need to wash it off, some warm water and body soap will remove it. However, the aroma may not fully go away.

Packaging:

Volume:

7.5 fl.oz.

Weight:

7 oz

Special Features:

One odd thing about this candle is they way the wick burns. It kind of forms a ball at the top while burning. I am not sure if this is due to the all natural wick or the soy wax. It does not affect the burning or anything, but I thought I would mention it. Here is a picture after the candle was put out so you can see it.

Bits of the ball do fall off now and then, but I see no problem with that.

Personal comments:

We were hoping this would be a good massage candle as we have yet to try one. Even though it is not the best for massage, we are very pleased with the aroma and lasting scent it leaves in the house. I left for work one night after burning it for about two hours; eight hours later when I got home I could still smell it. Long lasting for sure!