Booty Parlor The seduction kit - Massage kit from Booty Parlor

Product Details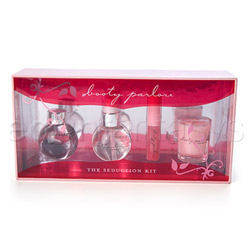 Summary:
If you want to give your loved one a gift, pick out something quality together. If you want to give yourself a gift, buy one really fantastic bottle of lube and a great vibrator. Kits aren't inherently a bad thing -- some of them are fantastic. But this isn't one of them.
Pros:
Variety of things to try.
Cons:
Leaky, poor product, boring, bad packaging.
Best use:
Here's a bit of a disclaimer: I've grown tired of kits. I'm an adult woman. I want to choose my very own lube, my own candles, my own massage oil. I want to be able to smell and feel and taste each of them, so that I know I like them before I plunk down money on them. Also, if I do find something that I love, I want a full-sized version of it.

That being said... Kits ARE good for those who are still exploring, who want to give someone a gift or aren't sure what they really like. As a general rule, they offer a lot of variety in one small package and they are often a cost-conscious way to try out new options.

Of course, not all kits are born equal. And this one, for me, ended up pretty far on the bottom of the sex-kit quality pie.

For starters, it's an odd mix of products: massage oil, lube, a scented candle and plumping lip gloss. The lip gloss, especially, makes it harder to give as a gift. Do you give it to him and then put it on yourself? Does he give it to you as a hint that he'd like your lips to be larger?

For everything else that's wrong with this kit, I'll tackle them in the rest of the review.
Texture / Consistency / Thickness / Viscosity:

There are four items in this kit, and three of them have texture-type stuff going on.

First, the I'm So Sexy Lip Gloss in Peppermint Pink. This stuff is STICKY. Like, I couldn't open my lips after I pressed them together. It made my lips tingle, which wasn't all bad, but it didn't make them look any larger. It did, however, make me look like an '80s teenybopper from the cover of Teen Beat, with its glittery pale pink shine. Also, unless your guy or girl was really into peppermint, it would be seriously hard to go down on someone with this one. Even if you didn't end up stuck to their body parts like a tongue to a frozen flagpole.

The Don't Stop Massage Oil and the Add Magic Lube are both just okay. The massage oil has a light, but not obnoxious scent, but it didn't feel all that great on my skin. The lube felt a little overly heavy, and despite the fact that it says it's odorless, it did have a slight odor.

Ingredients:

Don't Stop Massage Oil (2.1 oz.), Add Magic Lubricant (2.1 oz.), Light My Fire Candle, I'm So Sexy Lip Gloss- Peppermint Pink

Taste / Aroma:

The smell of the candle when unlit is quite nice -- soft and lightly sweet -- but the scent doesn't appear when you light it. So you kind of have to have your nose right in the flame in order to smell it (not recommended, by the way, especially not when wearing the highly-flammable peppermint lip gloss... ahem).

The massage oil and the lube both have light, not-unpleasant odors. And that's all I can say about that.

The lip gloss smells really strong -- probably because it's right under your nose -- and has the faint taste of peppermint as well.

None of these are incredibly distasteful to me, but they're not something I'd jump up and down about either.

Fragrance:

Romantic garden

Performance:

Everything was a little overly oily for me. The lip gloss did not wash off of either lips or skin easily, and both the massage oil and lube were both overly clingy when it came time for cleanup. None of it felt natural on my skin; I was very aware of the present of it all the time. I wanted to go back to the laboratory with someone and ask to see what they'd been testing this stuff on. Because I'm pretty sure it wasn't skin or even faux skin. Maybe car seats.

That being said, I tend toward dry skin, so pay a lot of attention to the viscosity of products that I put on my body. They need to be 'wet' or 'oily' enough to soak into my skin and still last while not feeling like they're flooding into my pores. None of these products hit that particular mark; they went on in a very surface way, never quite seeming to absorb into my skin.

The set includes:

Don't Stop Massage Oil (2.1 oz.)
Add Magic Lubricant (2.1 oz.)
Light My Fire Candle
I'm So Sexy Lip Gloss- Peppermint Pink

Packaging:

For kits -- especially ones that are best used as gifts -- the packaging seems pretty vital. This packaging is essentially a pink cardboard box with a thin plastic cover. The bottles are tiny -- and they leaked in shipping, so that when I opened the package, there were droplets of something (maybe both massage and lube) all over the inside.

This might be sold as travel-sized and thus good for trips, but in truth the kit isn't that at all -- it's very large, with a lot of extra space inside the box. You'd have to unpack the kit and repack it in something much smaller to make it travel worthwhile. And double-wrap everything, because of the leakage issues.

Volume:

2 fl.oz.

Weight:

17.5 oz

Experience:

As a side note, either the lube or the massage oil (I'm not sure which one) didn't come out of my sheets. Sad panda.

Other

Special Features:

Gifts
Moisturizer
Scented