Sinclair Intimacy Institute® Sensual body oil - Oil from Sinclair Intimacy Institute®

Product Details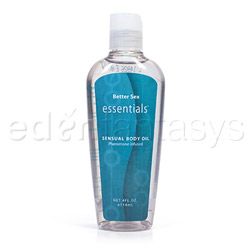 Summary:
This is a nice, simple massage oil with a lovely, light scent that lingers without being overbearing. I don't know that the pheromones give this anything special, but it works if you want to relax with a sensual massage.
Pros:
Smells good, doesn't get sticky.
Cons:
A little on the runny side, hard to know if the pheromones do anything.
Best use:
This is a nice oil for massage. It's lightly scented, smooth and silky without being oily, and there's enough of it that you can apply liberally. I don't know how effective the pheromones are, as I didn't find myself feeling particularly aroused by this lotion. More sleepy than sexy. Not an entirely bad thing.

If you're sensitive to scents, this might not be a good oil for you, especially near your face. I also don't know if I'd use it on oily skin, since it might be too much.
Texture / Consistency / Thickness / Viscosity:

The best word I can use to describe this oil is "goopy." It's not oily, and it dries without being sticky, but it's very, very runny. It's best used in small amounts, I think, because it ran down my back and onto the blanket in big rivers the first time we tried it.

It doesn't make me feel the need to shower after, which is nice.

Ingredients:

Propylene Glycol, Glycerin, HMB Calcium (beta-hydroxy-beta-methyl butyrate calcium salt), Fragrance

Taste / Aroma:

The scent is light and very very nice, in my opinion. It's lightly floral with a bit of vanilla, maybe. Nothing that you can place right away, but I enjoyed it quite a bit. I'm sensitive to a lot of scents, and this one bothered me less than most.

Performance:

This lasted a long time without getting too sticky or drying up. If anything, it was a little on the runny side at times, especially when it heated up. It felt nice on my skin and smelled great. It even seemed that my skin felt softer the next day, which was a surprising bonus.

Packaging:

Volume:

4 fl.oz.

Weight:

5.5 oz