RodeoH Black boxer harness - Panty harness from RodeoH

Product Details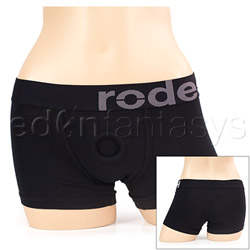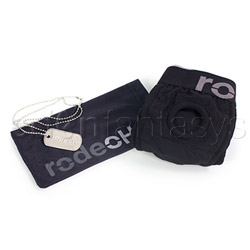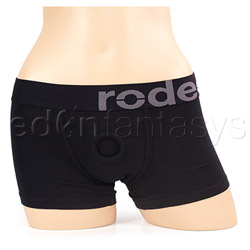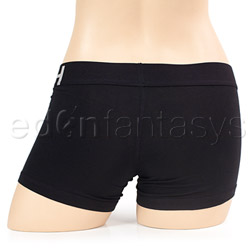 Summary:
The RodeoH boxer harness is made of a cotton and spandex combination. The material makes it comfortable and breathable for everyday functions. This harness is perfect for packing and playing. If you are looking for the harness that has it all...look no further!
Pros:
Comfortable, breathable, functional, sizing accurate, and affordable.
Best use:
The RodeoH black boxer harness is a panty style harness. These are designed for the female anatomy to strap a dildo onto themselves. The comfort of the harness makes it a great choice for those who are packing. The comfort is also great for strap on sex or pegging. All you have to do is pick a dildo that has a flared base sized to fit inside the O-ring.
You can purchase this the boxer harness in black and
red
. There are a variety of sizes in each color. Be sure to pay attention to the size chart prior to ordering.
The price of the harness makes it a great option for any entry level. It's one of the most affordable harnesses you can purchase.
Every purchase of this harness gets you a boxer harness, RodeoH dog tag necklace, and RodeoH storage pouch.
Material:

According to the tag, this harness is made of 95% cotton and 5% Elastane (Spandex.) It feels like soft cotton. The material clings to the body, but it's very stretchy. It's thick and durable, but you breath easily in this material, so you won't get too hot during use. There is no smell to it. This material isn't at all uncomfortable or itchy. It's great for everyday use.

The tag recommends that this material should be machine washed in cold water, and then hang dried. Don't bleach. Don't Iron.

The pouch material isn't labeled. It's velvety soft with a nylon draw string. Should you need to wash it, machine washing will be fine.

The dog tag necklace material isn't labeled either. It's a rather thin, tin like material. It's already tarnishing a bit, so it will likely turn you green over time. I recommend keeping it out of water.

Material:

Cotton

/

Spandex

Design / Craftsmanship:

The boxer harness is designed to look like any other pair of boxers. That is the beauty of them. You can tuck them away with all your other underwear, but fold them so the O-ring isn't exposed. This will make them completely discreet and great for traveling!

The top of the boxers is a 1.5" thick elastic band that is labeled "rodeoH." There is a single seam in the back of the elastic band. This elastic band has three rows of stitching to connect the rest of the boxers. The front of the boxers has a pouch area marked with borders and stitching. In the middle of the pouch area is a single 1.75" O-ring. This O-ring does have some stretch to it, but not much. It will hold a 1.5" - 2" dildo. Inside is a single flap of material to be the back cover of the dildo. The crotch area has four rows of stitching to ensure it's durable. The thigh openings have folded material that is triple stitched as well. There are four rows of stitching up the crack of the back. From the top of the waist band to the bottom of the harness is 10.75" long.




All the craftsmanship is pretty good. The stitching is done multiple times to ensure it's sturdy. For the most part, it's all even. There are a few flaws, but considering the price they are just fine.

Size / Fit:

RodeoH size chart says:
23" Hips = Size 23-24 (24)
25" Hips = Size 25- 26 (26)
28" Hips = Size 27-29 (29)
30" Hips = Size 30- 32 (32)
33" Hips = Size 33-35 (35)
37" Hips = Size 36-38 (38)
41" Hips = Size 39-41 (41)

They recommend ordering one size down from what you normally order to ensure that the boxers fit properly.

Dildo holder diameter:

2"

Weight:

0.1 lb

Performance:

Front

Back

Dildo Happy Valley Perk


I wear a size XL or a 14 in women's pants. My lower hip measurement is a 43". So, I ordered the 41" from the size chart. If you look closely you can see that the front of the harness, by the O-ring, is a little baggy. This is why they recommend ordering a size down. I should have got the 38", but it was out of stock at the time. I can still wear the harness just fine, and it's still very functional.

I have found only one issue: if the dildo has a large and heavy flared base, it weighs down the harness. This wouldn't be so much of an issue with the proper size. If I hold the dildo, it works just fine. Having to hold the dildo doesn't bother me at all, because I like guiding my cock.

I haven't experienced any chaffing or irritation from wearing and using the harness. It's the most comfortable thing I have worn in a long time. I like to wear it around the house just as boxers.

I couldn't be more pleased with this harness. I'm giving it 5 out of 5 stars because I don't see any issues with it. It's perfect in my eyes.