New And Improved! (Size 29)
If you're looking for comfort, style, and ease of use, grab a RodeoH! I love the way this harness feels, whether I'm the one wearing it or my partner is using it on me. It holds all of my toys so far, and looks hot on my woman. I'm a total convert.
Published:
Pros:
Comfortable; Sexy; Soft; Easy to put on
Cons:
Stretchy fabric may not give enough control
Essentials
RodeoH underwear-style harnesses are a godsend for anyone who finds traditional strap-on harnesses to be less than comfortable, with all those straps, snaps, and buckles pinching the skin of both wearer and wearer's playmate alike. RodeoH harnesses are made like strong cotton undies, comfortable to wear and comfortable to have between your legs.
People of all sexes and genders will look good wearing a RodeoH, although those with standard male equipment might feel cramped. These harnesses work best with small- to average-sized dildoes; they can also be used for packing, or pack-n-play wear. Due to the extreme ease of use, a RodeoH would be excellent for first-time harness users, but is also quite pleasurable for those with plenty of experience in strapping one on.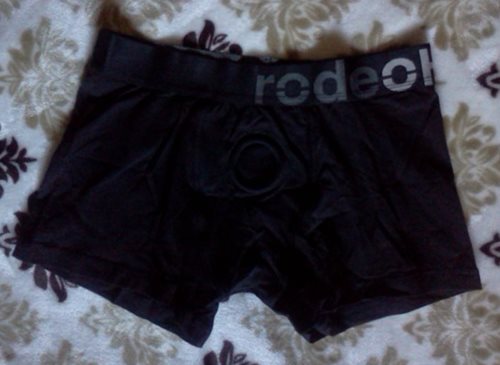 Look & Feel
This particular style is called the RodeoH Boxer Underwear Harness. Its design is similar to a very short boxer-brief or boyshort-style underwear. Where the original brief-style has a wide elastic waistband with a slightly rough, cottony feel to it, the waistband on this "boxer" style is very satiny and smooth. It still displays the brand logo embroidered in large gray letters, beginning at center front and wrap around to the left.
Where the brief has a sort of fly opening at one side of the front, the boxer style simply has a pair of fabric-covered seams, like parentheses, surrounding the O-ring in the center. The O-ring is situated lower down on the boxer than on the brief, at about 3" down from the top of the waistband (as opposed to 2.5" down on the brief).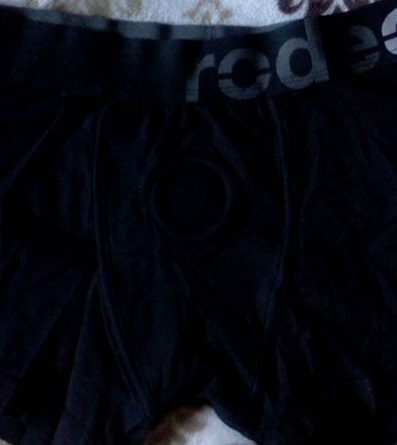 Aside from the waistband, the entire harness is black. The stretch-cotton fabric feels a little softer than on the original brief, and has more stretch to it as well. The back of the boxer harness is just smooth fabric, with a flat seam down the center.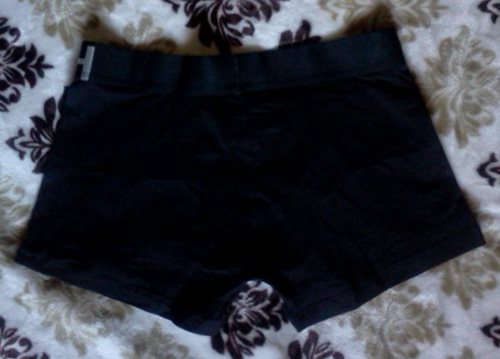 Sizing & Fit
I ordered the size 29 in this boxer harness; I'd wanted to order the 32, because the 29 was a little too small in the brief, but the 32 sold out before I could snatch it up. However, I was glad I got the 29, because this style runs a little bigger than the brief does.
Brief
Waist (high hip): 25" - 32"
Hips: 30" - 37"
Rise: 8.5"
O-ring: 1.5" - 1.75" d.
Boxer
Waist (high hip): 26" - 33"
Hips: 34" - 42"
Rise: 9"
O-ring: 1.5" - 1.75" d.
My partner wears a 30-31 in men's pants, and has a 30" waist with 38" hips. I wear a size 8 in women's pants, and have a 28" waist and 40" hips. This boxer style fits her perfectly, and looks great! It fits me, too, but the snug waistband gives me a bit of muffin-top effect due to my larger hips.
Performance & Quality
The manufacturers have made a number of quality improvements to the boxer style as compared to the original brief style. Here's a list:
- Smooth, silky waistband with firmer elastic
- Fabric-covered elastic edge on inner front panel
- O-ring sewn inside double-layered outer front panel (on brief, O-ring was sewn onto front panel with a donut-shaped piece of fabric backing)
- Completely flat, silky-feeling seam at back center waistband
- Smooth, non-irritating black satin care tag (brief had white plastic-y tag that was irritating to skin)
- Softer, stretchier fabric overall (though this may be a drawback for some)
The quality has definitely gone up, and now I'm interested to know whether the brief has been redesigned, as well. The potential drawback with the stretchier fabric is that it may not give you the same firm control of your toy as with a less-stretchy fabric.
Content & Care
This article is made of a 95% cotton and 5% elastane fabric. The care tag recommends machine washing in cold water and hanging to dry, along with never bleaching or ironing. This is how I've cared for my original RodeoH for over a year, and it has shown virtually no wear. Do be sure to wash your RodeoH with other dark colors.
Packaging & Extras
Like my original RodeoH, this one arrived in a soft drawstring bag which serves as both package and storage. The one with my first RodeoH was black microfiber with gray lettering, whereas this one is a pale gray microsuede with gray lettering.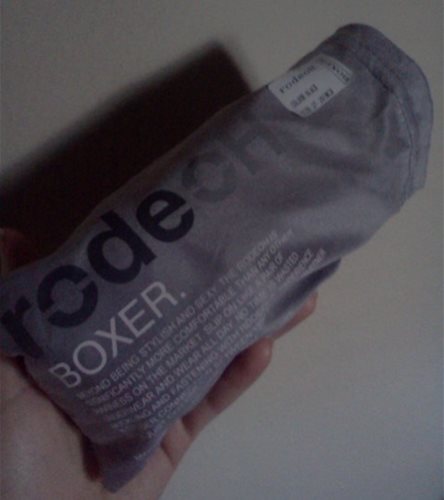 Here's a close-up of the writing on the storage bag: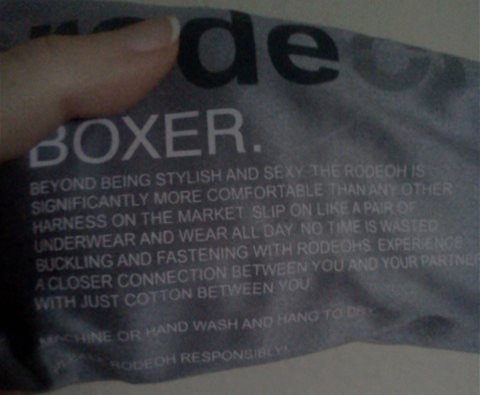 Both of the RodeoHs I've purchased have included a dogtag-style pendant, embossed with the brand logo. I suppose one could wear this in public as a sign to others that one owns a RodeoH? I put it on the other night to see how long it was--the dogtag fell right between my bare breasts, which my partner said looked sexy.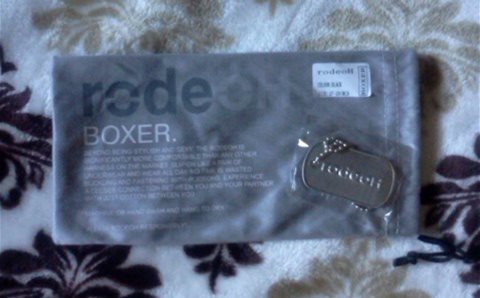 Experience
My partner and I tried this harness out a few nights ago. It worked beautifully, and resulted in something of a marathon! We used the Sedeux Please, the VixSkin Spur, The Slender, and the Raquel. All of their varying shaft sizes and base sizes worked just fine with the RodeoH Boxer Harness. My partner was wearing it for upwards of two hours, and found it to be very comfortable. It was nice and soft against my skin, as well. Her only quibble was that the softer fabric didn't hold the toys quite as tightly against her as that on the original brief-style RodeoH, but it still did its job well.
This content is the opinion of the submitting contributor and is not endorsed by EdenFantasys.com

Thank you for viewing
Black boxer harness
– panty harness review page!