Pipedream Blindfold ball gag - Mouth gag from Pipedream

Product Details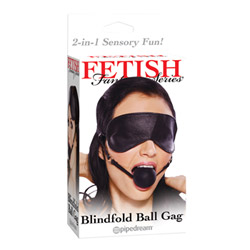 Summary:
The Blindfold/Ball Gag combination from Pipedream is a great way to start exploring the world of bondage. While the mask itself doesn't stay put well, it helps beginners get an idea of being deprived of all sensory information without intimidating them too much. The ball gag is really good and would also work well for beginners due to its squishy rubber material being easy to bite down on.
Pros:
2-in-1 for your bondage play, nice ball gag that works well for beginners.
Cons:
Blindfold is loose-fitting, material doesn't seem that sturdy.
Best use:
The Blindfold Ball Gag is an interesting idea created by the wonderful folks at Pipedream. This is intended to be used as a bondage accessory in your play time sessions. It would work well for beginners because the ball gag itself is easy to bite down on and the material is flexible---making it easy to explore different options in your play time.

This will also work very well for sensory play as it leaves the wearer unable to see anything while giving them a sense of masochism while wearing the ball gag.
Design / Craftsmanship / Material / Size / Fit:

The blindfold is 8" long from side to side and is made of what feels like a thin type of Suede with a vinyl overlay. It is fairly thin and small with a height of 3" where the eyes sit, 2" above the nose.

demonstrating thickness



The blindfold is attached to a strip of elastic that makes it fit a variety of users. The elastic stretches to a total of just under 13" comfortably. This is good for variety, but it also makes the piece kind of loose around one's head, causing it to slide around and not stay in place well.



Another elastic strap holds the rubber ball gag in place to the rest of the piece via two metal clasps. The gag itself can be adjusted from side to side for comfort (the elastic runs through the ball). When on the gag can stretch about 4 or 5 inches, again to fit a variety of users. This ball has a diameter of about 2 inches and is soft and squishy, and can be bitten down on very comfortably.

Here is the ball gag next to the ball from Ami. The ball is about double the size of a ping pong ball.



As I stated above, the fit isn't the greatest with the blindfold. While the ball fits perfectly around one's head and rests comfortably in the mouth, the blindfold is actually a bit loose and tends to slide around when in use. I think the elastic could be a tad smaller to ensure a better fit.

Material:

Elastic

/

Rubber

/

Vinyl

Material safety

Color:

Black

Closure:

Ribbon Tie

Weight:

0.1 lb

Performance:

I really liked the ball gag on this piece. It will work well for beginners due to its easy to bite material. I have only tried the Breathable Ball Gag, and, although well made, it was too hard for me to keep in my mouth. This one, however, was really fun to use. I liked not feeling like I was choking (most of the time) and being able to bite down comfortably without drooling everywhere.

The down side to this is that you can definitely smell and taste the rubber, even after a few washes. It tastes quite strong and some may not enjoy this taste. When taking this out of the package there is a very strong smell of rubber also.

The blindfold didn't really work that well. It would still be good for beginners because they can still feel like they are in control if they can see out from under it; however some may be turned off at the idea of it sliding all over the place. The only way to keep it in place is to really just hold still and not move your head around.

The piece functions well over all as a two-in-one product, and I think the majority of bondage/fetish fans would enjoy this piece. Sort of a two birds with one stone type of thing!

Care and Maintenance:

The ball gag can be cleaned well with soap and warm water or rinsed off with hot water before/after each use.

The blindfold is too delicate to put in the washer or dryer in my opinion, so I would suggest spot/hand washing it and allowing it to air dry in between uses.

This could be stored with the rest of your toys, but I suggest keeping it in a plastic bag to prevent the rubber ball from melting or absorbing bacterias (rubber is quite porous).

Traveling wouldn't be a problem with this, however it isn't exactly discreet. Since the blindfold is connected to the gag you wouldn't be able to say that it is a sleep mask. It is small enough to hide in a bag though.

Experience:

As a person who has simply dabbled in bondage play, I must say this is a good choice for a beginner to bondage. While the blindfold may not stay on well, the ball gag is great and it will help you feel out your preferences in the world of kink.

Other

Size:

One size fits most

Safety features:

Phthalates free

Circumference:

6"

Diameter:

1 3/4"