Sportsheets Fur lined paddle - Paddle from Sportsheets

Product Details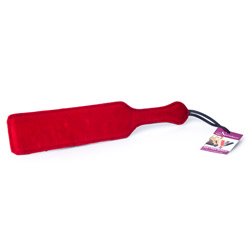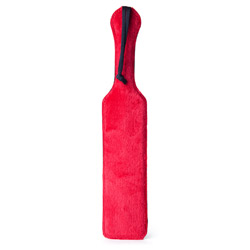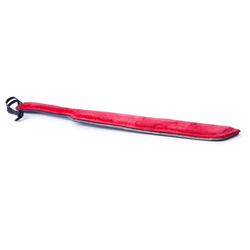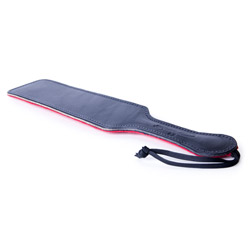 Summary:
Want a sturdy, pretty flogging tool that can deliver more than one type of smack? This dual textured paddle from Sportsheets does just that. It can just you those painfully sweet stings and the deep thuds. It doesn't matter which way you prefer, this paddle delivers one way or another.
Pros:
Dual texture, real leather, good price/size, delivers both sting and thud.
Cons:
Not vegan (for some), handle might break down over time.
Design / Craftsmanship / Size / Material / Features:

The paddle is about 14 1/4" long, which is a fairly traditional size for paddles. The body is rectangular with rounded edges, and is about 9 inches long and 2 3/4" wide. The thickness of the leather is about 1/8". The handle portion is 5" long, and the part that is gripped is 1 1/4" wide. There is a wider circle end so it does not slip out of your hand. At the very end is a nylon strap that can be put around your wrist. It won't fit larger hands or wrists though. It is attached underneath the material, so it cannot easily be removed unless it is cut off.

The paddle has a "spine". It is about 3/4" wide and can be felt running down the center on the paddle. It keeps it from bending and can facilitate strong spanks. It does not feel as secure in the base, so this might be a weak link with time and heavy use. The paddle is made of real leather stained black. This leather is exposed on one side. Sad enough, the leather does not smell much at all. It has the Sportsheets logged pressed into the leather on the handle. On the exposed leather side, the stitching is about an 1/8" from the edge and is stitched well. The smooth surface is great for stinking spankings.

The other side of the paddle is lined with faux fur, red, black, or chettah print. The red is a great shade but is slightly darker than it appears in the online picture. The grain goes away from the handle so the user can "stroke" their partners skin with it nicely. It feels very smooth, not like the gritty feeling cheaper versions.

Material:

Fake fur

/

Leather

Material safety

Length:

14 1/2"

Width:

2 3/4"

Weight:

3 oz

Performance:

Choose your thwack. The leather side can be used to create a more powerful stinging spank. It also creates a cracking sound that many users will like. Even when used with a small amount of force there is a stinging, sweet pain that will cater to the more advanced BDSM loving individual or spanking fetishist. The fur side is better for beginners or those who enjoy a thud instead of a sting. It does not hurt much, and if it does, the pain does not linger like a stinging hit will.

The textures of the materials can also be played with. Smoothing the leather over a bare red bum or teasing with the slightly tickling texture of the fur can be very arousing to the senses. This paddle doesn't only feel great for spanking a bum. It works well for breasts and the inner thighs too. It all depends on where you want to feel the sensations.

Even after a good wacking, this paddle will hold up for many more. It is comfirtable to hold and the handle should be easy to use by small or large hands.

Care and Maintenance:

This leather is water resistant so it can be wiped down with a damp cloth to get rid of any bodily fluids, lube, or what not. Still, it should never be soaked in water or even exposed for water for longer than a brief cleaning. The faux fur can be spot cleaned and air dried. Make sure to store your lovely paddle in a cool, humid free environment.

Packaging:

Unfortunately, the paddle does not come with any storage packaging. It only comes with a small, removeable cardboard tag. On one side is a picture of a woman holding all three color choices of the paddle. On the back it says it is made in the U.S.A. There are no are instructions.

Experience:

I LOVE spankings, and I especially like to mix up the thud and stinging feelings. This paddle is awesome for that! Especially for the price, it is an excellent investment for individuals who are in the same boat as me or are curious about spanking and think that they might like to amp up their experience after trying it out for a while. I like the duel texture a lot. It makes this paddle different from any flogging tool I have used.

My only concern in the long term stability of the handle and support "stem" holding together. Only time will tell how long it holds up. For the price, it is a great product, but I won't be too disappointed or surprised if it doesn't eventually break down. I still recommend this flogging too to beginners and advanced users alike.

Other

Texture:

Smooth

Special Features:

Safety features:

Phthalates free