NS Novelties Crystal premium glass kegel large - Vaginal exerciser from NS Novelties

Crystal premium glass kegel large videos
Product Details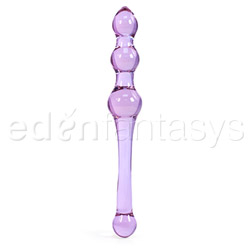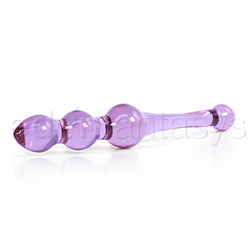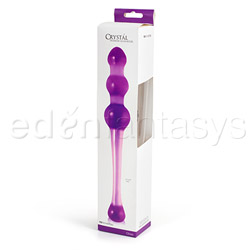 Summary:
Kegel exercises no longer have to feel like a chore or a burden. With the Crystal Premium Glass Kegel,kegel exercises be versatile and fun. with glass and temperature play spicing it up. It's simple, smooth, and gorgeous to the eyes as well as to your other senses. It can also be used as a vaginal dildo sans kegels and, with some care and caution, used for anal play as well.
Pros:
Premium glass, aesthetically pretty, great kegel design.
Cons:
Tacky packaging, lack of instructions/description.
Best use:
If you are a fan of kegel exercises and kegel toys, the Crystal Premium Glass Kegel (Large) is definitely one that should be added to the collection. It's a straight-forward kegel toy, made out of beautiful purple glass, with three bulbs that range from small, to medium, to large. Since it also resembles an anal bead toy, one can use it for anal pleasure as well (just be careful since it doesn't have a flared base, so use caution if you are tempted to put this toy in your back door).

Since this toy is designed for kegel exercises and is rather long, don't be too rough with it. A toy like this calls for gentle play so to not bruise your cervix.

This toy would be best suited for women who need to work on their kegels (such as those about to prepare for childbirth or having gone through it) or those who just enjoy working out their vaginal muscles to make sex all the more pleasurable for their mate. With this toy being made of glass, it can make kegel exercises all the more fun by using temperature play, playing with it in the shower/tub/jazcuzzi, etc.
Material / Texture:

As the title already states, this kegel toy is made of premium glass. It's a bit on the heavy side, but that doesn't interfere or distract during play. The glass is hard, smooth, slick, and seamless, which adds much stimulation, internal pleasure, and comfort, especially when lubricant is used.

Material:

Borosilicate glass

Material safety

Texture:

Bulged

Safety features:

Anti-bacterial property / Food-grade material / Hypo-allergenic / Latex free / Non-porous / Phthalates free

Design / Shape / Size:

The toy is designed so the vagina can grip around each bulb during kegel exercises. Since kegel toys come in many shapes and designs, whether or not you prefer a kegel toy such as this is all up to preference. The design, shape, and size is perfect for what it was designed for. And to make it even better, it can also work just fine as a vaginal sex toy sans kegel exercising. Because it's so beautiful and gorgeous to look at, you can very well use it as a centerpiece on a coffee table without anyone thinking twice about what it is and what it is intended for (and even if they did, they'll just see it as the beautiful piece of glass work that it is). It may not be the most suitable for travel. Glass toys like this won't shatter into pieces if dropped; they will just fall into giant chunks. It may not be the most care-free toy to travel with, but if you are willing to take that risk, just make sure you store it in a silken pouch and box (unfortunately that is NOT included).

Length:

9 3/4"

Insertable length:

5"

Circumference:

4 3/4"

Diameter:

1 3/8"

Weight:

10.7 oz

Performance:

With every glass toy, one can't help but run to the bathroom and run it underneath really hot water, or put it in a freezer to make it nice and chilly. Temperature play is one of the things that makes glass toys so great, and more unique to play with than other materials. Even if you are planning to only use this toy for kegel exercising sessions, why not spice it up with some temperature play? It simply makes it all the more fun!

Performance-wise, this toy succeeds at all that it is designed to do. You can really feel how your vaginal muscles grip around each bulb, and feel how much stronger it gets as you gradually push the toy further to its maximum bulb size. The long stem at the end of the toy, that aids as a kind of handle to maneuver it during play, is nice as well; it's long enough to be able to have a firm grip. When lubricant is used, the toy can remain slick and lubricated for quite awhile, so you don't have to worry about having to constantly re-apply lube.

Special Features:

Handmade
Premium
Waterproof

Care and Maintenance:

Simply rinse with soap and water. Dry with a clean towel. Unfortunately, this toy does not include any kind of storage for it, so it is best to store in a silken pouch (you can purchase one or, if you are really on a budget, just use a sock or two). Be sure to not store it in an area where, if it were to fall, it would shatter. Preferably store it someplace where it can land on a carpet or rug if that situation happens. Use water-based lubricants.

Care and cleaning:

Bleachable / Boilable / Dishwasher safe / Soap and water

Packaging:

I was surprised at the cheap and flimsy packaging, made out of very thin plastic in a box that seemed like it could barely hold the toy without the potential of it moving around. Even more surprising to me was how there were NO instructions as to how to use this toy, or what a benefit this toy can be for kegel exercising. The toy may be self-explanatory, but would be nice if more effort could have been done to explain the use of this toy, why and how it was designed the way it is, etc. All that was mentioned on the package was that it was made out of premium glass and was hypoallergenic.

Most glass toys usually have a silken pouch included; none was offered here. The packaging this toy came in is not suitable enough to use as storage for the toy, so one has to find some other kind of storage for it.