Very Effective Kegel Tool
Crystal premium glass kegel large is the best kegel tool I have had so far. You can't wear it like you do with most vaginal balls, but if you take 5-10 minutes a day with it you will see results in no time. The charcoal color is very pretty and unique, and it's easy to clean and store. This is well worth its price. It got 4/5 stars because it doesn't come with any type of instructional booklet or technique suggestions.
Published:
Pros:
Pretty and unique color, works great for kegels, can be used as a dildo as well.
Cons:
Can't wear it around all day like vaginal balls, no instructions or techniques provided.
*Use*
Kegels are a nice method for tightening one's PC muscles and increasing sexual stimulation. A very common way to do these are with vaginal balls, which are placed inside the vagina and worn throughout the day to make kegeling simple and effective.
Vaginal balls can be a hit or miss- some
work well
while others don't seem too effective. It can be frustrating when you are using them at least 3 times a week without noticeable results.
This Crystal Premium glass kegel is an excellent tool for effectively working your PC muscles, and can double up as a wonderful dildo as well. It takes a little more time than other methods and can't be worn around all day, but it is well worth the extra 5-10 minutes a day.
The only quam I have with this product is that it didn't come with any type of ideas for how to use it properly. Luckily I stumbled across another
similar product
that explains in great detail. I have taken the instructions from
this review
and applied them with this tool for great results.
Simply squeeze your muscles while slowly inserting the Crystal Premium into your vagina until you reach the largest bulb. Then rest, squeeze again for a minute or so, rest, and squeeze and pull out until you reach the middle bulb. Do about 3-5 repetitions for each bulb as you go in and out while squeezing. For more in depth exercises and uses you can refer to the above mentioned review, Tuesday did a great job explaining proper kegel routines.
I found that using this enhanced my sex drive. Squeezing your muscles enhances the sensations of penetration and feels better than the usual thrusting. Going slowly also builds up more anticipation and creates a much stronger orgasm when you're through.
*Design and Size*
The Crystal Premium almost reminds me of an anal dildo the way it is shaped. It has graduated bulbs on one end that assist with increasing your PC muscles as you make progress(almost like leveling up). The handle has a small round ball at the end that can be used for kegels or g spotting.
The piece measures 10" long. The round handle measures 1" in diameter. On the other end, the first and smallest bulb is just over an inch in, the medium sized bulb is 1 1/2" and the largest bulb is 1 3/4". These 3 bulbs take up the first 5" of the piece, making it about 6" insertable.
The handle itself is smooth and flat, and has a diameter of less than inch. It gets thicker as you get towards the bulbs but it would be easier to just insert the other end if you want thickness.
Despite the slim diameter of the handle, the ball at the end is fantastic for g spot stimulation.
I ordered the charcoal color, which almost has a green tint to it in the light. This is a unique and pretty color that you don't find too often with toys.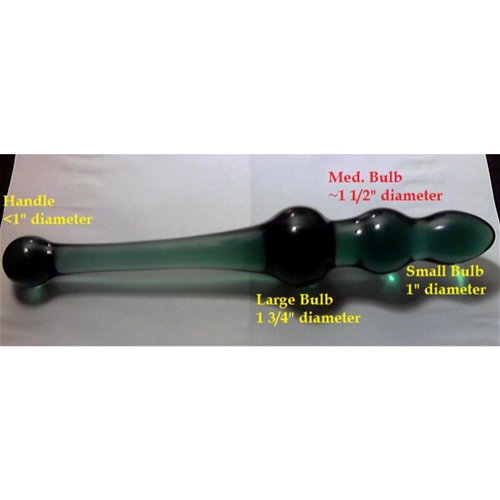 *Performance*
This works great for me. I noticed results after using it for a week. It may seem like it's hard to fit an extra 5 minutes in the day to use it, but I take it in the shower with me.
It also works great as a dildo so if you decide to get a little frisky after using it you can finish off with a nice little session.
*Material and Care*
Crystal premium is made of
borosilicate glass
and hits a 10/10 for material safety. It is smooth and non porous. Boroscilicate glass is also known as pyrex or tempered glass and is known for its thick, hard properties that prevent it from shattering like regular glass. It can withstand extreme temperatures, and if it breaks it will break into clean chunks.
Glass is a very nice material for temperature play if you like switching things up. You can go from hot to cold or vice versa quickly to add extra stimulation to your experience.
Cleaning and storing is simple with this; just use soap and warm water or toy cleaner.
This product was provided free of charge to the reviewer. This review is in compliance with the FTC guidelines.

Thank you for viewing
Crystal premium glass kegel large
– vaginal exerciser review page!