Evolved Diabolic hardcore playing cards - Adult game from Evolved

Product Details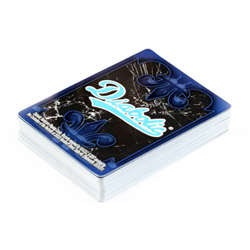 Summary:
This Diabolic set of cards by Evolved Novelties is a card set any collector would be proud to play a rousing game of strip poker with. With multiple scenarios and pretty girls to boot, you are sure to find enjoyment out of using this set.
Pros:
Variety, hardcore sex acts, attractive girls.
Cons:
No names of porn stars.
Best use:
Purpose / Audience:

Diabolic playing cards are a playing card set featuring hardcore pornographic photos. With a broad range covering anal, vaginal, oral and multiple partners, there is something to look at for everyone. Hardcore by every means, you are getting the real deal in maximum viewing. This is one of the more explicit sets they make. Moderately diverse in looks and potions, not too many of these girls are repeated in cards.

Made in Chatsworth, California by Evolved Novelties, the porn capital of the U.S.A. brings forth a card set any collector would be proud to play a rousing game of strip poker with.

Perfect for a bachelor's party or just your weekly card match with friends.

Rules / Content:

You could use these playing cards in any of your favorite standard card games. From poker, to black jack, or even solitaire, any game is the perfect game for a little added viewing pleasure. The back of each card is blue and black with the word Diabolic written across it. Each back is exactly the same, so while playing it is fair, just like a normal playing set.

The photography is well done, and features the sex acts in full swing. While in some you get a glimpse of the man participating, most just show the penis. Each card's photo is bordered with a line, then grey---the card numbers are in the top left and bottom right corners.

Design:

This 52 card set each is backed on 0.25 mm double glossy card paper. The cards are per standard 2 1/2 in × 3 1/2 in. The box features anal on one side and vaginal sex on the other. There are card photos depicted on the sides of the box.

Experience:

I received these to do a Description Review. And as soon as my boyfriend saw them in the mail he took them. He and his friends got a kick out of using them during their card games.

Other

Length:

3 1/2"

Width:

2"

Special Features:

Bachelor party
Birthday party
Gifts