Pyrexions B2B g-spot - Dildo from Pyrexions

Product Details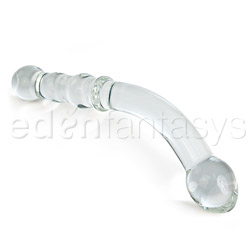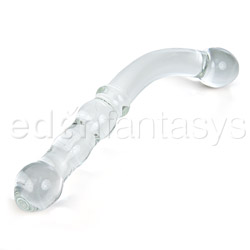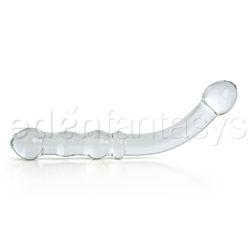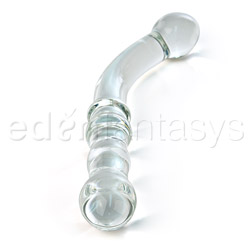 Summary:
A great glass toy for all users. Both ends add to the versatility of this toy, and it's great for temperature play. It can be used vaginally or anally and can even be shared (after sterilizing). It's easy to store, easy to care for, and totally body safe. Two dildos (or thumbs) up!
Pros:
Simple, elegant, nice size.
Cons:
G-spot bulb could be shaped/angled better.
Best use:
The B2B g-spot dildo by Pyrexions is a great versatile glass toy. Because it can be sterilized, this toy can be used vaginally or anally, and can even be shared (after proper sterilization, of course)! My favorite is to use this toy vaginally, as I find glass a bit too hard and unforgiving to use anally. However, it can definitely be used anally. Though I'm the only one that has used it, I do think that this could also be used for p-spot stimulation. For temperature play, nothing compares to glass. It's quite shocking when cold and wonderful when warm too. With all glass toys, remember not to thrust in too hard so that nothing gets bruised.
Material / Texture:

This toy is made out of pure Pyrex glass. It's super smooth, has no smell at all, and looks beautiful. The toy is of course very hard and unforgiving, which may turn some people off. Because it's glass, it requires a little extra caution when using, because glass toys can bruise or bump things the wrong way pretty easily. Other than that, though, the smooth, sleek touch makes this a great toy for all kinds of play.

Material:

Pyrex glass

Material safety

Texture:

Bulged / Smooth

Safety features:

Food-grade material / Hypo-allergenic / Latex free / Non-porous / Phthalates free

Design / Shape / Size:

I think the B2B looks somewhat whimsical, but it's also not the most discreet toy. I don't know that this could be somehow mistaken as a simple paperweight or toy glass wand or anything. There is one particular bump near the middle of the toy that seems to be the separating line for both ends. When using either the curved or bumpy side the length, up to that middle point, is a just right. For g-spot stimulation, I don't insert the curved part all the way in. The bulb on this end could be better shaped to access the g-spot easier, but the current bulb does make insertion easy.

Color:

Clear

Length:

8"

Insertable length:

4 3/4"

Circumference:

3 3/4"

Diameter:

1 1/8"

Weight:

0.5 lb

Performance:

Other than the g-spot bulb not being the perfect fit for me, this is a great toy to use all sorts of ways. Glass is amazing for temperature play, and one itty-bitty drop of lube goes a very long way. The bumpier section kind of reminds me of a juicer, with the curved part as the handle. The texture is the same not matter how it's turned inside, though, so I guess it doesn't quite work the same. But the size of each bulb is good.. not too big, not too small, and it provide an interesting burst of hot or cold stimulation as you insert more in.

Care and Maintenance:

Caring for this toy is so easy. You can put it in the top rack of the dishwasher, boil it, bleach it, nuke it, what have you. For every day use, I usually rinse it off before using, then wash it with soap and water after. It can be used with silicone, water, and oil based lubes, and very little is needed. It may be a good idea to keep a hand towel nearby to clean off your hand after lubing the toy up, because it gets slippery easily. For storage, I just keep it amongst my other toys in a cloth bag.

Care and cleaning:

Bleachable / Boilable / Dishwasher safe / Microwave safe