Pyrexions B2B sceptor - Dildo from Pyrexions

Product Details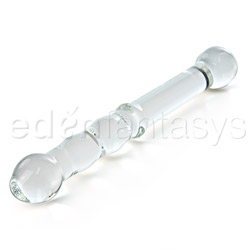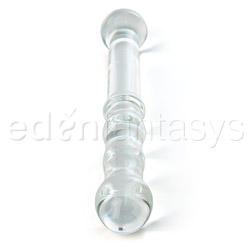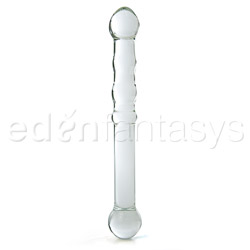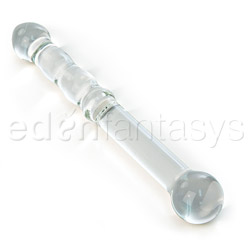 Summary:
This is a versatile double-ended dildo that is beautifully shaped out of body-safe, sterilizeable Pyrex glass. It will rock your world with two very different sensations, and look beguiling on your nightstand for years to come.
Pros:
Offers two different ends with unique sensations. Pyrex glass is durable, body-safe, and Looks good.
Cons:
None at all, unless you're looking for an anal-safe or double penetration toy
Best use:
This double-ended dildo is made of clear Pyrex glass, and its design recalls the lines of a royal scepter or wand. One end has a larger rounded bulb and smooth shaft, and the other has a smaller, slightly pointed bulb with three ridges. You can wield either end with your hand, but it's probably not safe for anal, as it is without a truly wide flange.

It would also probably not work for being inserted into two people at the same time. First, glass is not an ideal material for this because of how hard and unforgiving it is. Second, this scepter is just the right length for when it's hand-held, but not really long enough for double penetration.
Material / Texture:

This gorgeous wand is made of Pyrex glass, which is treated to be stronger and more shatter-resistant than regular glass. It's the same material that oven-proof bake-ware is made of. While no material is unbreakable, this scepter should prove to be very durable and long-lasting.

You can heat or cool glass, but you should never do so in succession, as rapid temperature changes can damage glass and even cause it to crack. Cool the dildo by immersing it in ice cubes and water; warm it by immersing it in hot or warm water.

Glass is very hard and unyielding, so start out more gently with your thrusts than you would with a soft silicone dildo to prevent unwanted soreness and bruising.

Material:

Pyrex glass

Material safety

Texture:

Bulged / Ribbed / Smooth

Safety features:

Food-grade material / Hypo-allergenic / Latex free / Non-porous / Phthalates free

Design / Shape / Size:

The end with a larger, rounded head will provide a dramatic sensation upon first insertion; then, you can try to rub the larger bulbous head against the Gspot and other sensitive bits. The other end has a smaller bulbous head with a slightly pointed tip that makes it go in easy; two longer ridges and one less thick but dramatic ridge provide ripples of sensation as the dildo is inserted and removed.

Either end is comfortable as a handle, and the modest size is a good fit. The round bulb can make it feel larger than it is as it goes in, while the more narrow shaft makes it less sore-producing. The length is perfect: it can be deeply inserted and still have a sufficient handle.

Color:

Clear

Length:

8"

Insertable length:

4 1/4"

Circumference:

3 3/4"

Diameter:

1 1/8"

Weight:

0.5 lb

Performance:

I love the dual edges and the very different sensations that accompany each end. One gives you a dramatic first plunge and a handy way to manipulate special internal spots while the other ridged end makes for very pronounced and stimulating thrusts in and out. I found that it is best to be gentle when using the ridged end, as it can become overstimulating and even painful if its pressed too hard against the upper wall of your vagina. Of course, practice makes perfect, and it's really a joy to learn how to effectively wield this beautiful glass dildo on your partner or yourself.

Care and Maintenance:

Glass is completely body-safe and easy to sterilize (via boiling or washing with a 10% bleach solution plus soap and water and rinse). It can be shared between partners after disinfecting it. The fact that it's Pyrex will make it especially long-lasting and hard to break.

Care and cleaning:

Bleachable / Boilable / Dishwasher safe / Microwave safe

Packaging:

Mine came loose in a large white box with pink tissue paper - not at all a keepsake, but attractive. I'm not sure if this is just the sample packaging, however.