SSA Glass Blue swirl - Dildo from SSA Glass

Product Details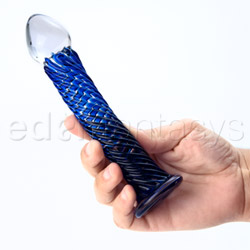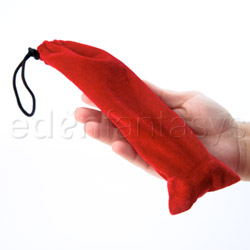 Summary:
Get your swirl on with the Blue Swirl Dildo! It may be simple and look similar to so many other glass dildos of its shape, size, and style, but bottom line, this toy will get you excited and make you come. It is small and light-weight enough for travel, and also pretty enough that you will just want to proudly display it somewhere in your house for everyone to see and admire.
Pros:
Swirled, lovely, simple, perfect size.
Cons:
Base is too small; not compatible with strap on harnesses.
Material / Texture:

The Blue Swirl is made of glass with gorgeous swirled ridges from the base to below the head of the dildo. At first sight one can't help to be just in awe of its simplistic beauty; when turning it around, the swirl ridges gives off a kind of hypnotic effect that makes you ooh and ahh. The awesome quality about the ridges is that it adds intense internal stimulation. It is both bumpy and smooth at the same time. It is pretty simple and average-sized enough to please just about anybody. After all, what's not to love about a glass sex toy?

Material:

Borosilicate glass

Material safety

Texture:

Smooth / Swirled

Safety features:

Food-grade material / Hypo-allergenic / Latex free / Non-porous / Phthalates free

Design / Shape / Size:

The design of the Blue Swirl is pretty simple. There aren't a whole lot of thrills here: the dildo is straight upward with a head, shaft, and small round base. The size is just perfect; it isn't too big, but it isn't too small either. When inserting it vaginally, the head will stretch you out just slightly, but then once the rest of the dildo is in it is so smooth, fluid, and rigid. This entire combination of hard, smooth, and rigid is just intensely pleasurable, so much that it will make your toes curl! You will want to travel with this guy, or display it in the privacy of your room, or your desktop, or wherever, loud and proudly.

Color:

Blue / Clear

Length:

6 3/4"

Insertable length:

6 1/4"

Circumference:

4 1/2"

Diameter:

1 3/8"

Weight:

10.5 oz

Performance:

The Swirl Dildo is very much so a furniture, bed, or floor sex toy. You would want to play with this dildo on someplace soft and comfortable so to prevent any damage to it if you drop it. As mentioned, the best quality of this sex toy is the swirled ridges; internally, it just feels so AMAZING. The base of the dildo is small, but I found it just the right size for my small hands to hold on to and maneuver as I thrust the Swirl in and out of me. I was also able to hold onto the upper base of the dildo as well during play. The small base, however, may pose a problem for somebody with larger hands.

For instance, if your partner has really big hands, then he (or she) may have to be a bit more careful when maneuvering and controlling the dildo. Again, if you want to insert it anally, take some care and caution to 1) the small base and 2) the ridges (it will mean that you have to clean the Swirl extra carefully to be sure there aren't any debris or feces deep in the ridges). Unfortunately, the small base also means that it is not that well compatible with strap-on harnesses (I have tried it on all three of my harnesses and it didn't fit into a single one of them). However, it is very well compatible with clit-stimulator attachments; so if you have one, slide it along the center of shaft to add more oomph and excitement. The Swirl is overall an absolutely fantastic toy that will give you years and years of orgasms and then some.

Care and Maintenance:

The Swirl is dishwasher safe and bleachable. You can also just simply wash it down with hot water and light soap. The Swirl comes with a spacious purple pouch so to ensure that it is safe. It can be stored in your toy box or in your drawer. You can use any type of lubricant with this dildo. Regardless if you insert this anally or not, always keep your eye on the ridges and make sure they are squeaky clean.

Care and cleaning:

Bleachable / Boilable / Dishwasher safe

Experience:

I personally loved using the Blue Swirl dildo the most with the clit stimulator attachment from the Vibo Kit. Naturally, I thoroughly enjoyed playing with this toy on its own, but with the vibrating clit stimulator, it was just the best of both worlds. It was intensely orgasmic to have first the feeling of the Swirl's head pushed inside of me, practically cumming already as soon as the swirled ridges massaged my pussy, and then aggressively massaging my clit with the vibrating clit stimulator. One word: AMAZING! I highly recommend using the Blue Swirl with vibe attachments or other toys as well (ex: a butt plug).