Duncan Charles Designs Ceramic wand - Dildo from Duncan Charles Designs

Product Details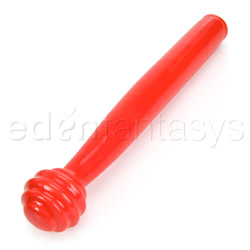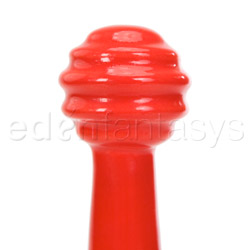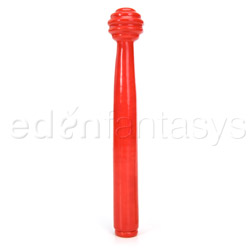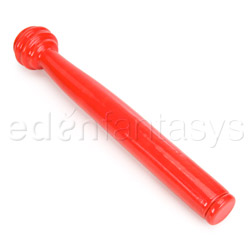 Summary:
The Honey Wand may look like a simple ceramic dildo but it's so much more. The ribbed head is sent directly from Heaven to make devilish love to your clit and g-spot! The Honey Wand is a versatile pleasure object that's expertly crafted and designed to satisfy while delivering a wide variety of sensations. The Honey Wand drips with sensuality and it delivers sweet pleasure.
Pros:
Fantastic clitoral stimulation and it's a g-spot wonder!
Cons:
Could have a padded storage bag.
Best use:
The Honey Wand by Duncan Charles Designs is a lovely, multifunctional, ceramic pleasure object that is worthy of my praise and adoration. The craftsmanship is just exceptional and the finished product is evidently handmade. It's sleek and smooth, lightweight but solid. I found no external blemishes or bubble marks; this dildo is as smooth as glass. The Honey Wand truly does resemble the traditional wand or implement used to extract and drizzle honey on food products, it's head is round and has horizontal ridges that feel fantastic rubbing your clit or g-spot. This beautiful ceramic dildo works wonderfully as a clitoral stimulator due to those beautifully smooth ridges and is capable of making me wet and ready in minutes. Due to the firm ceramic it's quite easy to apply just the right amount pressure to stimulate the clitoris. The Honey Wand is also very good for g-spot stimulation and once again the ridges were just amazing. I felt every single ridge glide across, caressing and milking my g-spot, it was almost sensory overload.
Material / Texture:

Duncan Charles Designs makes their pleasure objects of food grade glaze and ceramic, resulting in a non-porous, hypo-allergenic, lead-free toy with anti-bacterial properties. The Honey Wand has absolutely no smell or taste. Ceramic toys, as you can imagine, are extremely firm and unyielding, making them an excellent choice for g-spot stimulation. This fabulous dildo is great for temperature play, simply place in warm or cool water before use. Extreme temperature changes such as switching from hot to cold too quickly could damage the Honey Wand and should be avoided. The Honey Wand was difficult for my husband to use on me for g-spot stimulation because he had no idea what felt good or what hurt and with a firm material I really didn't want to explore further. I quickly decided I would be the only one using the Honey Wand in that capacity.

Material:

Ceramic

Material safety

Texture:

Ribbed / Smooth

Safety features:

Food-grade material / Hypo-allergenic / Latex free / Non-porous / Phthalates free

Design / Shape / Size:

This design, in my opinion, is pure genius. It is a dildo that excels at g-spot stimulation as well as clitoral stimulation. The rounded head, with it's horizontal ridges, is one and a half inches in diameter at it's widest and has a total of five ribs or bands that make up the horizontal texture. The nine inch total length gives the user plenty of reach for targeting the clitoris. The insertable length totals seven inches. The weight is only six ounces but by no means does the Honey Wand feel unsubstantial or fragile. Ceramic is smooth but does have a bit of drag on the skin if used without lubricant. I found I like using the Honey Wand with very little lube for external stimulation because I like a little bit of drag or pull when stimulating my clit, but much like glass, the Honey Wand required very little lube regardless what I used it for.

Color:

Red

Length:

9"

Insertable length:

7"

Circumference:

4 1/2"

Diameter:

1 1/2"

Width:

1 1/2"

The set includes:

Hand-sewn
black suede storage pouch.

Weight:

6 oz

Performance:

I found I prefer this toy as a solo toy when it comes to g-spot stimulation due to it's firm composition, however I love to use it on my clit during intercourse so I'm not really sure how to classify it overall. I guess it's a shareable solo piece. The Honey Wand becomes very difficult to hold onto with lubed up hands so keeping a towel handy to wipe off any excess is a really good idea.

Special Features:

Dishwasher safe
Hand-painted
Handmade
Hypoallergenic
Ribbed
Waterproof

Care and Maintenance:

The Honey Wand is compatible with all lubes and is very easy to care for and sanitize, just don't drop it. I wash mine with warm water and antibacterial soap and it cleans up beautifully. The Honey Wand is also dishwasher safe and can be sanitized between partners or uses.

Care and cleaning:

Dishwasher safe

Packaging:

The Honey Wand arrived packaged very simply in a plain white cardboard box, inside lay the wand housed in it's unpadded, sueded storage bag, all were heavily padded with bubble wrap and that was it.

Personal comments:

I was blown away at how incredible this toy feels as a g-spotter and a clitoral stimulator. I cant wait to get my hands on the G- Brush! Duncan Charles Designs has made me an instant, lifelong fan!