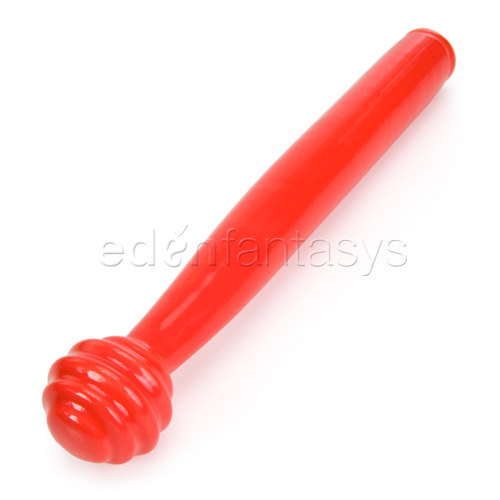 Ceramic wand
Dildo discontinued
by Duncan Charles Designs
The Honey Wand is Quite a Honey of a Wand!
The Honey Wand is an excellent, highly textured ceramic wand with a nice, 1.5 inch ball for a tip. The ball easily and fully stimulates the g-spot despite it's lack of a curve and is amazing for external clitoral and labial stimulation as well. Firm, great for temperature play, easy to clean, this is a honey of a toy.
Published:
Pros
Long, easy to maneuver, great color, sterilize able, super texture
Cons
May be too textured for those who prefer a smooth toy
I've been enamored with the Honey Wand since we first saw it in the Duncan Charles Designs "name that toy" contest. It just looks so fun! And red ceramic? Way, way more spicy than plain old milky white. In fact, this reminds me of the color of a red, hot chili pepper!

The Honey Wand is nine inches of ceramic with a one and a half inch, swirled, textured head that really does resemble the tool you use to dip honey from a jar.

Because it's ceramic, it's a firm toy, with no bend or give, no flex at all. As such, be careful when thrusting as it's easy to bruise and bang your bits! Partner play should be done with a bit of caution; over exuberance, with this one, is bad, bad, bad. It's also very conducive to temperature play. Like a coffee mug, it holds heat well and can very easily be warmed up by running it under hot water or by putting it in a very low heat oven for a short while. (ceramic is oven safe) You can cool it down the same way or even by putting it in a bowl of ice water or in the refrigerator -- just don't freeze or microwave your wand as those extreme temperatures may break it!

The Honey Wand is really excellent for g-spot stimulation. The thin-ish shaft and large-ish ball end make it easy to angle to rub against your g-spot while the texture creates extra friction you don't normally get with smooth ceramic. It's a unique sensation. It can also be used to rub against your clitoris, labia, anywhere, really, that you desire some stimulation from the texture. Those who don't need vibrations to have a clitoral orgasm may seriously enjoy rubbing this manually against their clit.

Because it's ceramic, any lube can be used if you feel you need it; I prefer just the smallest amount of silicone lube but water based or even oil based are fine, too, in that they won't damage the toy. This is not recommended for anal use, though, since it has no flared base and the shaft is actually smaller than the insertable head.

Clean up is easy; simply wash with hot soapy water, spray with a ten percent bleach solution or even toss it in the dishwasher (top shelf, no soap) and you're good to go. Spray toy cleaner and wipes also work well, though you may need to work a bit to get goo out of the grooves. I wouldn't recommend boiling simply because it may be too extreme a change of temperature.

The Honey Wand comes in a very nice, black checkered pouch (matte and velvet black checks) with an envelope style closure at the top. Think sandwich bag style, only more secure. I love these types of bags as there is no drawstring to eventually break. The bag is not padded, however, so use care that you don't have it banging around against other hard toys, etc.
Follow-up commentary
3 months after original review
The Honey Wand is still fabulous but I've decided, as nice as the bag that came with it is, it prohibits me from using it as often as I otherwise would. It's just a bit too small and getting the wand in is a pain in the ass. I'm now storing mine in a drawstring padded pouch and I'm much happier.

The wand itself is fantastic, has held up well and is still interesting to me, if not all that often used.
This product was provided free of charge to the reviewer. This review is in compliance with the FTC guidelines.
Thank you for viewing
Ceramic wand
– dildo discontinued review page!