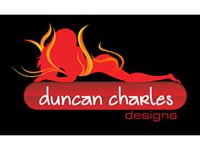 Duncan Charles Designs
Ancient Technology-Innovative Designs
Thousands of years ago ceramic was used to make some of the first sex aids. At Duncan Charles Designs we are taking our love of ceramic and improving the design and functionality of ceramic toys for todays adult. All DCD toys are handmade in the United States from non-toxic, lead free materials resulting in a non-porous, hypo-allergenic, waterproof, high quality toy. Duncan Charles Designs is committed to delivering unique, beautiful, pleasureable pieces that will last another thousand years.
News and announcements
Happy Holidays

Duncan Charles Designs would like to wish all a Merry Christmas and Happy New Year!

The winner is.......

I had such a fun time including the Eden community in the "Name Our New Toy" contest. All the great entries made it difficult to pick a winner, but I have. The new toys name is "The Honey Wand". Congratulations!

"Name Our New Toy Contest"

We are excited to announce the addition of our newest ceramic toy! Alas, we have not been able to put a name to this beautiful, unique piece. Duncan Charles Designs would like to invite the community to help name this toy. The contest will run for ten days and the winner will have their choice of any two Duncan Charles Designs product. I am personally looking forward to all the creative names I know the Eden community will come up with!

"PLeasure"

We are all about "Pleasure" at Duncan Charles Designs and with the addition of our new ceramic toy you can share in that too! This is a one of a kind ceramic dildo that once again shows the skill of ceramist Dariusz Napiorkowski and our dedication to taking the design and function of ceramic to new levels. The "Pleasure" is in a progressive ball design that provides smooth, g-spot,clitoral or anal stimulation. Colors available or Black/Red and comes with leather storage pouch and Czech crystal accent.

"Swirl" Ceramic Butt Plug

Duncan Charles Designs is pleased to announce the addition of the "Swirl" to our line of fine ceramic toys. Designed by Polish ceramist Dariusz Napiorkowski it is the first ever ceramic butt plug to take on a cork screw design for easy, smooth insertion. The "Swirl" is available in Intense Red or Black and comes with velvet storage pouch.
Recent Duncan Charles Designs reviews
Duncan Charles Designs forum