Glassvibrations Crystal lover dildo - Dildo from Glassvibrations

Product Details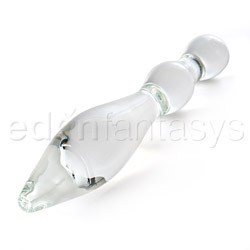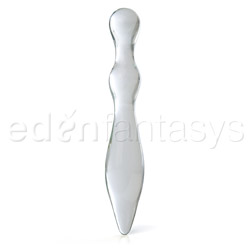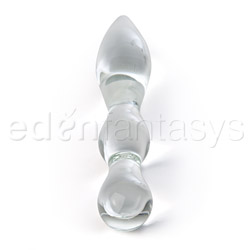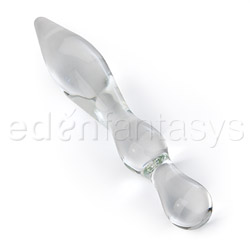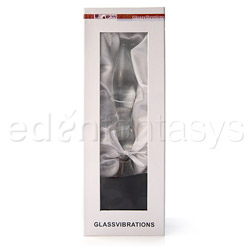 Summary:
The Crystal Lover Dildo is a great investment if you have never experienced a glass toy before. It is discreet (non-phallic) and also is without frills that could confuse inexperienced users. The quality of the toy's construction is wonderful and don't leave anything to be desired. However, if you are someone who must have g-spot stimulation from a toy, this may not be for you.
Pros:
Discreet, great packaging, well-made.
Cons:
No g-spot stimulation.
Best use:
The Crystal Lover Dildo itself (henceforth CLD) can be used a variety of ways. There are two separate ends to the toy so you can choose the kind of stimulation you want to experience. The CLD should not be used anally since there is no flare to prevent it from going all the way into the anal cavity.

Since the CLD is made from glass which is a hard material, you should use caution when thrusting since you could possibly bruise yourself. You don't have to be completely reserved in your thrusting, just be aware of your body and stop if anything starts to feel a little bit strange. Since the non-bubble (the two balls) end it rather pointed, you should be especially careful while using it as it could poke you in a way that isn't desirable.

Because I don't think it should be thrusted too vigorously, I would not suggest using this with a partner as s/he may not know when s/he is hurting you. If you most definitely want to use this with a partner, I would suggest putting your hand over hers/his the first time you use it together and thrusting for her/him so that s/he can see how exactly you need it to be used in order to not hurt you.
Material / Texture:

Since the toy is made of glass it doesn't have any order. This also means it is going to have no give at all. This could be a great plus for people who need something without give to provide stimulation, but as mentioned above, it also means you should be aware of your body while using the toy as to not cause injury.

The CLD has no texture other than the bubbles and slight curves in its body, so this makes it great for someone who is looking for a smooth toy with some different sensations. Since it's very basic and smooth I would suggest this toy to anyone, but people more experienced with glass toys may be disappointed because it is so basic. If you're afraid or harder materials, or just want to try them out, this may be a good choice.

Material:

Tempered glass

Material safety

Texture:

Bulged / Smooth

Safety features:

Food-grade material / Hypo-allergenic / Latex free / Non-porous / Phthalates free

Design / Shape / Size:

The Crystal Lover Dildo from Glassvibrations is a clear glass dildo that can be used from either end. Glassvibrations is a German company that offers a lot of unique designs. I tried going through their website to find some information about the company in general, but since I don't speak German I can't really comment on much other than their designs.

It is very simple yet very well-designed. Upon examining the toy closely, I couldn't find any apparent flaws or anything that would lead me to believe this toy is poorly made. It seems to be a very quality dildo. Since the toy itself is only 1 3/8" diameter, it is suitable for people who are rather new to penetration, but it also is thick enough to satisfy people who may like something a little thicker.

The CLD is also very non-realistic and thus doesn't scream, "Hi! I'm a sex toy!" If you happened to leave this toy out and someone who is not familiar with toys sees it, they would probably not know exactly what it is. The majority of people I know don't even know that glass sex toys are in existence.

I wouldn't travel with this toy because people who handle your luggage can be pretty brutal and you don't want your toy to shatter in your suitcase.

Color:

Clear

Length:

7 3/4"

Insertable length:

6 1/2"

Circumference:

4 1/2"

Diameter:

1 3/8"

Weight:

1 lb

Performance:

When I finally got to use the toy itself I was really excited to experience both the plain, pointed end as well as the bumps on the other side. Sadly, I was very disappointed with my experience. The smooth, pointed side of the toy is, well, way too pointy. If you insert the toy more than a couple of inches it somehow finds a way to poke the vagina in a really uncomfortable way. With other toys my vagina feels somewhat bottomless, but with this one it seems as though it's hitting my cervix with only three or so inches inserted. After fiddling around with that side I decided to try the other.

The side with the bubbles (bumps) is slightly better. It does manage to stimulate the opening of the vagina fairly well with some slow thrusting, but since it lacks any sort of curve, g-spot stimulation is virtually impossible to achieve. If you appreciate a thrusting motion that doesn't provide any kind of g-spot stimulation, you may really like the CLD. Since I like g-spot stimulation, however light it may be, this toy is not really for me.

The CLD is also great for temperature play. For those not in the know, by temperature play I mean heating up or cooling down the toy before inserting it to provide a different sensation. If you want to heat it up or cool it down you can either place the toy in a bowl of hot (not boiling) water for a couple of minutes or place it in cool water or an ice bath to cool it down. You should never put glass toys in the microwave or in the freezer.

Care and Maintenance:

Since the CLD is glass it's very easy to care for. I wash mine with mild soap and water after each use, but if you want to do something more you could always wipe it down with a bleach solution (1 part bleach, 9 parts water) and then rinse it well.

Also, since the material is glass you don't have to worry about compatibility of lubes. You can use oil, water or silicone based lubricants with this toy without a problem. I would personally stick to water and silicone based lubes because oils can be hard to flush out of the body if they are used vaginally.

Packaging:

The packaging of the CLD is very nice and sturdy. It comes in a white cardboard box with a viewing window. Upon opening the box, which is held closed with a small magnet on the side, you find the CLD nestled into white satin and secured with elastic bands. There is also a white ribbon coming out from the sides that is tied in a bow around the toy. In addition to the box, the CLD comes with a small black bag for storage. While the bag is nice, it's not padded at all which means I'll probably not be keeping my toy in it. I'm sure you could find another use for it such as holding a silicone toy or a place to collect your batteries.