Phallix Dichroic glass dildo - Dildo from Phallix

Product Details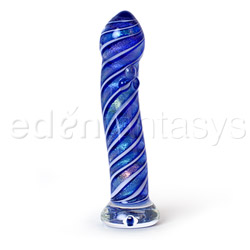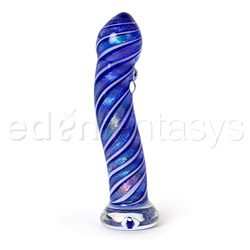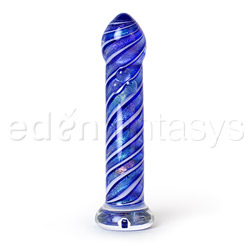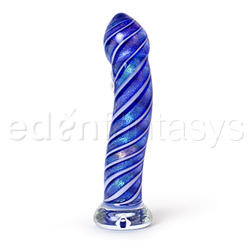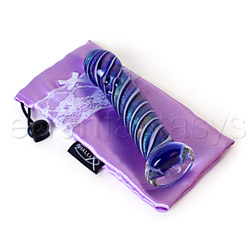 Summary:
If you have some extra money to spend and want to invest in a beautiful, high quality, luxury toy that should last a lifetime, the Dichroic Glass Dildo by Phallix certainly fits the bill. It's one of the most expensive dildos available on EdenFantasys, but could make an amazing centerpiece to a glass-lover's collection.
Pros:
Gorgeous, strong and non-porous material, curve and texture provide g-spot stimulation, flared base.
Cons:
Very expensive, may not have enough curve or texture for some users.
Best use:
The Dichroic Glass Dildo by Phallix would be a great choice for someone who loves glass, wants to treat themselves to a luxury toy, and knows they don't need a deep curve or intense texture. That lack of intensity combined with the moderate size would make this a good introductory glass toy, but the cost will most likely drive anyone but a hard-core collector away. The design lends itself to g-spot or prostate stimulation, and the flared base makes it anal safe. Since glass is a hard material you should be careful during use (especially if a partner is controlling the toy) since overzealous thrusting could cause bruising. Glass retains temperatures well, and can be heated in warm water or cooled in cold water to provide some interesting sensations.
Material / Texture:

This dildo is made from Pyrex glass, which is a brand name for borosilicate glass. It is less dense than ordinary glass which makes it strong and shatter-resistant. Pyrex glass gets a 10/10 on EdenFantasys' material safety scale because it is non-porous and can be sterilized. Glass is very hard and smooth. It can provide intense pressure and requires little to no added lubrication.

Dichroic glass contains micro-layers of metals like gold or silver that are vaporized. The vapor condenses on the glass, forming crystals. This is what gives the dildo its irridescent quality, causing it to change colours depending on the angle of view. According to the Phallix website, NASA helped to develop this technology and uses it as a protective coating on helmets and spacecraft windshields.

The only texture on the Dichroic Glass Dildo is a series of 3 bumps located below the head. The nubs are about 1/2 inch wide, and are raised about 1/4 inch above the shaft. During use, the texture won't be felt by the vaginal or anal opening, but will rub up against the g-spot or prostate providing extra stimulation. It is intense enough to be easily felt, but shouldn't cause any irritation or pain to even the most sensitive users.

Material:

Pyrex glass

Material safety

Texture:

Nubbed / Smooth

Safety features:

Food-grade material / Hypo-allergenic / Latex free / Non-porous / Phthalates free

Design / Shape / Size:

The design is gorgeous. The dildo is made up of thin stripes of blue and white glass, and larger stripes of dichroic glass, swirled together around the shaft in a spiral design. The iridescent blues, greens, purples and golds remind me of a peacock feather. The base and nubs are clear. It is obviously a dildo, but it's so pretty that you might want to eschew discretion and put it up on your mantlepiece.

The dildo has a total length of 7 inches, and about 6 1/4 inches can be inserted. The head is 1 1/2 inches wide, or 4 3/4 inches in circumference. The shaft is 4 inches in circumference. Since each one is handmade, size may vary slightly between dildos. The size will be suitable for most users. It's similar to an average sized penis.

The shaft has a subtle S-shaped curve. Combined with the bulbous head, and the texture located just beneath it, the design will offer g-spot or prostate stimulation for most people. This dildo has plenty of length to reach the right areas, but the curve might not be deep enough for those whose special spots are more tucked away. Holding the dildo on an angle during thrusting can help.

The flared base is 2 inches wide. It fits nicely into my palm and makes the toy easy to hold on to, while also preventing over-insertion.

Color:

Multi-color

Length:

7"

Insertable length:

6 1/4"

Circumference:

4 3/4"

Diameter:

1 1/2"

Performance:

This dildo worked pretty well for me, but I wasn't amazed by the performance. The tapered tip and smooth material made it very easy to insert. It's large and heavy enough to provide me with a satisfying full feeling, but doesn't make me feel stretched. Normally I hate any sort of texture because it irritates my vaginal opening. I actually enjoyed the texture on this dildo because it stayed inside of my vagina during thrusting. I was able to get some good g-spot stimulation between the texture, the curve, and the shape of the head. The g-spot stimulation wasn't as intense as the stimulation I'm used to from my favourite glass g-spot dildo, the Amethyst, but it provided more stimulation to the other parts of my vagina. I haven't tried this toy anally because it's a little larger than what I can comfortably take in a hard material.

Care and Maintenance:

Glass is compatible with any type of lubricant, and you don't have to worry about it reacting with any other toy materials. A quick wash with soap and water is sufficient for cleaning. If you'd like to sterilize your dildo you can use a 10% bleach solution, boil it for 3 minutes, or run it through your dishwasher on the top rack with no soap. I recommend storing the dildo in a padded pouch to protect it from scratches or falls.

Care and cleaning:

Bleachable / Boilable / Dishwasher safe

Packaging:

The packaging is nowhere near as luxurious as one might expect for such an expensive toy. Clearly Phallix puts a lot more effort into designing their toys than their packaging. The dildo comes in a clear plastic clamshell. At the top of the package a pamphlet with a picture of a blonde woman is visible. When you open it up you'll find pictures of the other toys in Phallix's lineup. It includes a storage pouch which is made from satin and isn't padded. It can help protect your toy against light scratches, but you may want to purchase a padded pouch to offer a higher level of protection.