Fleshlight Fleshlight Freaks Cyborg dildo - Dildo from Fleshlight

Fleshlight Freaks Cyborg dildo videos
Product Details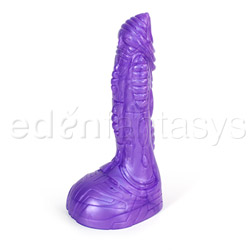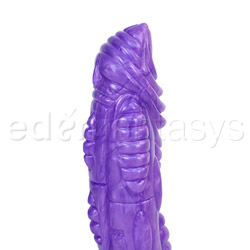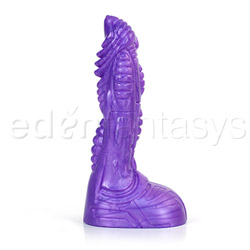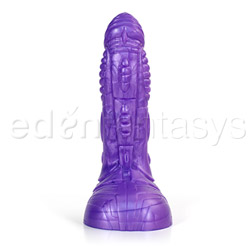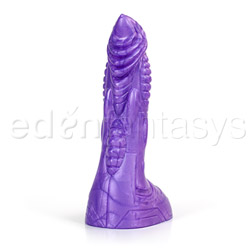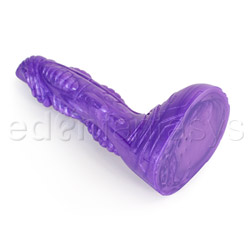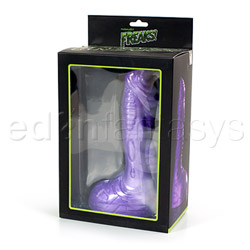 Summary:
The Fleshlight Freaks are a unique line of dildos from the makers of the Fleshlight. The Cyborg one has a very sci-fi feel to its appearance, and just looks downright cool. The design, however, is more for an "advanced" user, or someone who knows they like a lot of texture during their play.
Pros:
Silicone, interesting and unique design.
Cons:
Ridges are going to be uncomfortable for some people.
Material / Texture:

The Cyborg is made out of silicone. This particular silicone has a fair amount of drag to it if you're running your fingers over it, and it will pick up some hairs and lint if you expose it to them. Overall it feels pretty firm, but there is some give and squish if you squeeze it between your fingers. While it doesn't have a smell right out of the box, it may pick up scents from things it's exposed to like flavored lube or scented soap. If it picks up scents you don't like, wash it very thoroughly and leave it out to air out for a few days, and this should help.

Material:

Silicone

Material safety

Texture:

Ribbed

Safety features:

Food-grade material / Hypo-allergenic / Latex free / Non-porous / Phthalates free

Design / Shape / Size:

All of the dildos in the Freaks lineup are designed to look like different oddities. The Cyborg is meant to have a futuristic design to it, and to most people it certainly will. The general shape is that of a penis with balls. The ball area may make it more difficult to fit into a harness, but will also give your hand something else to hold on to while playing. This dildo is covered in all sorts of bumps and ridges, starting at the base of the tip with four very pronounced ridges. Right here is likely to cause the most amount of problems for people who have problems with larger ridges getting caught on pubic bones. There are a few ridges that don't jut out at all, that taper down from the highest point of the ridges in the front. Behind that, on each side and the underside, are a few oval shaped bumps that add to the girthy feeling of the toy. The average user may find the texture to be a bit too intense, especially coupled with the 5 3/4" circumference.

While not realistic, this toy is definitely not discreet either. You can travel with it easily though, just make sure that you keep it hidden from prying eyes if you don't want anybody to know what it is or that you have it.

Color:

Purple

Length:

8"

Insertable length:

6 1/2"

Circumference:

5"

Diameter:

1 3/4"

Weight:

1.5 lb

Performance:

The large ridges at the tip of the toy make it good for finding and stimulating the G-spot in a slightly more pinpointed manner, although they also lend themselves well to catching on pubic bones. The large base provides a good hand hold if you want to spend any amount of time thrusting, but you'll want to make sure you're very prepared for the textural overload your vagina is going to receive.

You can use the Cyborg anally if you're feeling very adventurous, but I'd recommend making sure you're really warmed up before you attempt this one.

Care and Maintenance:

Care and maintenance is fairly simple. You should stick to mostly water based lubes, but if you have a favorite silicone one you can spot test an inconspicuous place, like the base, to make sure there won't be a reaction. To clean it up, warm soapy water will do. You'll want to take extra care to make sure you get in between all of the ridges that the toy has. Air drying is your best bet to prevent picking up lint and other particles, but if you have a lint free cloth you can dry it off right away. I'd recommend storing it in the original packaging or a plastic bag to prevent picking up particles between uses.

Care and cleaning:

Bleachable / Boilable / Dishwasher safe / Soap and water

Packaging:

The packaging is classy, but not discreet at all. On the back of the box you'll see pictures of the other dildos in the Freaks line, and you can see the Cyborg through a window in the front. Inside the box, the Cyborg is nestled in a black tray with a clear cover fitted over it. It's bulky, but not necessarily what I'd call huge.

Experience:

I've been lusting after getting a Fleshlight Freaks dildo ever since I first learned of their existence, and unfortunately the Cyborg just isn't the one for me. The title came from the joke I made while explaining my first use to my husband, because I ended up using just the tip for pretty much the whole session. I was able to get most of the shaft inside of me after getting really into it, but that was short lived. It went something like, "Almost there, ow. Almost there, ow. Almost there, ow. Got it! ... Oh no, now I have to remove it..." because of the ridges catching on my pubic bone. If they were more subtle, I think I'd have enjoyed our romp quite a bit more.

Because of that, I don't hesitate to recommend this toy to anybody who knows they like pronounced ridges, and I don't hesitate to recommend that you steer clear of it if you know that things have a tendency to catch on your pubic bone and you don't like the feeling.