WHK GmbH Lucid heart - Glass dildo from WHK GmbH

Product Details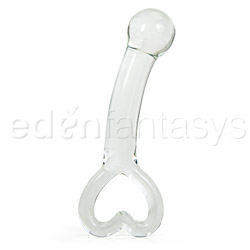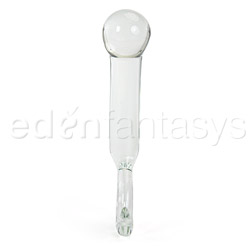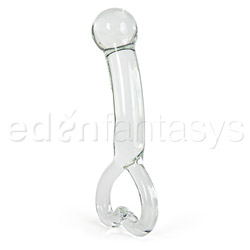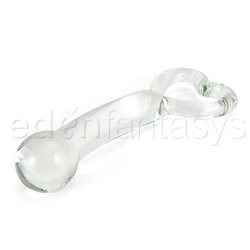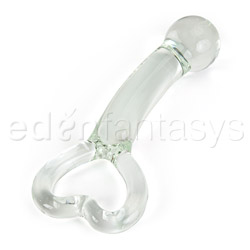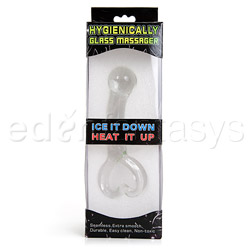 Summary:
If you don't have a glass dildo - or want to move up to a larger one - this is an excellent choice. As a 'package,' it's very complete in terms of size, shape and styling.
Pros:
A great introduction to glass dildos - a good size, well-shaped and affordable.
Cons:
Usual 'cons' of glass products - rigid, cold, smooth...
Best use:
This glass dildo is practically a piece of art - a large, heavy, gleaming shaft topped by a bulging ball at one end and a cute, heart-shaped handle at the other. It's sleek, polished, smooth and slick. A delight to touch - and innocent enough to be used as a paperweight!

The shaft and knob are quite long and thick, making this a serious bit of sex-toy kit. It's perfect for vaginal penetration, as the smooth, slick shaft slides in effortlessly and the bulging ball at the end is neatly positioned to stimulate the g-spot. The weight is delicious too - resonating sensation throughout the shaft as gravity tries to do its business.

Slightly more ambitious is anal play, as the shaft is pretty darn big - and the knob at the end takes quite a big of effort to 'pop' past the sphincter. That being said, the rigidity and smooth surface make it much easier to tackle than a similarly-sized plastic penis and the heavy weight, just like with vaginal penetration, sends shiver-inducing sensation throughout the shaft whenever it's touched. It's like a tuning fork for your ass! The length and bulge are perfect for teasing a man's prostate and the big, heart-shaped handle makes it very safe for anal use - it won't up and disappear on you!
Material / Texture:

The cheesy packaging decries the simple elegance of this product. It's smooth, slick and seriously sexy. The glass is absolutely rigid, but doesn't feel delicate in any way. It has a good weight to it, too, which is vital in rigid products like this.

The glass design has tons of advantages. For a start, it makes penetration much easier, you can use virtually any type of lube on it and it's a breeze to totally sterilize the shaft - making this a toy that's ideal for sharing, or using both anally and vaginally (as long as you wash it between orifices.)

Of course, being a glass toy, it's entirely rigid. Some people might prefer the realism of a rubbery dildo, that feels more like the 'real thing.' If this hardness works for you, though, the rest of glass's advantages make it an excellent choice in sex toy material.

Material:

Tempered glass

Material safety

Texture:

Smooth

Safety features:

Food-grade material / Hypo-allergenic / Latex free / Non-porous / Phthalates free

Design / Shape / Size:

This glass dildo is simple and elegant. It's not obviously phallus-shaped, meaning it's fairly discreet even if it's left in the open (unless you hang out with fellow EF reviewers, who are going to identify it instantly!)

The size is what I can only describe as 'meaty' - it's a fairly intimidating size, but that shouldn't put you off as the smooth glass texture makes it much easier to 'install' in an ass or pussy than a similarly sized cyberskin or silicone product.

Color:

Clear

Length:

7"

Insertable length:

4 3/4"

Circumference:

4 3/4"

Diameter:

1 1/2"

Weight:

0.5 lb

Performance:

The best thing about this toy? The whole package, really.

It's a very satisfying size - and perfectly proportioned for vaginal penetration or slightly more ambitious anal sexy. The way every knock and vibration resonates through the glass is simply DELICIOUS. If you ever wondered about the appeal of sterile-looking glass dildos, you'll 'get it' when this object's finally buried in one orifice or another.

All in all, it's a very satisfying package that's well thought out and provides an excellent introduction into the world of glass dildos. It's a great FIRST glass toy to buy - but based on its performance, it won't be your last.

Care and Maintenance:

It's a BREEZE to look after this dildo. You can clean it with soap and water, or clorox, or stick it in the dishwasher, or basically do ANYTHING to it. You can use any type of lube - silicone, oil-based or water-based - with impunity and as long as you sterilize it properly (which is as easy as cleaning crockery) you can share it with whoever you'd like.

The glass is sturdy and rigid - I never felt like it would crack or shatter - but due care is warranted. Obviously, don't fling it down onto the kitchen tiles, because it's not indestructible - but it will CERTAINLY tackle any punishment your ass or pussy can dish out.

Care and cleaning:

Bleachable / Boilable / Dishwasher safe / Microwave safe

Packaging:

The toy comes in a straightforward box, with a rigid styrofoam casing to protect it. The box is about the same size as a bottle of wine. The packaging isn't terribly attractive - dollar store typeface which proudly boasts that it's 'hygienic' - but is a good size for stowing away, mailing or hiding under the bed.