Nice but Not a Favourite
Lucid Heart by WHK GmbH is a decent glass dildo. It has a beautiful heart handle, which is really convenient for when the toy gets slippery. It can be used anally or vaginally, and is easy to clean. I'd recommend the Lucid Heart to those who are not new to glass and know that they don't like texture. There are better introductory glass pieces for beginners and better textured glass for advanced toy users.
Published:
Pros:
Glass, temperature play, cute, handle, can be used anally or vaginally, smooth, inexpensive.
Cons:
Has been discontinued, has no texture (may be a pro for some), no included storage pouch.
The Lucid Heart dildo by WHK GmbH arrived in a cardboard package. There is a plastic window at the front of the packaging to see the toy inside. The front states a few of the product features. The back states a few more product features and a description of the toy. Inside, the toy sits in a foam cut out. The packaging could be used for storing the toy but it's rather large compared to the size of the toy. I prefer keeping my glass pieces in storage pouches but, sadly, Lucid Heart doesn't come with one. The packaging can be recycled.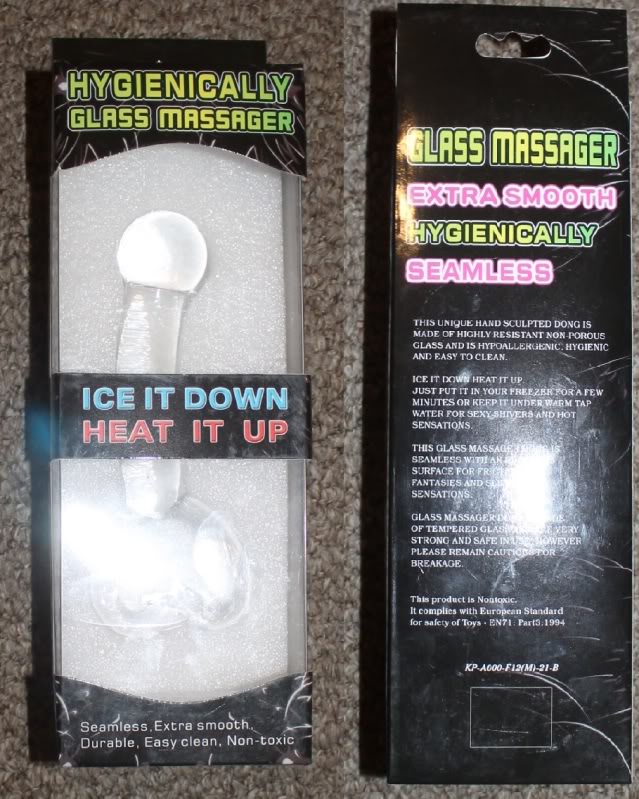 Lucid heart is made of tempered glass and is clear in colour. Eden's
Guide to Materials
states that the difference between this type of glass and ordinary glass is that, "It is less dense… making it much more resistant to shattering and breaking". It goes on to state that unlike regular glass, tempered glass would break into large chunks rather than small pieces. If you're new to glass toys and are worried about the toy "breaking" inside of you- don't. Glass toys are extremely durable. I have quite a few glass toys and use them often. I've dropped a few of them, a number of times, by accident and have never had any issues with them breaking.
Being glass, there is absolutely no give to the dildo. Lucid Heart shouldn't be used for hard thrusting to avoid hurting yourself. You can use oil, silicone, or water based lubricants with the toy. Glass is a great material for many reasons but it's great with lubricant because the material doesn't absorb the lube. You'll only need very little lubricant, if any at all.
The toy is completely smooth. There is no texture to the toy. Lucid Heart has a bulbous head to it and the shaft is slightly curved with no tapering in size. There are also no seam lines. There is a heart shaped handle at the base of the toy, which makes it a great toy to use vaginally and/or anally. The handle makes the toy really easy to use. Glass gets really slippery when lubricated so the handle is really convenient to have.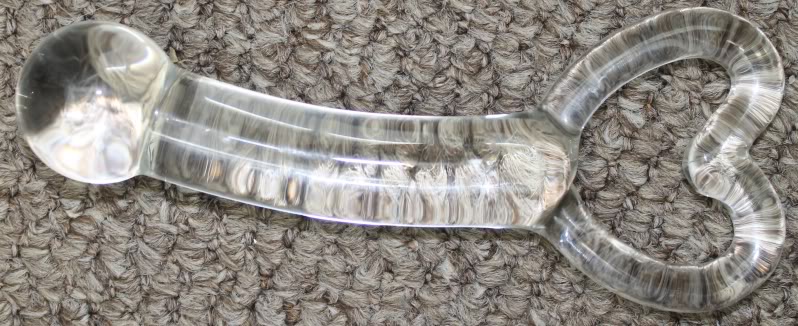 The total length of the toy, which includes the handle, is just less than 7 inches and the insertable length is 4 ¾ inches. The bulbous head to the toy has a circumference of 4 5/8 inches. The shaft of the toy has a circumference of 3 1/8 inches. The length of the shaft is approximately 3 ¼ inches long.
The length of the toy would be fine for beginners but may not satisfy those who need lengthy insertables. The circumference of the shaft is beginner-friendly but the bulbous head may be a bit too large or uncomfortable if you're new to glass. I usually recommend a more slender glass piece to beginners so that they can get a feel for the new material, temperature play, etc. The one thing that beginners would appreciate about this toy is that there is absolutely no texture to it.
Glass is fantastic for many reasons but my number one reason for loving the material is because it's excellent for temperature play. I absolutely love the cooler sensations from a cold glass toy. For temperature play, I recommend (and do myself) putting the toy in a bowl of warm or cold water before using it. The glass holds the temperature nicely and each temperature provides a different sensation. You'll want to test the temperature on your inner arm before using it elsewhere. This will just ensure that it's not too hot or too cold for your sensitive areas. If you're not new to temperature play, and love the cool sensations, I recommend trying out a steel dildo. They hold the cooler temperature a lot longer than the glass does.
I enjoyed using Lucid Heart but it's definitely not my favourite glass piece. It does not, and will not, get as much attention from me as some of my more textured glass toys. Inserting the thicker head and then the shaft is a nice sensation but it wasn't enough to keep me totally interested. I love the feel of bulge-like textures and the bulbous head gives you the same feeling but only for a second. I can tell you that I really liked the handle though! It makes using/handling the toy so easy. It's a really convenient feature to have.
Experience
...continued
I'd probably be more likely to recommend this to the medium-advanced toy user who prefers non-textured insertables. I feel that there are better choices for a beginner, like the
Gold Laced G
. Gold Laced G may not have a heart handle to it but it has a more slender shaft, a bit more length, a slight curve to the shaft, a base that can be used as a handle, and it can be used anally and/or vaginally. I would just hate to see a beginner turned off of glass toys because of the bulbous head on the Lucid Heart.
Below is a size comparison photo of the Lucid Heart. The left hand side of the photo shows you a size comparison with common household items (355mL can of pop and a 500mL bottle of water). The right hand side shows you the size differences between Lucid Heart and a few of my other glass toys. The glass toys, from left to right, are as follows:
Icicles No. 32
,
Hearts Wand
,
Gold Laced G
, and
Amethyst
.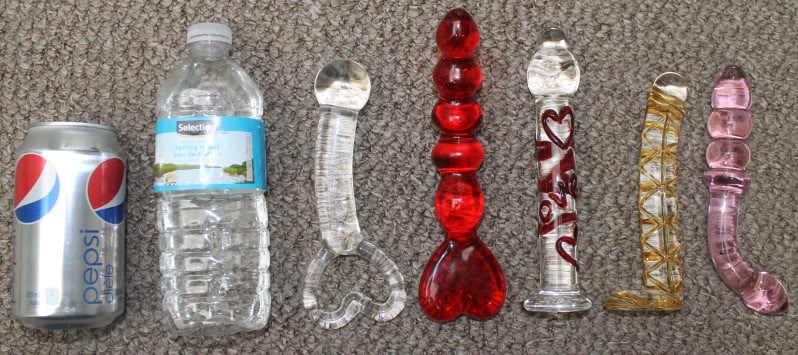 It's really easy to clean Lucid Heart and there are a few different ways of doing so. You can clean the toy with soap and water, toy wipes, or a toy cleaning spray. Having no texture, it only takes a minute to clean. The dildo can also be sterilized. The toy can be boiled, wiped with a bleach/water solution or rubbing alcohol, or put into the top rack of your dishwasher. It's especially important to sterilize the toy if you're sharing it, using it anally, or changing orifices (anal to vaginal).
Overall, I like the toy but not as much as my other glass pieces. It just doesn't have enough texture for me. It has so many features that make it beginner-friendly but then they had to go and put the bulbous head on it. As I had mentioned, this would be a toy I recommend to those who have already tried glass before and know that they prefer no textures at all.
This content is the opinion of the submitting contributor and is not endorsed by EdenFantasys.com

Thank you for viewing
Lucid heart
– dildo sex toy review page!