SSA Glass Hearts wand - Dildo from SSA Glass

Product Details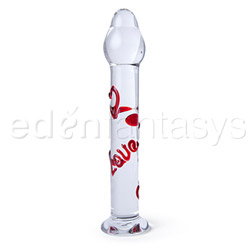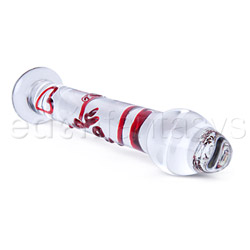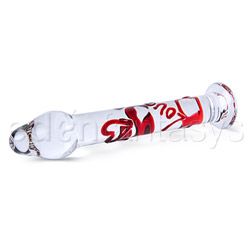 Summary:
As my first glass toy, this cute dildo did not disappoint. It's very basic and great for beginners to start out with since there are no crazy textures and the girth is on the smaller end. The pouch it comes with is not only adorable, but handy too.

This gets four stars because I did have the expectation that I'd feel the hearts a little more during use. But it is not a deal breaker and I will definitely be enjoying this toy for a while.
Pros:
Affordable, Small Enough for Most Everyone, Sterilizable, and comes with Drawstring Bag
Cons:
Texture of hearts were too small, exaggerated ridge between head and shaft
Material / Texture:

The material is, of course, glass. Wonderfully cold, sterilizable, smooth, hard glass. (Be still, my heart!) This makes this toy very share-able since you can completely sterilize it between people as well as amazing for temperature play. (And my personal preference is for cold - chilly and tingly!)

The gorgeous blue hearts on the shaft of the toy are slightly raised for a micro-ribbed texture. But I have to be honest and say that I didn't really feel them when inserted vaginally. Perhaps if you're more sensitive there, or if you use it anally, the texture stands out more.

Another wonderful aspect of glass is just how little lube you need to use for it. Of course, I recommend using extra for anal play but for vaginal penetration, I didn't even need any.

Material:

Borosilicate glass

Material safety

Texture:

Smooth

Safety features:

Food-grade material / Hypo-allergenic / Latex free / Non-porous / Phthalates free

Design / Shape / Size:

The design of this glass toy is simple and elegant. The head is rounded with a very slight point (don't worry, no sharp edges) to make insertion easy and smooth. Then there is an intense ridge where the head connects to the smooth, straight shaft that has the beautiful blue hearts on it.

This toy's basic design worked out great for me as a beginner to glass. Nothing was too girthy and there was no overwhelming texture. Also worth noting is that if you love thicker sized toys in softer materials, don't assume you'll want the same size in glass. Rigid, hard materials like glass, metals, acrylics, etc. have absolute no give to them and therefore can feel "fuller" without reaching the large 2-inch diameter (or more) size.

Also, there is no G-spot (or P-spot) curve to this toy at all. But the large, rounded head does provide a subtle stimulation to the area. So, again, it's based off personal preference and individual anatomy on how well that will work for you.

Color:

Clear / Red

Length:

7 1/2"

Insertable length:

7"

Circumference:

4 1/2"

Diameter:

1 3/8"

Weight:

10.5 oz

Performance:

During actual use, I was not at all disappointed. What was the most amazing part was the temperature play. Without using cold water or anything, the glass was already chilly and felt great externally. It took quite a while for it to warm up to body temperature when inserted as well which provided extra sensations. And what happens when glass warms up to body temperature? It's hot (in a good way)!!! It really gets the juices flowing, if you know what I mean.

But again, be careful with vigorous thrusting because glass can bruise easily and the ridge of the head where it meets the shaft can catch on the pubic bone or anal sphincter of some people.

Care and Maintenance:

How to care for your glass dildo is super easy and one of the best reasons to own at least one glass toy. Wash it with soap and water, toy cleaner, 10% beach solution, top rack in your dishwasher, etc. Anyway you have on hand to clean your toys can be done to this one. It's completely sterilizable.

Just make sure you don't do anything to your glass that takes it from to an extreme temperature fast. That can and will crack the glass. And if there's even a small, hairline crack in it - discontinue use immediately! If you want to make it cold, just use cold tap water, ice water, or put it in a wash clothe in the fridge. I don't recommend trying to freeze it (remember, ice cracks). If you want it hot use hot tap water. Don't put it in the microwave (c'mon people, think that one through). And make sure you check the temperature with a sensitive part of your arm rather than your hand to make sure it's not TOO extreme for your tender bits.

For storing, it comes with an adorable little drawstring pouch. Just remember that it's still fragile so don't try to stand it up on high places or leave it somewhere it can roll off. Even in the pouch, it will probably break.

Care and cleaning:

Bleachable / Boilable / Dishwasher safe

Packaging:

Packaging was at an absolute minimum. It was in it's drawstring pouch which was inside a plastic bag. There were no instructions or company information at all, which is slightly concerning, I must admit. But at least there was little to no waste of resources. And really, who needs instructions for their glass dildo? "Insert where appropriate. Enjoy sensation. Repeat as necessary."