It's Easy To Heart This Wand
The Hearts Wand by SSA Glass is an absolutely sweet little dildo. It has a simple, classic shape, but the cutesy design and light texture is what makes this toy special. The texture is not extreme and the Hearts wand would be a great introductory toy for those interested in trying out textured glass.
Published:
Pros:
Lightly textured.
Storage pouch.
Cute design.
Cons:
Glass is hard and unforgiving.
Head might be a little pokey for some users.
Overview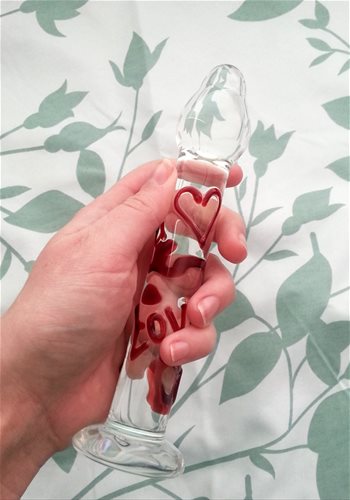 The Hearts Wand by SSA Glass is an adorable addition to any glass collection. It's made of clear of borosilicate glass, which some people may know as Pyrex glass. The shaft is adorned with a cutesy design of hearts and the words "I love you". The design is made from red glass and is slightly raised, creating a light texture.
The texture of the shaft and head are stimulating and the base of the toy makes it so this dildo can be enjoyed by both vaginally and anally. This toy would be suitable for users who are looking for an introduction to textured glass toys, or just those who don't like extreme ridges and nubs.
Glass is very easy to keep clean and is rated a 10 on the EdenFantasys material safety scale. It's chemical-free and non-porous which means it can't harbor any harmful bacteria so long as you keep the surface clean.
Glass is weighty and feels solid in your hand, but it's not as heavy as steel. If you are new to glass toys, start slow, glass is totally rigid and it is possible to bruise yourself if you (or a partner) get too carried away. If you're using this toy with a partner, make sure to communicate to them to be careful because glass is so unforgiving.
At first glass will feel slightly cool to the touch until it warms to your body temperature. Glass is fantastic for temperature play because it can be chilled in ice water or warmed with warm tap water, and it will retain the temperature better than other materials.
It glides right along the skin without any drag and many people say they don't need to use lubricants with glass toys. If you want to use a lube with this toy you can feel free to any kind of lube you please.
Glass toys are handmade and will vary a little from piece to piece, but they will all be mostly the same.
Design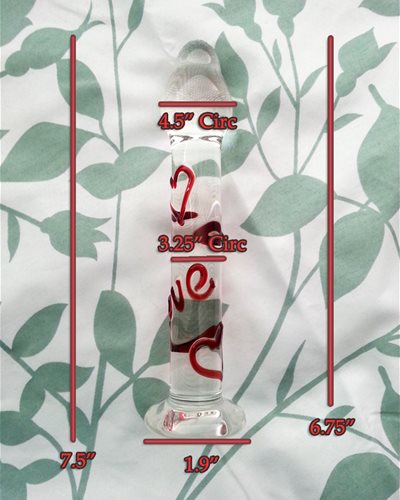 The Hearts Wand is 7.5" long with 6.75" of it being insertable. The shaft is 3.25" around and the head has a circumference of 4.5" at its widest part. There is a flat base at the bottom of the toy that has a diameter of almost 2". This base allows it to stand on a flat surface and makes it easier to hold onto.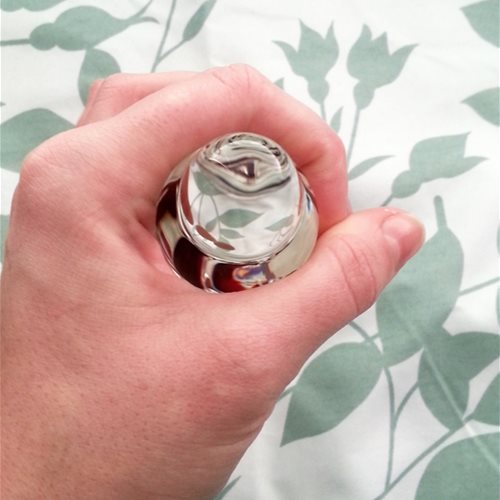 The red design only raises out about 1-2 millimeters from the rest of the shaft, so the texture can be felt but is not overwhelming.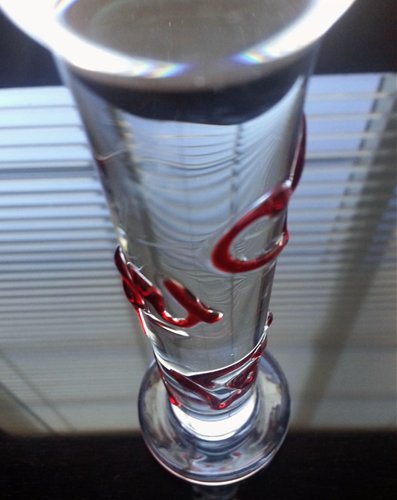 Here is the Hearts Wand compared to a few other popular glass and steel dildos.
Pure Wand, Hearts Wand, Amethyst, Icicle No. 17, Sweet Lola: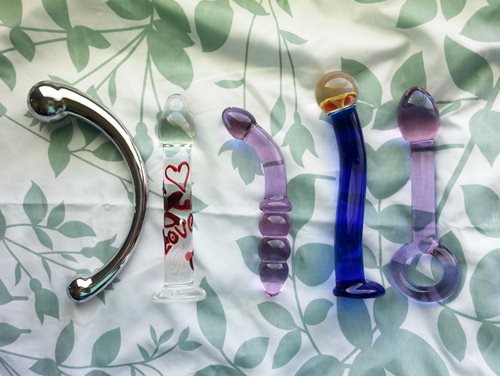 Head comparison:
Amethyst, Hearts Wand, Icicle No. 17, Sweet Lola, Pure Wand (large end):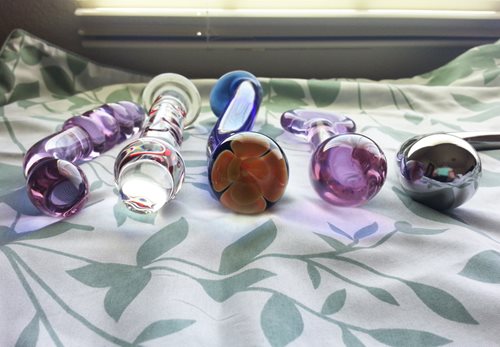 Cleaning
The Hearts Wand is very easy to clean, because it's glass and fairly smooth. I have noticed that the "o" in "love" and "you" sometimes like to hold onto residue, but are easy enough to clean with a Q-tip or fingernail. I prefer to take it to the sink and spray it with toy cleaner and rinse it off. You can use soap and water, toy wipes or even throw it in the dishwasher or use boiling water to sanitize it.
Be sure to store your toys in a safe place where they won't be knocked around or have the potential to fall. Glass is very hard and resilient, but they can be chipped if they get hit. Be careful when cleaning your glass toys because they get slippery when wet and are easy to drop. Always check your glass toys for cracks or chips before you use them because you don't want broken glass cutting your most sensitive areas.
Packaging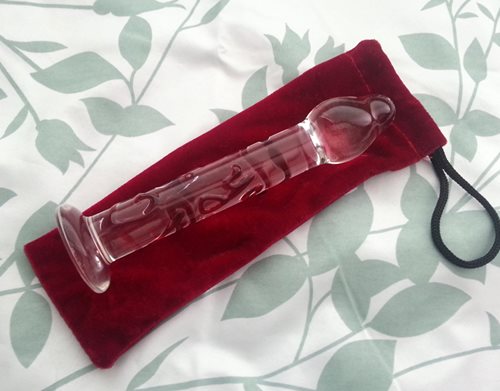 The packaging is minimal; the toy itself was wrapped in a small bit of bubble wrap and placed inside a small red velvet drawstring pouch. The pouch is unpadded and measure 8.75" x 3".The pouch is nice to have and I don't mind not having a box that I'll just end up tossing anyways.
Experience
I received this as part of my Valentine's Day gift, which is very appropriate. Even though the Hearts Wand is straight and it's a little on the plain side, it's actually one of my favorite dildos. I think the texture level is great, it's enough to add a little sensation, but it's not overly intense.

At first I thought the head looked funny because it's a little elongated and there's that extra little bump on the top. I've come to find that I actually like it. If you're inserting it, or thrusting in and out, it kind of "parts" everything to the side and the rest of the bulb glides in easier. I know it sounds odd, but it really does make it more comfortable to use. I personally don't find that it's pokey or jabs my cervix, but that's my anatomy and I'm not sure how it would work for others.

I really do enjoy my Hearts Wand and think it's a great toy to gently thrust with. The bulge of the head and the lightly textured shaft feel wonderful. Even though the shaft isn't curved, I still find that I get a little bit of G-spot stimulation from the bulbous head.
This content is the opinion of the submitting contributor and is not endorsed by EdenFantasys.com

Thank you for viewing
Hearts wand
– sex toy review page!