A Great Glass Toy, but Heartly Any Texture
If you like textured toys then this is a great one to add to your collection, and a great toy for beginners. It's a pretty piece and I liked the feel of the hearts and the lettering, but the subtle texture, combined with the lack of g-spot curve, didn't wow me. This toy is great and I'm glad I have it for some texture variety, but it isn't my favorite glass toy.
Published:
Pros:
Smooth glass with unique texture, cute design, flared base (stands upright).
Cons:
Not textured enough, no curve.
I have been interested in glass and textures, so I decided to add the Heart wand to my collection.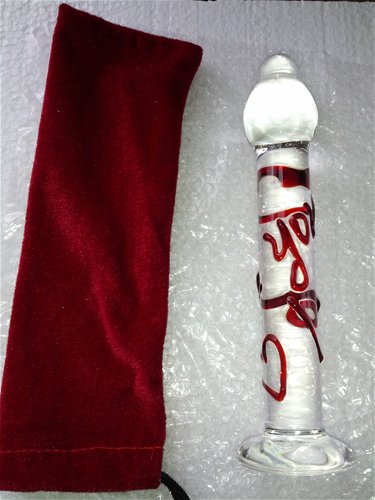 It arrived in a red velvet pouch, wrapped in bubble wrap. I found this useful for storage with my first couple of glass toys packaged this way, but now that I have more, it is harder to tell them apart in the bags. I wish the pouches were labeled.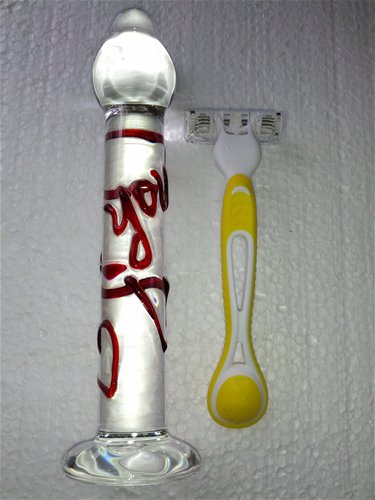 It is not the most aesthetically-pleasing of my glass toys since it doesn't have a vibrant color or a glass flower in it, but it is pretty in its simplicity. I think would make a great, tasteful gift.
It is clear with red "I love you" lettering and two hearts. I like how the light catches the clear glass. The texture is not very raised, and obviously not as even as other toys (it appears to have been written by hand).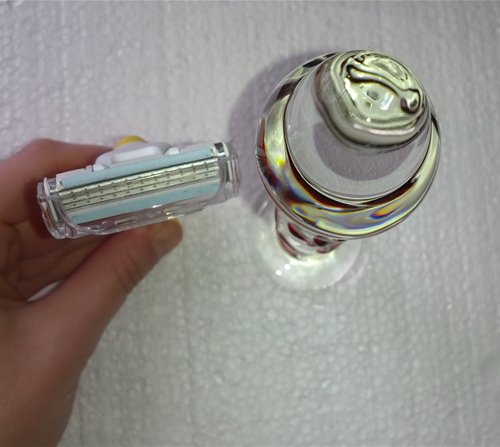 The measurements are as follows:
Length: 7 1/2"
Insertable length: 7"
Circumference: 4 3/4"
Diameter: 1 3/8"
Weight: 1.5 oz.
As a Borosilicate glass toy, it has no smell or taste and is completely safe to use. It can be washed with soap and water or boiled.
It is on the slim side, width-wise, and it is a bit long for me- it sticks out about 1.5" when all the way inside me. But I didn't really mind this and it just gave me more room to move the base around. The long, thin shaft of the toy gives you freedom to move the toy around and in and out. I enjoyed experimenting with twisting it in different ways.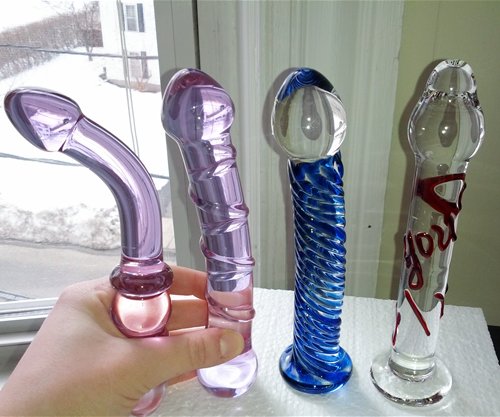 Compared to the textures of some of my other glass toys - The Don Wands (the second toy from the left) and the Swirled Blue Dildo (the third toy from the left)- the texture is less raised. And clearly the other two have a g-spot curve but the Hearts Wand does not. Of the three, I found that the texture of the Swirled Blue felt the best, and the curve of the Don Wands felt the best. And since the Heart Wand doesn't have either of these things going for it, I found it a bit disappointing.
One thing worth noting is that I was able to hit my g-spot with this toy. It was just harder than with other toys and I could only hit it one way. For instance, with the other three toys in the picture above, I can hit my g-spot in a variety of ways- I can move the toy in and out over it, back and forth against it, in a circle. With the Heart Wand, I was only able to hit my g-spot when I pressed the end all the way back (away from my s-pot) and I could clumsily move it against my g-spot but it wasn't really built for good stimulation of it.
As much as I'm complaining about the lack of curve, I think it would make this a great toy for using with a partner because they would be able to know where it is in you from the end (as opposed to a curved toy, where it is harder for them to tell), and there is less risk of them hurting you. I also think the lack of curve and flared base would make this a better toy for anal than most glass toys. I also think the base could be used with a harness, which would be a plus for some people.
Glass is great because it offers very rigid and direct stimulation, it holds temperature, it doesn't require much (or any) lube and you can use any kind of lube on it.
Obviously, glass is very stiff, so you should be careful not to thrust too hard so you don't bruise yourself internally. I don't think there is much risk with a toy with no curve though.
The base isn't as convenient as a loop for your fingers, but it does give you a lot of control during use. I also like that it stands up straight so I can just leave it on my dresser (assuming that no one sees it). I wouldn't leave it out on my coffee table (even though it is beautiful).
I think this toy would be great for travel, as long as you wrap it in clothes to protect it. I think it would be more travel-friendly than realistic dildos.
This is a great toy, and I think it would work very well for a beginner. But as someone with a few other textured toys, I wouldn't say this one is my favorite. I like the big bulb at the end and the unique texture, but combined with the lack of curve it is missing something for me.
This content is the opinion of the submitting contributor and is not endorsed by EdenFantasys.com

Thank you for viewing
Hearts wand
– sex toy review page!