Will You Love Me Forever?
The hearts wand is a glass dildo with a flared base. This dildo is made of safe material that can be used for temperature play. The size of the dildo is beginner friendly, but some might find the head to be too pronounced. The top of the head does make it easier to insert with its tapered top. This dildo has some light texture that some will love and some will find lacking.
Published:
Pros:
Safe material, beginner friendly, flared base, temperature play, and tapered top.
Cons:
Head might be too pronounced and not textured enough for some.
Use:
The hearts wand is a single ended glass dildo with a flared base. Being that it has a flared base, it can be used anally and vaginally, so men and women can enjoy this piece. One might think that this dildo could be used on a harness, since it has the flared base, but glass is not ideal for a harness. This piece is ideal for an introduction to glass, but it can also be enjoyed by those who like light texture. It can easily be used during solo play or couples play, but it would not be ideal for double penetration, most likely. The dildo can be manipulated anyway you please, but remember that glass is an unforgiving material. Thrusting glass too hard can bruise one's cervix.
Material:
Hearts wand is made of
Pyrex
glass. Glass is a wonderful material for those who love temperature play. You can change the temperature of your glass toy by adding it to warm or cool water, until you reach your desired temperature. Should you want to share your glass dildo, you can boil this toy, which will sterilize it. You should be sure that the glass dildo is fully cooled before inserting again. Glass is always latex free, phthalates free, hypo-allergenic, and non porous, so it has a safety rating of a 10 out of 10. It is also odorless and tasteless. Pyrex is a brand of borosilicate glass. This is made from adding boron, sand, soda, and ground lime, which result in a liquid. This liquid is then cooled at a rate where crystals can't form. Your end result is a beautiful seamless glass piece. This piece should be free of cracks and scratches, but be sure to fully inspect your glass toys upon arrival. Never use a chipped or cracked glass dildo. Should you happen to drop your glass piece, it won't splinter or break into tiny pieces, but instead will break into larger pieces.
Design, Texture, and Size:
The hearts wand starts with a tapered top that goes onto a ball, then down to the shaft that is attached to a flared base. This dildo stands 7.5" tall on its flared base, but it is only insertable up to 7". The majority of the dildo is clear except for the texture. The markings for the texture say "Love you" with two heart outlines. This texture is red in color and lightly raised. The largest circumference is located at the ball on the head, which is 4.75" or 1.5" diameter. The shaft of the dildo is more slender at only 3.5" circumference or just under 1.25" diameter. The flared base is 5.5" in circumference or 1.75" in diameter. This base is much larger than the shaft, so it won't be sucked inside the anal cavity.
***Note: glass is hand made, so size can vary, but they are usually close.
Paired with Twisted Pleasure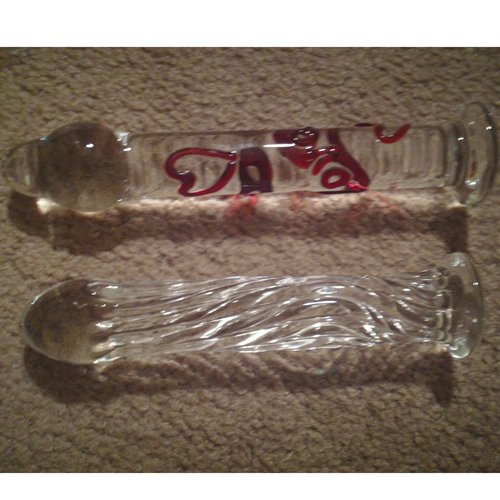 Experience
Performance:
I prefer to use this glass toy anally because I can feel the texture better that way. I recommend using a decent amount of lube with any toy anally, but especially this one. This is because the ball under the tapered top is a little extreme, so it can be hard to insert. You can use all types of bottled lube with glass, but spit and natural lube will work also. (Remember that glass is slippery when wet.) This well pronounced head will give a full feeling that also "pops" when pulled out. I like this feeling, since it sends shivers all over my body. I love temperature play. (There is nothing like the feeling of cold glass!) The texture is hard to feel for me vaginally, because it is very lightly raised. I prefer extreme textures like
twisted pleasure
, but sometimes I am more sensitive and need light texture. Everyone is different, so you might find this texture is too much for you, but others will agree with me. This is still a wonderful dildo. If you don't like it vaginally, try it anally.
Care and Storage:
You should wash all your toys before and after every use. Glass can be washed with warm water and antibacterial soap. You can also use toy wipes or your universal toy cleaner. Glass can also be boiled for sterilization. You should not boil this for no longer than 3-5 minutes. Be sure you allow it to cool fully before inserting it.
This glass toy comes wrapped in bubble wrap inside of a red velvet pouch. This pouch is ideal for storage, even for traveling. If you are gifting this toy, the pouch is a presentable gift bag.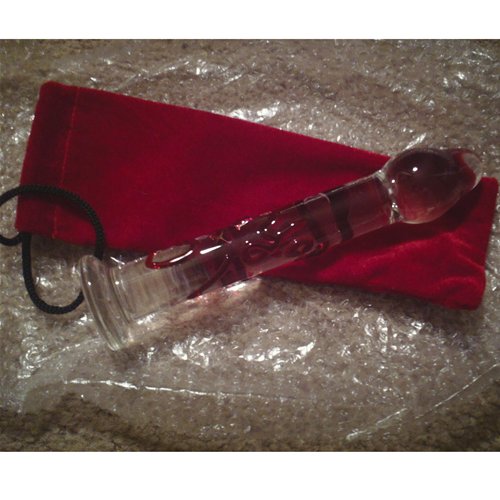 Follow-up commentary
9 months after original review
While this isn't one of my favorite glass pieces, I still like it. It's pretty and it's good for the days texture isn't what I am looking for, but sometimes it's just boring. There has been no damage to this piece, but it's one that gets pushed off to the side in my glass collection.
This content is the opinion of the submitting contributor and is not endorsed by EdenFantasys.com

Thank you for viewing
Hearts wand
– sex toy review page!